Right-wing 'thought' a mental illness? It has long been known that it does not involve 'thought' in any recognizable sense of the word but apart from individual right-wingers who have managed to seize power and enact their disorders on the world stage (Hitler, Mussolini, Genghis Khan, Bush...) merely
believing
in such ideas has been regarded as a mild eccentricity to be humoured.
Unfortunately this is no longer possible.
An increasingly concerned number of health professionals and objective observers are starting to believe that it might indeed be a hitherto undiscovered sociopathic condition.... what was once merely a political position has now transmogrified into something more worrying and more indicative of a neurological disfunction akin to a species of manic depression or some other as yet uncategorized disorder.
Concerned by the accumulating evidence and being an objective observer I decided to conduct my own research - and where better than our own petri dish here at AI which seems to breed or attract such symptoms to an alarming degree.
The first port of call I made was to choose at random an well-known and widespread insane belief: that God created the universe 10,000 years ago (note: the results may be skewed upwards as many right-wingers are literalists and believe it was 4000). Here is a statistical representation of a Gallup Poll: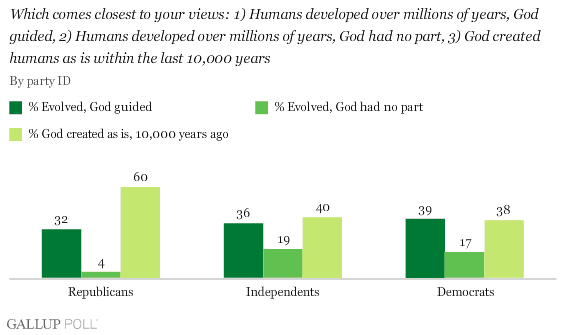 Source: Gallup Website
As you can see, 60% of Republicans hold this belief which is indistinguishable from similar delusions we know from the annals of psychiatry.
Moreover, only 4% accept evolutionary theory.
Moving on to Politics - an area which one might expect be subject to more rational analysis. Unfortunately the statistics again - shockingly - dash this hope:
63 percent of Republicans believe Obama is a socialist
39 percent think Obama should be impeached
24 percent said Obama wants the terrorists to win
31 percent agreed with the statement that Obama is a racist who hates white people.
36 percent of respondents do not believe the president was born in the US
73 percent said openly gay men and women should not be allowed to teach in public schools.
23 percent, want their state to secede from the union.
Source
And yet again - a common theme emerges in this Poll:
Quote:
67 percent believe the only way to get to heaven is through Jesus Christ.
The study of this disorder is now in its infancy although it seems that it bears disturbing similarities to an existing psychological imbalance:
True Believer Syndrome
.
Quote:
One other type of true believer is described by Eric Hoffer in his book The True Believer. This type of person is irrationally committed to a cause like terrorist attacks on civilians, murdering doctors who perform abortions, or following a guru like Jim Jones even to the point of murder or suicide.

One possible explanation for true-believer syndrome is that the belief satisfies an emotional need that is stronger than any other emotional need. Why some people have such a strong emotional need to believe in something that rational people recognize as false is perhaps unanswerable, but it is clear that the kind of beliefs we are discussing here are based on emotions and feelings, not reason and evidence.
The similarities are marked but health professionals are now facing the terrifying possibility that the current right-wing version of 'True Believer Syndrome' has metastasized into a form of 'mental virus' which may be communicable and highly contagious unless one is properly innoculated or has otherwise contracted some form of immunity.
What is Faith? When your good deed pleases you and your evil deed grieves you, you are a believer. What is Sin? When a thing disturbs the peace of your heart, give it up - Prophet Muhammad
What is Faith? When your good deed pleases you and your evil deed grieves you, you are a believer. What is Sin? When a thing disturbs the peace of your heart, give it up - Prophet Muhammad