Buildings have T-joints. When buildings collapse, some of those T-joints remain intact. When many Christians look at this situation, they instead see this as a sign of god's love. Nevermind the fact that 3000 people died in the process of showing this sign, 3000 people who could have been saved by a loving god with little effort.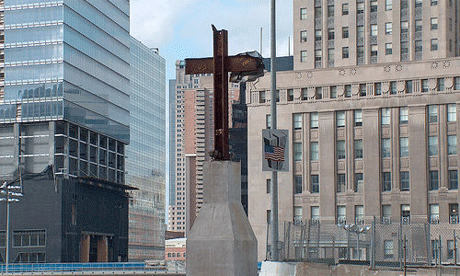 But, clearly, this sign of god's love now must be the centerpiece of the 9/11 memorial. Nevermind the fact that many of those who died in the towers were not Christians. Nevermind there is no other equal representation for other religions and the non-religious.
So, American Atheists patriotically sued to either take down the cross or put up equal representations for the others who are left out. And Christians...
lost
their
shit.
After Blair Scott of American Atheists went on Fox News to discuss the court case,
the Fox News facebook page exploded with Christ's love.
Oh wait, I meant hate.
Hate for sure.
Here are some of the comments that were screencapped before Fox deleted them. Note how many of them have "likes." Note how one prominent one had NINETEEN "likes" before it was removed.
The winner of "most ironic post" is:
The winner of "that took a weird turn" is:
And the winner of "most hate-filled, graphic rant" (which also received 19 likes) is:
"The nitrogen in our DNA, the calcium in our teeth, the iron in our blood, the carbon in our apple pies were made in the interiors of collapsing stars. We are made of starstuff." 
-Sagan
"The nitrogen in our DNA, the calcium in our teeth, the iron in our blood, the carbon in our apple pies were made in the interiors of collapsing stars. We are made of starstuff." 
-Sagan