"The Response" was a huge
Dominionist
prayer event led by Rick Perry, Governor of Texas. America's problems, he argued, could only be solved now through prayer and divine intervention. How's that whole loving god thing working out for Texas?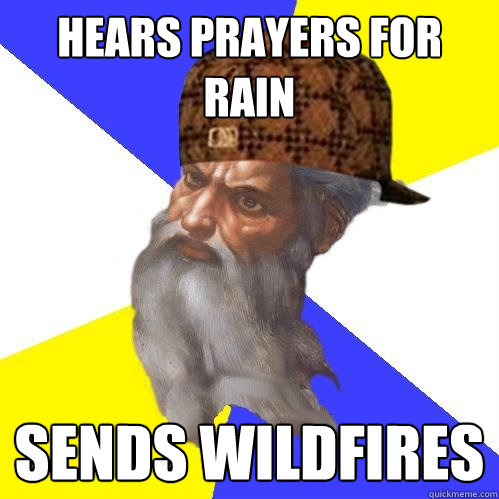 Wildfires ravage Texas, killing several and destroying over 1000 homes.
Ancient Greek philosopher, Epicurus
, what say ye?
Quote:
Is God willing to prevent evil, but not able? Then he is not omnipotent.
If your god is incapable of helping, it clearly isn't all powerful.
Quote:
Is he able, but not willing? Then he is malevolent.
If your god could stop the wildfires but doesn't want to, it's kind of a major fucking asshole psychopath.
Quote:
Is he both able and willing? Then whence cometh evil?
Good question, Epicurus. If it could and would, there's no reason why the fires would still be raging.
Quote:
Is he neither able nor willing? Then why call him God?
If your god can't do shit nor wants to, why exactly are you praying to it?
Or the last option...your god just doesn't fucking exist. You might as well pray to the tooth fairy for rain to come. Maybe Santa could build you some sort of giant cloud-seeding toy. Have you tried praying to Thor? Maybe he could use Mjollnir to snuff out the flames.
Lastly, Rick Perry will be sucking money from the Federal government to deal with the wildfires. He
cut funding to volunteer fire departments, which protect Texas from wildfires, by SEVENTY-FIVE percent.
Smooth. Rick Perry is a joke of a governor and should be laughed out of the Republican primaries. The fact that he's a contender is a sad commentary on the state of the Republican party.
"The nitrogen in our DNA, the calcium in our teeth, the iron in our blood, the carbon in our apple pies were made in the interiors of collapsing stars. We are made of starstuff." 
-Sagan
"The nitrogen in our DNA, the calcium in our teeth, the iron in our blood, the carbon in our apple pies were made in the interiors of collapsing stars. We are made of starstuff." 
-Sagan