Yes, that includes anthropogenic global climate change (AGCG).  Here's a graph from the latest study that really puts the hockey stick graph into perspective.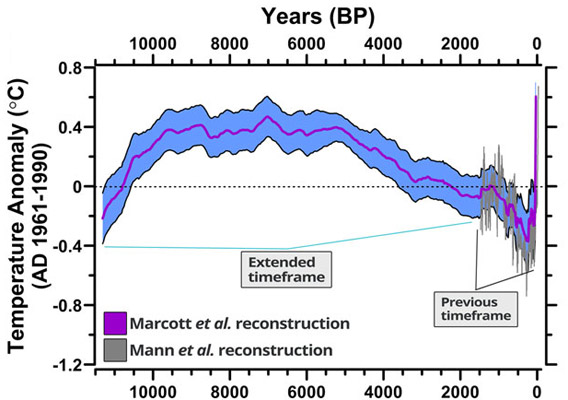 That acceleration is unprecedented.  Look at the last ten thousand years and look what we have done in the last hundred.  Phil Plait breaks down the whole situation in much more detail.
He concludes:
Quote:
And if we don't accept that and start working toward a solution, now, there won't be much need to argue any more.
Science is real.  It's not a Democrat thing.  It's not a Republican thing.  It's not an Anarcho-Insanist Thing.  It's reality.  Reality doesn't give two shits whether you believe in it or not.  I, however, do.  Those who continually insist on distorting or plain old denying science are akin to assholes blocking the only exits during a fire--not only preventing people from getting out, but doing their best to keep the firemen from getting in.  They have the audacity of telling those firemen that no fire actually exists as the room burns in front of them.
Perhaps a little reminder from They Might Be Giants is in order for those who have the reasoning power of a brainwashed five year old.
"The nitrogen in our DNA, the calcium in our teeth, the iron in our blood, the carbon in our apple pies were made in the interiors of collapsing stars. We are made of starstuff." 
-Sagan
"The nitrogen in our DNA, the calcium in our teeth, the iron in our blood, the carbon in our apple pies were made in the interiors of collapsing stars. We are made of starstuff." 
-Sagan