In the SwiftBoat thread, one of the chief contentions is that Bush attacked McCain and now Kerry in the same fashion and that no one on the left would ever have questioned Dole during the 1996 campaign.
Northgate even posted this editorial from the Boston Globe (Kerry's local paper and owned by the NY Times)
Boston Globe-Big Lies for Bush
It made quite a few claims.
Quote:
The truth, according to many accounts, is that Dole fought with exceptional bravery and deserves the nation's gratitude. No one in 1996 questioned that record. Any such attack on behalf of Clinton, an admitted Vietnam draft dodger, would have been preposterous.
Well that would be nice if it were the truth.
From The Nation - 1996 an article questioning Bob Dole's military service and war record.
Dole's not a hero to these folks
Here are their conclusions...
Quote:
In the April 14 attack Dole did his duty, but his actions were hardly the stuff of heroism. It was his job to lead his platoon, and dragging a wounded (or dead) comrade into one's shell hole was a common occurrence in the heat of battle. Even the friendly chronicler Noel Koch wonders why a war wound invests the bearer with an aura of heroism. "Heroism," he says, "involves choices, and Dole perceived no choice between leading his men and not leading them." As a member of Dole's platoon, Stanley Jones, put it in a recent interview, Dole "was a good soldier, but no more a hero than any other soldier."
Here's the
cover.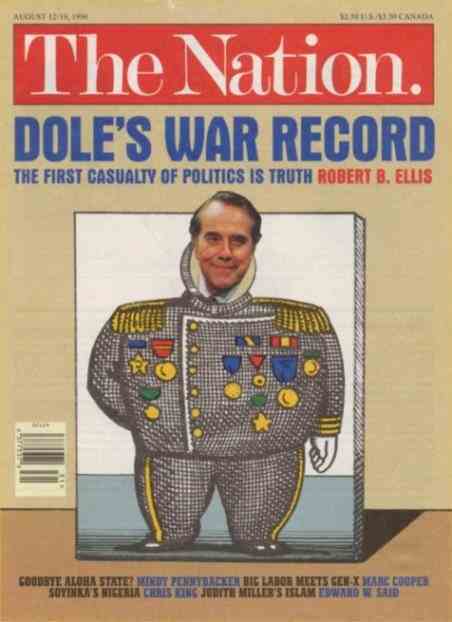 Of course we don't know if Clinton would have used 527's. They didn't exist back then.
Quote:
Imagine if supporters of Bill Clinton had tried in 1996 to besmirch the military record of his opponent, Bob Dole.
Imagine indeed. I don't have to imagine. I know the truth of the matter.
Nick
"During times of universal deceit, telling the truth becomes a revolutionary act." -George Orwell
"During times of universal deceit, telling the truth becomes a revolutionary act." -George Orwell