Apple's next NeXT: how buying Beats launched a sneak attack on the future of sound
When Apple announced it was acquiring Beats in 2014, lots of critics scoffed and some even suggested the purchase was evidence that Tim Cook was just grasping at straws, with a good measure of racist-tinged denigration of the value of the LA-based music firm on the side. Why was the most valuable, competent and profitable tech company on earth prepared to spend $3 billion--by far the most it had ever paid in an acquisition--to get Beats?
Reading the audio file
Apple has been selling the world's highest-premium, mass market notebooks, phones and tablets--virtually unchallenged in its profitable, high-end market tier--for more than a solid decade now. However, the company increasingly found itself
behind the marketing curve
in one respect: high quality audio hardware.
Despite being loaded with advanced processors, some of the best displays available and many other exceptional components--such as its excellent MacBook trackpads or the Touch ID that users love so much that many were
skeptical that Apple could improve upon it
with the
new Face ID
on iPhone X--Apple's product lineup was beginning to sound flat--literally.
Few were seriously complaining about the sound quality of MacBooks, iPads or iPhone--after all, if you want good sound, you plug in headphones, hook up speakers or use a wireless Bluetooth boombox, right? Who would reasonably expect that a light, thin handheld phone or tablet could play good sound?
At the same time, rivals were seeking to use premium audio as a feature to differentiate their own offerings from Apple's. Amazon's basic Kindle Fire tablet first shipped with stereo speakers back in 2011. That same year HTC announced its first phone featuring a "Beats Audio sound enhancer." In fact, the potential of Beats audio tech to help HTC sell its products had prompted the Taiwanese firm to buy a majority stake in Beats. A few years earlier, HP had also incorporated Beats audio software into its premium Envy laptops.
In contrast, Macs and iOS devices had only basic built-in sound. The first four generations of iPad all only supplied a mono speaker. Even Apple's first stereo tablets (
iPad mini
in 2012 and iPad Air in 2013) put both speakers on the bottom end, providing little real separation (and particularly bizarre audio out one side when held in landscape).
By 2014, Amazon was offering a lineup of tablets with multiple speakers on each end, and its fanciest Fire HDX tablet sported Dolby's Digital Plus and Atmos technology for immersive audio. Apple, however, had been working behind the scenes to catch up and erase that disparity in audio hardware.
This all happened before
Apple's story of acquiring Beats bears a lot in common with its original acquisition of
NeXT
in 1997,
AuthenTec
in 2012 and
PrimeSense
in 2013; all three of those companies had been working for years with Apple's competitors (including Dell, Motorola and Microsoft, respectively).
But after Apple identified each as a technology firm it wanted to strategically own, those competitors either left to find new partners or were shut off by Apple. Then, after a few years of internal work, Apple relaunched modern updates of the acquired technology in a way that established a huge lead for the company.
Apple identified Beats as technology it wanted to own
NeXT became macOS X and later iOS; AuthenTec developed into Touch ID and PrimeSense recently emerged as iPhone X's TrueDepth sensor supporting Face ID. There are a series of other companies Apple has similarly acquired to turn into new hardware features, apps, services or development frameworks benefiting its ecosystem. None have been as large as Beats.
Apple identified Beats as technology it wanted to own at some point prior to its 2014 announcement to buy the company. Just as with NeXT, AuthenTec and PrimeSense, Beats' former partnerships with HTC and HP dissolved, giving Apple full access to the firm's hardware portfolio (mostly headphones and wireless audio speakers) and Beats' streaming music service, which would form the basis of Apple Music.
Since 2014, Apple has also released new versions of Beats' headphones and its
Beats Pill speaker
, as well as its own Apple-branded
AirPods
, which share a custom-designed W1 silicon chip with a line of wireless headphone options sold under the Beats subsidiary.
An audio refresh
However, another shift at Apple often overlooked since it acquired Beats is the rapid advancement of audio features on iPads, iPhone and Macs. In 2015, iPad Pro introduced four speaker sound that recreated real stereo audio in both orientations. In 2016, new Touch Bar MacBook Pro models introduced a
major audio upgrade
providing louder, wider sound with twice the dynamic range.
Last year's iPhone 7 line similarly began delivering louder, wide orientation stereo audio leveraging the earpiece speaker. It also created sound waves by
ditching the legacy audio minijack
in favor of wireless audio and digital Lightning audio, mainstreaming both higher quality cabled headphones and the extremely popular new AirPods, which invigorated Apple's standing in wearables. This year's iPhone 8 and iPhone X have also significantly enhanced their stereo speaker's audio quality and loudness.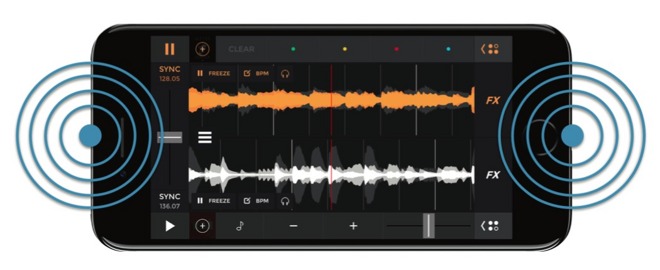 Apple had been building audio products for years; in fact it had rebuilt itself into profitability in the early 2000s during the iPod era, where it revolutionized personal audio playback for consumers around the world, moving listeners from unwieldy CD players, flakey radios, and limited capacity MiniDisc and Flash RAM players to portable hard drives with reasonably great sound quality.
And, of course, over the same period Apple built iTunes and delivered increasingly high quality music downloads and began distributing digital movies with Dolby Digital AC3 5.1 audio for playback on Apple TV. Apple had also developed its own low latency, high performance
Core Audio
subsystem in macOS, then ported it to iOS, giving its mobile platform strong support for music creation, something that's virtually missing entirely on Android.
However, the acquisition of Beats jumpstarted Apple's flatlined audio hardware ambitions. Whether that was due to an influx of Beats audio technicians or simply a strategic refocusing upon Apple Music as an ecosystem feature, sound reproduction at Apple has greatly improved across its product line since buying Beats.
What's NeXT for Beats
While industry observers historically only saw NeXT as "another OS," AuthentTec as merely a fingerprint sensor, PrimeSense as just a structure sensor and Beats as just a headphone company, each enabled a new leap in capabilities well beyond what bloggers of the day could envision.
NeXT radically improved software development and portability, not just making Macs vastly better and more reliable as conventional PCs but also making it possible to move the Mac platform into the light, thin, battery-optimized mobile world with iOS. More than just a biometric gimmick, Touch ID radically changed the real-world security of mobile devices while enabling entirely new features such as Apple Pay. We're just beginning to see what TrueDepth can do, but its clearly stoking demand for iPhone X.
Apple's new focus on audio quality since the acquisition of Beats is delivering newly competitive features in products like Apple TV 4K, which now supports Dolby Digital Plus 7.1 audio and will introduce support for the newly emerging
Dolby Atmos
, which presents and interprets realistic 3D soundscapes based on the hardware profile of the speaker configuration.
Beats' popular youth-oriented brand--associated with professional musicians and sports figures--is used by Apple to sell headphones and Bluetooth speakers (or to offer them as an incentive to buy Apple gear, as it has been offering in its
Back To School
promotions).
There's another product that shows off more of Apple's future intentions for audio: HomePod. It deserves its
own article
.
Apple's acquisition savvy
Remember that Apple only acquired Beats three years ago. It's already directly generated two solid new hits: Apple Music and AirPods, as well as a portfolio of revamped Beats products and the retooled audio performance across all of Apple's Mac and iOS devices. The significant lead in audio performance that HP, HTC and Amazon were once touting at the beginning of this decade has evaporated away.
That major shift in audio savvy not only demonstrates Apple's incredible competence in selecting, engaging and implementing strategic acquisitions, but also suggests that the company has the ability to do similar things in the future to surpass rivals who have a temporary edge in specific technologies. Apple has been consistently
catching up and surpassing rivals
, largely driven by well-considered strategic acquisitions.
Acquisitions do not typically go so smoothly. Google's spectacular flubs in paying $15 billion to acquire Motorola and Next, or Microsoft's similar price paid to take over aQuantive and Nokia are
incredible examples
of what not to do. HP's mega-acquisition of Compaq was also regarded as a huge mistake and massive destruction of value.
With the $15 billion Apple saved by dodging those bullets (and the $90 billion it saved not buying Netflix, as many simpleton analysts keep advising), it has lots of resources available to seek out valuable, underrated new technologies and use them to build entirely new products and services, as well as radical enhancements to its existing offerings, just as it did with Beats for a mere $3 billion.
Next:
Apple's HomePod isn't about Siri, but rather the future of home audio
.