AppleInsider podcast interviews Michal Jurewicz of Mytek, talks about HomePod and a 6.1 in...
This week on the
AppleInsider
podcast, Victor and Neil talk about HomePod, rumored iPhones and Bryan Fuller's inability to stay on a show. In addition, Michal Jurewicz joins to talk about audio digital signal processing.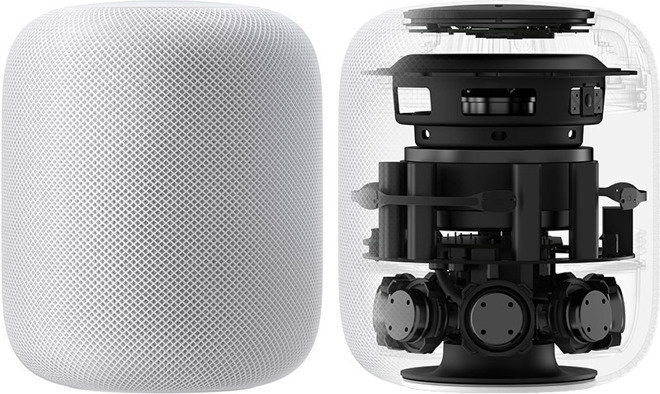 Victor never tires of this image.
AppleInsider
editor
Victor Marks
and
Neil Hughes
discuss:


Ming Chi Kuo thinks the rumored 6.1 inch iPhone said to debut in late 2018 will outsell all other models. Neil still isn't sure what he thinks of it.

Victor and Neil talk about the iPhone battery health settings that are now showing up in iOS 11.3 betas. We still think it's a little silly to let people remove CPU throttling from an iPhone with a failing battery.

HomePod won't have user-adjustable EQ settings. Victor is a little disappointed in this. Victor prefers a neutral EQ for many songs, while many people prefer to pile on the bass.

Source code for iOS 9's iBoot was posted to github. Leaks like this are very rare, so it's worth a mention. (Actually, after we recorded, there was another leak, this time of multiple iPhone's baseband code, in the form of an Xcode project. Something is going on for these leaks to be coming out.)

AirPower, the multi-charging pad for iPhone, Watch and AirPods, is said to launch in March. Neil is not convinced.

Bryan Fuller and Hanson Hart leave Apple's reboot of Amazing Stories. Fuller wanted a 'Black Mirror' type show. Victor waxes about the original Amazing Stories. That episode with the train that travels through time and crashes through the modern home built over the old decrepit tracks? Or the one with the WWII plane that lost it's landing gear and was going to crash taking out the gunner position, until they draw big balloon tires that materialize and it comes in for a safe landing? (Seriously, I don't even have to look up these episodes to remember these details. A 19th century railroad engineer thanking Mr. Coffee as if it's anthropomorphized resonated with me as funny, and makes even more sense now that we're talking to Siri and Alexa like they're real.)

Nest was absorbed into Google to better battle HomeKit. At the same time, original co-founder Matt Rogers left the company. This integration makes sense to Victor, but it definitely is an upheaval. Victor talks about what made Works with Nest different from the other approaches we have now.

Apple Watch can detect early signs of diabetes with 85% accuracy. This information isn't surfaced to a user at this time, but a study found a correlation between heart and diabetes, and Apple Watch was the sensor used to pick up the heart data.

Apple begins wide collection of Apple Watch data for Heart Study in partnership with Stanford. This is going to be interesting to watch. The idea is to use the watch to identify arrythmia in the heart.

Lastly in the health segment, there's a glucose monitor that uses NFC with the iPhone to transfer data to an app. This is the first use of NFC that we've seen on iOS that isn't ApplePay.

Mike W wrote up a tip on how to download old versions of apps from the App Store for users who haven't updated their phones or iPads. The segment that discussed it didn't make the cut, but it's important to know about.

Interview with Michal Jurewicz - Michal has made DACs used in recording studios for years, and this year introduced Clef, a product that takes audio by USB or Bluetooth, runs it through a portable DAC to deliver exceptional sound. We talk about his products, and a bit about HomePod.

The show is available on iTunes and your favorite podcast apps by searching for "AppleInsider."
Click here to listen, subscribe, and don't forget to rate our show
.
Listen to the embedded SoundCloud feed below:
Show note links:
Follow our hosts on Twitter:
@vmarks
and
@thisisneil
.
Feedback and comments are always appreciated. Please contact the
AppleInsider
podcast at
[email protected]
and follow us on Twitter
@appleinsider
, plus
Facebook
and
Instagram
.
Those interested in sponsoring the show can reach out to us at
[email protected]
.