What analysts are saying in the wake of Apple's holiday quarter financial report
Early analyst reactions are all over the place after Tuesday's results call, in which Apple reported $84.3 billion in revenue for the December quarter, more than it expected in its early-January revision, but less than it predicted for the quarter in November.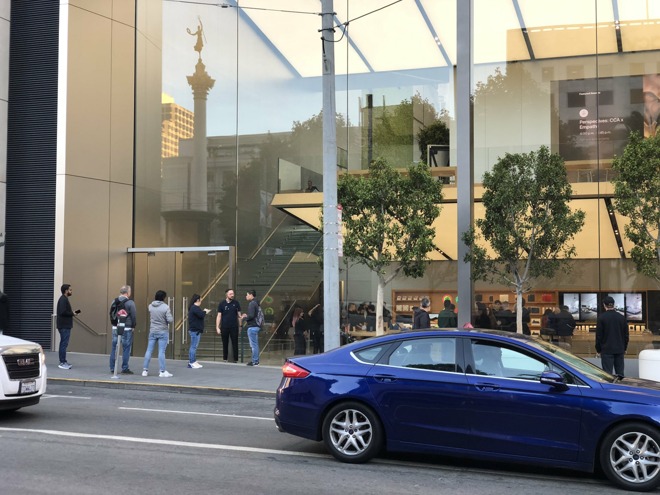 The earnings results as noted by Apple on Tuesday's earnings call have evidently confounded stock analysis, a point
reiterated by Jim Cramer
on Wednesday. Here are a few of the remarks that some of the more notable prognosticators have made,
following the report
.
AppleInsider
will add to this article as we see more research notes and evaluations of the call.
JPMorgan
"This quarter was clearly about investors putting bookends around downside risks to Apple's iPhone unit volume outlook and the F2Q19 [March quarter] revenue guidance of $55-$59 billion managed to reassure investors that volume risks are largely priced in the shares at current valuation," wrote Samik Chatterjee. The analyst expects March quarter iPhone shipments to be down at least 20 percent, but "silver linings" in Q1 figures included a 62.8 percent gross profit margin on services, said to portend well for services becoming an increasingly valuable part of Apple's business.
Chatterjee is maintaining an "overweight" rating for Apple stock with a $228 price target, but cutting full-year estimates for Apple's fiscal 2019, 2020, and even 2021, assuming lower gross margins created by "loss of volume leverage and higher promotions."
Macquarie Research
Results were "more or less" in line with expectations, the firm, said, adding that Apple executives "sounded upbeat and confident," for instance referring to "exciting announcements later this year." Macquarie took this to include the company's streaming video service, rumored to be
launching by mid-April
.
The firm has high hopes for Apple's services business, but said it expects that to continue to slow, and see much of its growth come from lower-margin segments like video and music. "We expect Services to grow 18% y/y in '19 vs adj. 24% last year," it said.
iPhone sales are "the biggest issue," it noted, arguing that reasons for weak performance given by Apple CEO Tim Cook -- China, exchange rates, longer upgrade cycles, and the battery replacement program -- may be exacerbated by "limited innovation."
Macquarie is maintaining a "neutral" rating and a $149 stock target.
Wedbush
Apple appeased analysts and investors since there was "fear that they could guide to a sub-$55 billion number," Daniel Ives
told
MarketWatch
. The analyst was upbeat on services, noting that they still grew about 19 percent after normalizing for a change in revenue-recognition rules.
"The line in the sand was [over] 60 percent gross margins [on services]," he remarked. "The services business may have been something [investors] were underestimating in terms of just how profitable it is."
During the results call, Apple CFO Luca Maestri announced that the company has over 360 million paid subscriptions, three times that of last year. Ives suggests that Apple could top 500 million in 2020.
UBS
Apple is in the "early phases of transitioning from [a] distributor to [a] content aggregator/provider," said Timothy Arcuri, pointing to video streaming and a
rumored gaming subscription
.
UBS is reportedly "optimistic" for several other reasons, namely "the worst of the bad news" being over for a while, the profit potential for subscriptions, and iPhone replacement cycles nearing their limit. 5G support and a 2020 iPhone redesign should bring customers back, Arcuri said.
The analyst is raising his stock target $5 to $185 with a "buy" rating.
BTIG
Walter Piecyk believes that Apple's forecast for between 37 and 38 percent in overall gross margin means profits won't sag alongside revenue. He did however cut his fiscal 2019 iPhone sales target by $6 billion, and lower his stock price target from $197 to $189.
Loup Ventures
"Bottom line: no company can escape macroeconomic conditions, but Apple is successfully navigating the headwinds," said Gene Munster. "Despite a troubled quarter for iPhone sales, mostly in China, Apple's ecosystem is stronger than ever, and the company is positioned to return to sustainable mid-to-high-single-digit revenue growth in Dec-19 after what will likely be a 5 percent decline in FY19."
The analyst echoed views that Apple is "becoming more of a services business," and that 5G cellular could draw people back to the iPhone in 2020. While other phone makers are beating Apple to 5G support, U.S. network coverage will be "negligible" in 2019 and early 2020, Munster argued.