There are now more paid streaming TV watchers than cable subscribers
The rapid global growth of video streaming, a market Apple is tipped to enter, has reached a point where there are more subscriptions to streaming services than there are traditional cable subscriptions, though the lion's share of revenue still goes to the cable companies.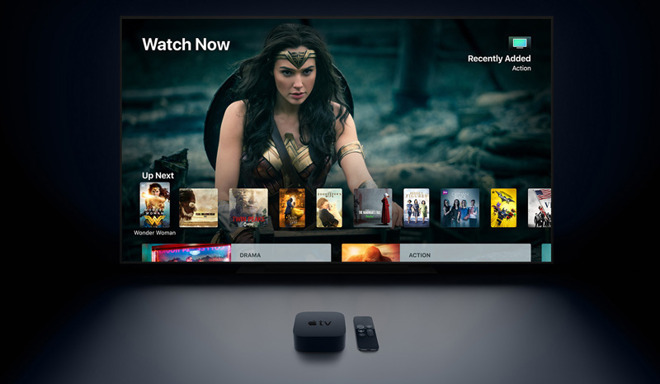 Streaming services like Netflix and Amazon Prime Instant Video have enjoyed a meteoric rise over the last few years, with the streaming industry now forcing more established media distributors and content creators to pay attention. In a recent Theme
report
by the Motion Picture Association of America for 2018, the size of the streaming industry is shown to be too big for studios to ignore.
In the section titled "Global Pay TV and Online Video, the MPAA reveals the number of subscriptions to video streaming services grew 27 percent year-on-year, rising to 613.3 million, based on data from IHS Markit. The increase makes 2018 the first year on record where online streaming video service subscriptions were higher than those for cable subscriptions, which dropped 2 percent to 556 million.
Internet Protocol TV (IPTV) just overtook satellite in the year, with both between 200 million and 300 million subscriptions.

According to the MPAA, households could be counted multiple times within the results, as in a family could have both a cable subscription and one to a streaming service. The results do not advise on households that subscribe to just one service, nor how many subscriptions were made per household.
Despite the higher numbers, cable continues to have a disproportionately high amount of subscription revenue. Cable revenue went up $6.2 billion to $118 billion for 2018, with satellite close behind with almost $100 billion, but online subscription video is still at around $40 billion in revenue by comparison, despite the growth.
The report also highlights the TV and movie industry is continuing to grow overall, with a 9-percent year-on-year increase for combined theatrical and home entertainment revenue of $96.8 billion, up 25 percent from five years ago. Global home entertainment spending grew 16 percent to $55.7 billion, with US spending up 12 percent.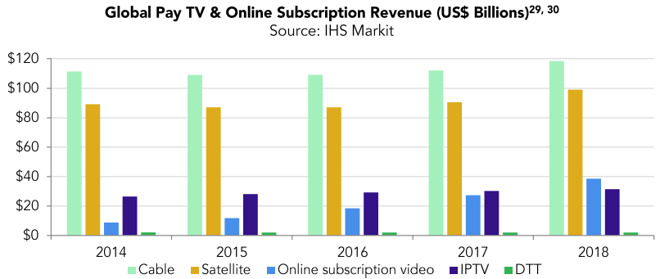 The report arrives ahead of Apple's "It's show time" March 25 event, widely expected to involve the launch of an on-demand video service.
The
March 25 event
will reportedly be a star-studded affair, with appearances by people such as J.J. Abrams, Jennifer Garner, and Steve Carrell to commemorate the unveiling of Apple's original video content project, which has seen the investment of at least
$1 billion
so far into TV shows and movie productions.
As well as the video service, Apple is also expected to launch
Apple News magazines
, a paid subscription that allows users to read digital magazines from their Mac or iPad.