The new TV App is coming to third generation Apple TV hardware
Apple is working to bring as many customers as possible to its updated Apple TV experience and subscription video service by looking to older devices, with new beta software for the third-generation Apple TV indicating it may be among the devices that will be able to use the new app.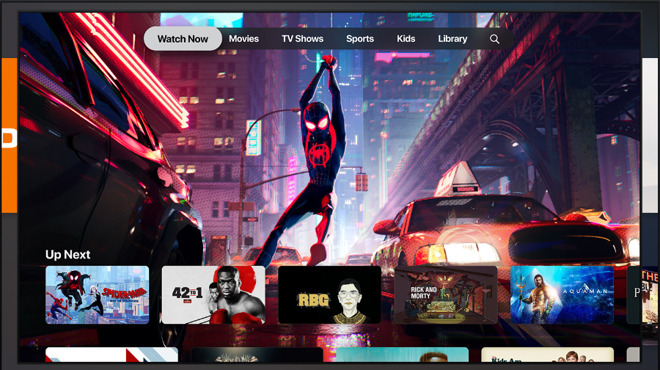 Apple's updated Apple TV app as shown during Monday's event
Announced on Monday, Apple's new
Apple TV app
experience offers a number of changes to the current version offered in tvOS. As part of Wednesday's new developer betas, a new build for Apple TV Software 7.3 for use with the third-generation Apple TV became available for testing.
The unusual appearance of an update for the older Apple TV hardware strongly suggests Apple is looking to provide its updated experience for owners of the third-generation model, as well as the current-generation Apple TV and Apple TV 4K. However, at present, the user interface experience is very slow, owing to the age of the hardware.
AppleInsider
is currently examining the new beta to see what has changed. So far, it has been discovered the beta includes proper Apple ID verification code input, instead of needing to tack it onto the end of the password, as required in some cases. Additionally, the update does not bring AirPlay 2 to the third-generation Apple TV -- It remains AirPlay 1 compatibility instead.
Apple is already attempting to open up the new Apple TV app to as many devices as possible for the incoming update, including making it available on
smart televisions
from Samsung, LG, Sony, and Vizio, as well as apps for Roku and Amazon's Fire TV streaming devices. Roku CEO Anthony Wood
suggested
on Tuesday the decision to bring the app to non-Apple hardware was to enable Apple to gain as big an audience as possible for its subscriptions.
The new Apple TV experience includes Channels, which will provide "a la carte" options to subscribe to channels, potentially providing more freedom to customers than traditional cable TV packages. Furthermore, Apple intends to launch its Apple TV+ video streaming service to customers via the app, which will offer a selection of original content from major Hollywood players.