Satechi's M1 Wireless Mouse recharges over USB Type-C
Accessory producer Satechi has introduced the M1 Wireless Mouse, a Mac-compatible Bluetooth-based peripheral that uses a USB-C port for recharging, rather than relying on the more established but older microUSB or using replaceable batteries.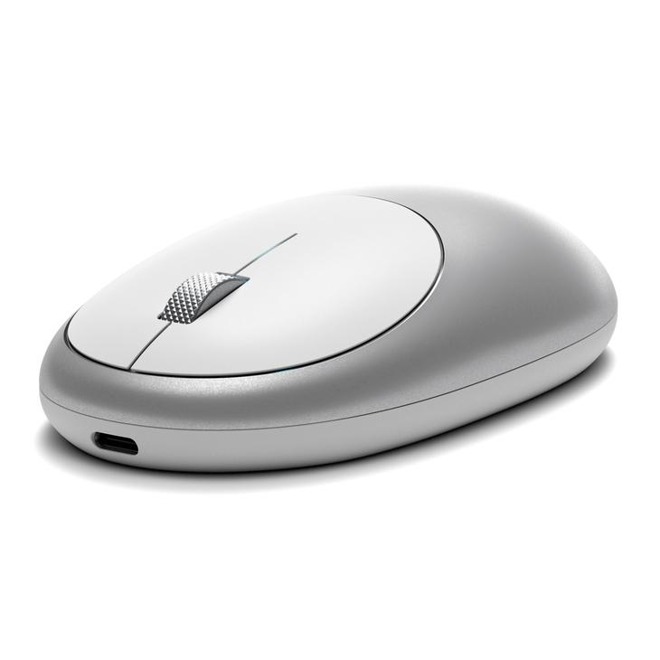 Produced with a brushed aluminum body, the
M1 Wireless Mouse
has an ambidextrous design that weighs 6.2 ounces. Measuring 4.37 inches long, 2.25 inches wide and 1.25 inches tall, the mouse has soft touch navigation buttons and a texture on the aluminum scroll wheel, while the base has a power switch and a button for pairing.
The main feature is its use of a USB Type-C port for recharging, which is placed at the front edge of the mouse's body, allowing it to be used while being recharged, unlike Apple's Magic Mouse. The manufacturer also supplies a Type-C to Type-A cable for recharging the peripheral.
While USB-C is slowly growing in terms of product share, there is still some way to go before it can be considered widely adopted. While Type-C connections are in use in MacBooks, in part due to it being employed for Thunderbolt 3, the
rest of the market
has yet to jump on the same bandwagon.
Connecting over Bluetooth 4.0, the mouse is said to have a range of up to 32 feet from its host device.
Satechi has started shipping the M1 Bluetooth Wireless Mouse, priced
at $30
, with it available in space gray, silver, gold, and rose gold color options.