Review: Synology D1019+ Network Attached Storage device
The last few years have seen a decrease in internal storage on the Mac, as SSDs have gained prominence. A way to extend that is with a network attached storage device -- and the Synology DS1019+ is an excellent choice for the office or the home.
We've written about the
concept of a home server and why you'd want one.
The uses we covered in the past include serving up music to iTunes, video transcoding and streaming, personal file cloud, and the flexibility that a home server using a real computer can offer. But what if you want something that's a little more ready out of the box?
What is a DS1019+ network attached storage device, anyway?
The
DS1019+
is a Network Attached Storage (NAS) device. Putting one on your network is the basic equivalent to having a hard drive on the network any computer you like can access. You can use it to replace dropbox sync, replace iCloud functions like shared calendars, host media for iTunes and AppleTV, or even replace Google Docs if you were so inclined.
The DS1019+ ships with 8GB of DDR3L RAM in two 4GB modules that can be upgraded. There are two M.2 NVMe SSD slots, allowing you to build NVMe SSD cache without occupying any of the drive trays. The processor is an Intel Celeron J3455 1.5GHz, which may seem low powered for a desktop system, but is definitely up to the task for document collaboration, media streaming, and network storage tasks. It may be a little light when running virtual machines -- we aren't kidding, Synology allows you to run virtual machines with virtualized operating systems over the network -- but it's possible.
For connectivity, there are two Ethernet ports, two USB 3.x ports, and an eSATA port. That eSATA port allows you to connect an additional five-bay expansion unit, the DX517.
Networking options are a little more interesting to explain. USB can be used for storage, with tasks that can be set to run whenever USB storage devices are detected. The Ethernet ports can be used in link aggregation mode with a managed switch so that you can double the bandwidth.
Or, you can set up the ports to act as a router, giving out IP addresses to the LAN using DHCP. We aren't sure we would be comfortable putting the storage directly connected to the WAN side of the Internet, but Synology seems to be comfortable with it.
The control panel also allows you to connect a USB Wireless adapter, and use the DS1019+ as a wireless access point, a wireless router, or a wireless client. Again, we wouldn't advise making the storage a wireless client, as data moves slower over wireless than wired connections, although if all your client devices are wireless, it may be less of an issue, and is nice that the device is as flexible as it is.
The use case
Much of the uses we were using were focused around media and file storage. That makes a Network Attached Storage device (NAS) like the Synology DS1019+ ideal. We've had one in our home lab for long term testing, and found it to only become more useful over time.
Because all of Synology's NAS products run the same software, called DSM, most of what we write here is applicable to other models, which we'll cover briefly at the end. Product naming is pretty simple: DS is DiskStation, 10 is the maximum number of drive bays that can be attached (5 plus an add-on 5 bay external unit), 19 is the year it was released, 2019. Plus tends to mean that the processor is an Intel-based x86 as opposed to an ARM based processor (the Play line).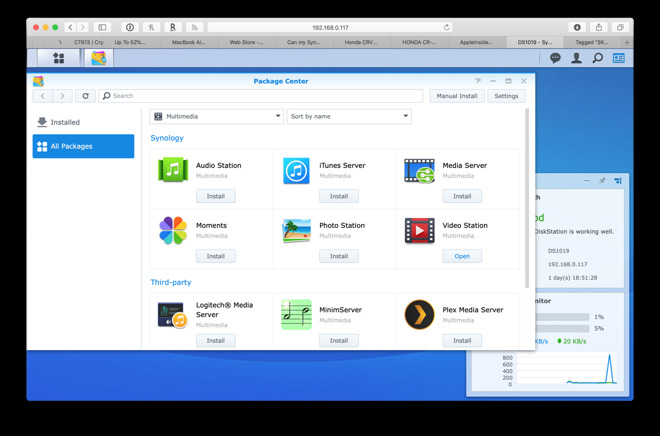 DSM and the Package Center app 'store'
DSM is kind of like an operating system with a desktop metaphor, viewed through a web browser. You can click on icons on the desktop-in-the-browser to view resources, change settings, or open file manager windows that aren't too different from Finder on Mac.
Music sharing to iTunes
In our previous article on home servers, we wrote about the importance of iTunes sharing. In that example, we stored all of our music on the home server in iTunes and broadcast it to other machines in the home via iTunes sharing or broadcasting using
Audio Hijack Pro
, since NiceCast was discontinued.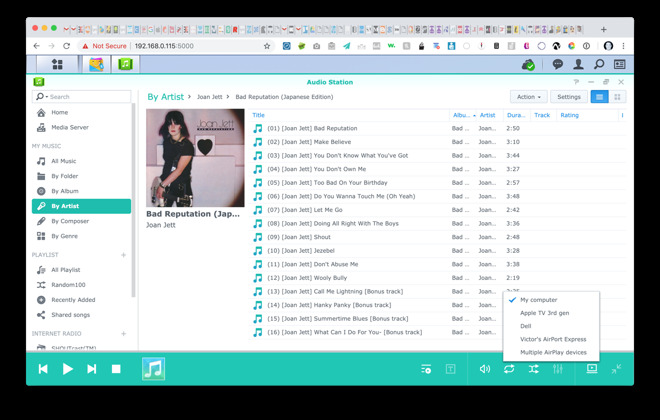 Audio Station by Synology
Synology ships the NAS with a Package Center application, which allows you to install a number of other applications on the NAS. One of the ones we installed immediately is iTunes Server. Setup is simple, requiring creating a share name, and optionally, a password and smart playlists, whose options work just like they do in iTunes.
It's necessary to talk about storing music. Initially, you may want to set up a share on the DS1019+ to automatically mount on the Mac and then point the iTunes library to it in iTunes' preferences. This is a very bad idea.
Whenever the network share isn't present, iTunes will reset its library to the local drive. You could create a disk image on the NAS and then mount that and store the iTunes library inside it. You could even move the iTunes application over and create a symlink to it, which would help because it won't lose track of the library. But that's a very ugly solution.
What we've arrived at is just putting music in the music share folder on the NAS and letting Audio Station and iTunes sharing sort it out. It works, except not very well to AppleTV, because AppleTV expects iTunes and Home Sharing.
In order to listen to the music on the NAS on iOS, we use an application called
Simple DAAP Client
, which is a little ugly, but finds the NAS automatically over Bonjour, streams from it, and is able to use iOS to send the audio to AirPlay speakers. Separately, opening the application AudioStation from the NAS's web management lets you broadcast to multiple AirPlay speakers and DLNA targets.
AudioStation is a little of a pain, in that you have to select the speaker you want the output to broadcast to first, and then press play. If you press play first and then try and change speaker as is normal with AirPlay, what happens is, audio will play through the default selected device (probably a Mac), and when you switch speaker settings, it keeps playing while letting you select new media for the newly selected speaker. It's not obvious what's playing where, and you have to switch speaker settings to control them all. It's a strange workflow.
We also used Synology's DS Audio app, which allowed us to assign different audio to different AirPlay, Chromecast, and DLNA devices around the home. It's terribly confusing, just like AudioStation but worse because the interface is harder to navigate. Where Simple DAAP Client is fast at finding sources, showing a list of music, and then playing quickly, leaving AirPlay output targets to iOS to manage, DS Audio tries to do everything.
DSAudio wants to let you pick songs to create playlists, and play different audio to different speakers all at the same time. Where it breaks down is when you try and change song, it's easy to leave a song playing on a different AirPlay speaker, which disappoints the whole family. There's no easy way to tell if audio has been left playing on another speaker, or what's playing where at any given moment. We can't emphasize enough how frustrating this was.

DS Audio
Synology
has a page
suggesting that you mount the NAS in Finder and then create the iTunes library in the folder mounted from the NAS. In practice, we found that this didn't work reliably. When we were copying large numbers of large files to it, the NAS choked and gave up. From time to time, iTunes would have issues and move the library back to our local Mac drive, rather than the NAS share. On the whole, using a folder for music on the NAS and iTunes Sharing to bring the music to iTunes worked a lot more reliably.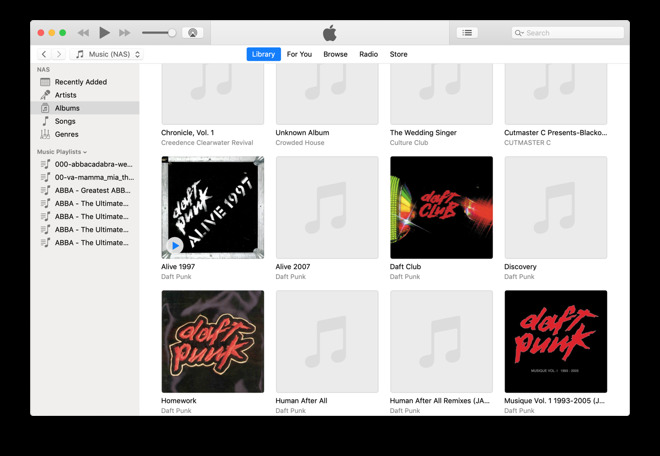 Notice the NAS library up at the top - that's where it's bringing the audio from in this case.
The DS1019+ also makes it possible to use Amazon Alexa to play music stored on the NAS, courtesy of a skill and some settings in the Audio Station application. It's a lot of
hoops for most people to jump through
, but is possible to issue a command like, "Hey Alexa, ask Audio Station to play Bad Reputation by Joan Jett" and have it work.
If you wanted to keep all your music locally, rather than use a service like Apple Music, but still wanted to use voice speakers to play it, this is possible. Of course, you end up having to make choices about sound quality of Alexa speakers, connecting them to better speakers, and other decisions. But Synology, on the whole, is about providing options, and for users who aren't all in on Apple Music or HomePod, this seems quite useful.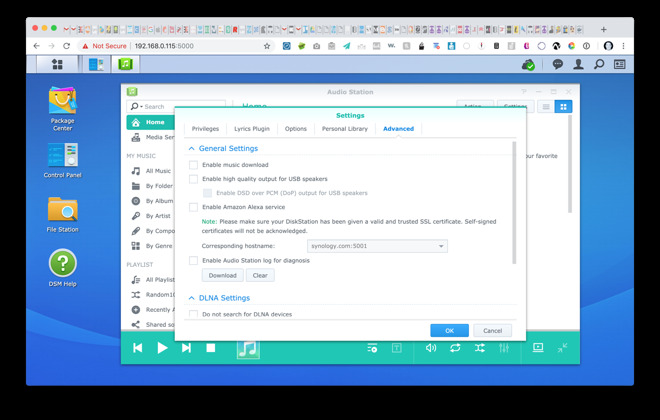 Note in the middle of this image, it's possible to use Audio Station with Amazon Alexa.
Video
Another use of the Home Server from our past article was storing and playing back video. Previously, we talked about using Handbrake and MakeMKV to get DVD and Blu-Ray media on a Mac. With a NAS, you could copy it to the NAS from your Mac, into a video directory, and then share it on the network using Synology's VideoStation application on the NAS.
Synology's VideoStation lets you play back video in the browser, or using DS Video apps on AppleTV and iOS. It conveniently has settings to transcode video, as well as automatically download subtitles using opensubtitles.org or subscene, two providers of subtitles for movies and television programs.
When using DS Video on AppleTV, the movies take about 7-15 seconds to start from the time that the remote is clicked, which doesn't sound like much, but feels quite long in practice. This is an artifact of transcoding, the NAS's CPU and RAM and what file format the file was stored in. The DS1019+ shipped with 8GB of RAM, and it spikes up to 30% CPU usage at times when video is playing.
Video Station supports playback via web, Roku, Android TV, Android phones, iOS, Apple TV, Windows 10 devices, and more. It's possible to run Plex on the Synology NAS and AppleTV. Of course, if you're familiar with Plex, it's capable of this, too, and with a Plex pass license, can take advantage of hardware transcoding. Honestly, we prefer the auto-download subtitles behavior of Video Station/DS Video and the lack of complexity that DS Video, VideoStation, and Firecore's Infuse Pro (which works fantastically with the DS1019+) have.
Photos
The NAS comes with a Photo Station application, which allows you to organize your photos in albums. It's meant to be a professional tool, where you can share and access files on the go, and get client feedback about photos. It also works with DS Photo on iOS and AppleTV.
DS Photo on iOS can back up the camera library to the NAS, which is a convenient feature. Moments is a NAS application in Package Center that organizes your photos by subject, person, location, and so forth. As Mac users, we're probably better served using the photo recognition that's built into Photos, but it's convenient, especially after backing the photos up to the NAS. DS Photo and DS Files iOS apps both allow photo backup to the NAS. We'd advise picking one and not using both, which would be redundant.

DS Photos provides a number of options, including Photo backup, geolocation and conversion
Remote Access
Using the EZ-Internet application on the NAS sets up the NAS for use on the Internet. It configures the router, firewall, and Dynamic DNS, so that the router has a domain name you can reach from the outside world. In our Home Server article, we used no-ip.org for this. Here, we get to use Synology's DDNS service, and assign a name like myname.synology.com.
It's possible to connect the NAS directly to an ISP and use it as the router, but it's more common to connect it behind a router. EZ-Internet detects the network setup, the router, configures the firewall, and guides through setting up DDNS. It makes it easy to make the NAS accessible outside of your home or office without a lot of work, and have it remain relatively secure.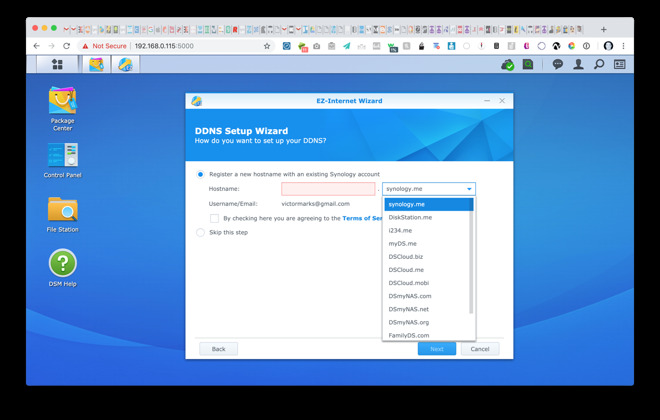 Synology's DDNS setup wizard makes it easy to get the device on the Internet for use with apps and computer access remotely.
Office applications
Using Synology
Drive
for iOS means being able to access the NAS like your own private DropBox, or perhaps more aptly, a private Google Drive. Synology has equipped the NAS with a number of applications: Drive, Office, Chat, Note Station, Calendar, MailPlus, and MailPlus Server.
Office looks and works very similar to Google Docs, with documents, sheet, and slides as web apps. There's also a desktop application which syncs files on the NAS to the Mac, just like Dropbox does with their app. We don't commonly advise people to run their own email server, but you could, and it would work similarly to Gmail, with email available in the browser in addition to common mail applications.
File Management: Files? Drive?
Synology has two file management apps for iOS:
DS file
and
Drive
. Both work with Apple's Files app as Locations you can add and use in Apple's Files app. Both have been recently updated, in April 2019. Why on earth would you want two? What are the differences between them?
DS File works without installing anything further on the NAS. Drive requires installing Drive on the NAS. DS File enables photo backup, but without the Geofencing options of DS Photo. Drive lets you create folders, upload from your iOS device, pick multiple photos from albums to upload, or use the camera to take a picture and save it directly to the NAS. Both DS File and Drive have an option to auto-convert HEIF to JPEG when you upload photos.

Files, versus Drive options
Drive supports Office 365 on iOS, so that users can save files in Microsoft Office applications to Synology Drive. You can also open Synology Office document, spreadsheets and slides in the user-friendly viewer provided by Drive. You can search files on the NAS, share, move and apply labels to files, making it really useful for on the go file management.
It's not quite as useful as a full Google Docs replacement, because you can't edit the files from within Drive app. But, it works for viewing, sharing, offline access, and so on.
Drive and DS File are available as Locations to open from or save files to in Microsoft Word's app, for example, but Word doesn't handle the .odoc format that Synology Drive's Docs editor uses to create files. You can download files created in Drive's docs editor on the Mac as MS word .docx, but then you'd have to upload that back to the NAS for it to be available to mobile in a way that Word could edit it, which seems like a bothersome round trip - basically, you have to choose one editor and stick with it. Not that it's a consolation, but the save file for offline access feature on iOS is very nice to have.
Surveillance Station
The DS1019+ can act as a part of a video security system. It supports a wide range of IP cameras, and can record footage as an NVR, or network video recorder. The Surveillance Station application can record events, stream live, and even be monitored through an iOS app, DS Cam or Live Cam. It does require a license to add more cameras, but works well with the iOS apps to stream cameras, or through the web browser. By default, it supports licenses for 2 cameras, but you can purchase additional licenses to add more cameras.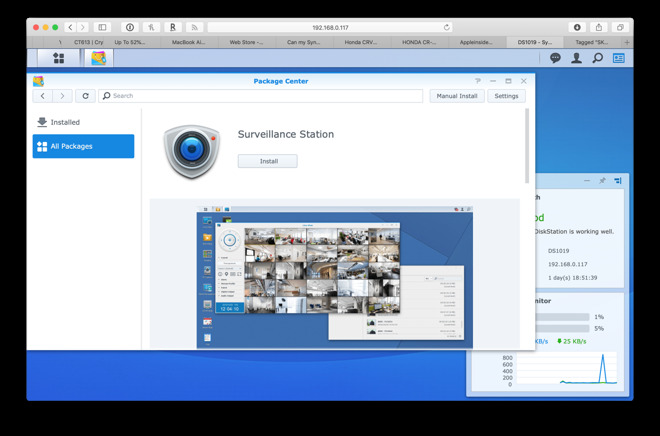 Surveillance Station
The 1019+ specifically
The DS1019+ is a 5 drive bay, Intel Celeron-based NAS. Synology also makes ARM-based NAS products, including the single drive DS119j.
The DS1019+ supports streaming your 4K content
with 4K H.265 transcoding. The change notes for Video Station state: "Added support for HEVC hardware transcoding on Synology DiskStation DS716+, DS716+ll, DS1019+, and DS916+."
That may be true, but it's not without some caveats. We were unable to stream some 10-bit 4k HEVC H.265 files. We were able to stream some 1080P HEVC H.265 video. The terminal command FFmpeg -I on a file reported
hevc (Main), yuv420p(tv, unknown/bt709/unknown), 1920x1080 [SAR 1:1 DAR 16:9], 23.98 fps, 23.98 tbr, 1k tbn, 23.98 tbc (default)
for the video profile, and it did work just fine streaming H.265 to a 4th generation AppleTV using Synology's DS Video app.
We found that we had much better luck just using h.264 1080p, both with a Mac running Mojave, an
Apple TV 4th gen
and an
Apple TV 4K
as the receiving devices. With Video Station and DS video, you should be able to convert and play 4K videos to media players that don't support Ultra HD formats, but Synology's copy on this feature is really inconsistent: Some places, it says it has support, some places, it indicates that 4K content will be transcoded down to 1080p, which would be desirable for devices that don't support 4K.
We suspect that the latter is true, and that Synology needs to introduce some clarity around this. We would like some more documentation around what containers and encoding Synology supports so that we can better understand what 4K files are going to play, and what if anything we need to do with Handbrake to make sure files are compatible. 4K video and H.265 are currently not well documented by Synology.
It's time for a local cloud, if you have a lot of devices
As we've said, a local store of your important files is excellent, and has benefits for a family or office. It's just how you do it that varies.
The easiest, fastest way to get a good home server running is with a Synology NAS. You won't get the folder organization for your music library that iTunes imposes, but some people have always been disappointed with iTunes organization anyway. The biggest let-downs for us were that there's no DS Audio app for AppleTV as there are DS Video apps for Video Station on the DS1019+, and the lack of clarity around 4K streaming and transcoding. We also wish that there were better user interfaces for managing where music is playing or being sent in DS Audio and AudioStation.
We like the Synology DSM operating system for the NAS, the collection of iOS and AppleTV apps that are available, and the strong benefit of Time Machine backups now that Time Capsule has gone away. The Synology DS1019+ is available for $640 without disks from
Amazon.com
.
Score: 4.5 out of 5.