iPad Pro vs Surface Pro features and specs showdown
In this iPad Pro vs Surface Pro comparison, we look at features, specifications, and how both fare vs the MacBook Air.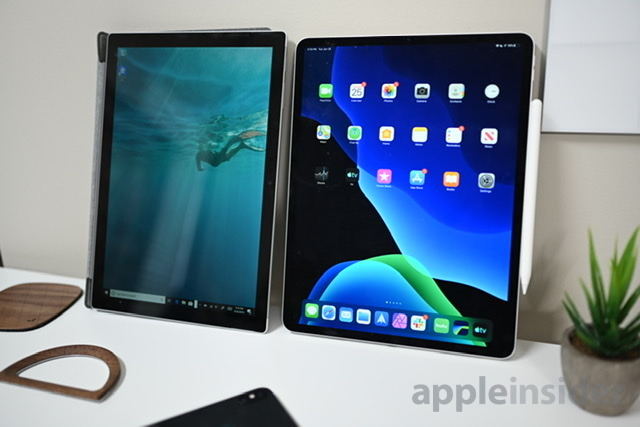 Comparing the 12.9 inch iPad Pro vs Surface Pro
When we
reviewed Microsoft's Surface Pro
, we mentioned that
Microsoft
picks and chooses what aspects of Apple products it wishes to compete against, obviously in a bid to make the Surface Pro look better. Whether or not it does depends highly on the user, so let's look at these three, together, piece-by-piece in an iPad Pro vs Surface Pro vs MacBook Air showdown.
We're looking at the Surface Pro that retails for $1499 (currently
on sale in-cart
) with a Core i7 processor, 256GB of storage, and 8GB of RAM, plus at least another $129 for a keyboard, bringing it up to a bit over $1600.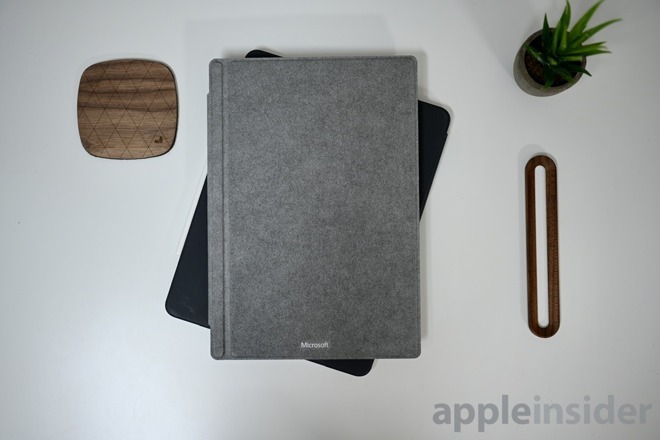 The Microsoft Surface Pro
Let's compare it to a
2018 MacBook Air
with a 1.6GHz i5 processor, 256GB of storage, and 16GB of RAM for $1599, and a
12.9-inch iPad Pro
with 512GB capacity for $1349 (also on sale), plus a generous allowance for a third-party keyboard and other accessories.
iPad Pro vs Surface Pro vs MacBook Air: Screen
The screen on the Surface Pro 6 is a 12.3-inch touchscreen, with a 2736 x 1824 resolution at 400 nits. In comparison, the 13-inch MacBook Air has a 2560 x 1600 display with 400 nit brightness. The
12.9-inch iPad Pro
has a 12.9-inch display at 2732 x 2048 at 600 nits -- and is also a wide color P3 display touchscreen.
These are all nice screens. Microsoft has historically compared the Surface Pro to the non-Retina MacBook, and not the iPad Pro.
Processor
The Surface Pro we're comparing here has an Intel Core i7 four-core processor with a 2.1GHz base speed. The MacBook Air has a 1.6GHz i5, with the iPad Pro sporting the A12X Bionic chip.
iPad Pro vs Surface Pro
Our Surface Pro scored 3323 single-core, and 11068 multi-core. Our 12.9-inch iPad Pro scores around 5000 single-core, and 17622 multi-core. The MacBook Air trails at an average of 4362 and 7858 on our single-core and multi-core tests respectively.
In our Surface Pro vs iPad Pro vs MacBook Air processing results, from a sheer processing heft point of view, the iPad Pro wins -- and so does the previous model of iPad Pro versus this Surface. And, as you may expect, Microsoft has historically compared the Surface in this regard to the MacBook Air.
Ports
Microsoft has generally compared the Surface Pro to either the single-port MacBook, or the iPad.
As far as ports go, Microsoft has not yet shifted to USB-C or Thunderbolt 3, but it appears that at least USB 3.1 type C is coming for the next model at some point in the future. At present, though, it has one USB 3.0 port, a DisplayPort, the Surface Connect port, a microSD slot, and a headphone jack.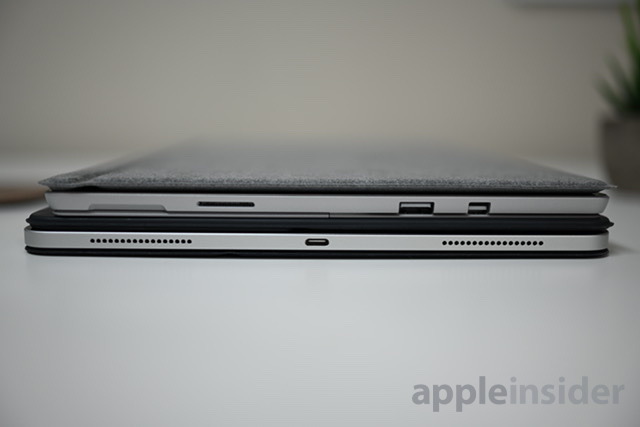 Surface Pro still doesn't have USB-C
Apple's MacBook Air has two 40Gbit Thunderbolt 3 ports and a headphone jack. Apple's iPad Pro has a single USB-C port. But, with that allowance for accessories, there are a host of USB-C docks to load up the device with any number of ports, meeting or exceeding the Surface Pro.
So, mixed verdict on this one. At present, the Surface Pro lacks any kind of high-speed data interface beyond the single USB 3.0 port, but out of the box has more ports.
Software
Windows has more software, period. However, does it matter if you pick between 200 different word processing applications or 100? Either way, on any platform you choose, there is more software than you will ever use in a lifetime.
The main differentiator is games. The Surface Pro isn't exactly a heavyweight, the same way that the MacBook Air isn't, utilizing only Intel integrated graphics. The iPad Pro, on the other hand, has access to the entire iPhone and iPad game lineup -- for better
and
worse.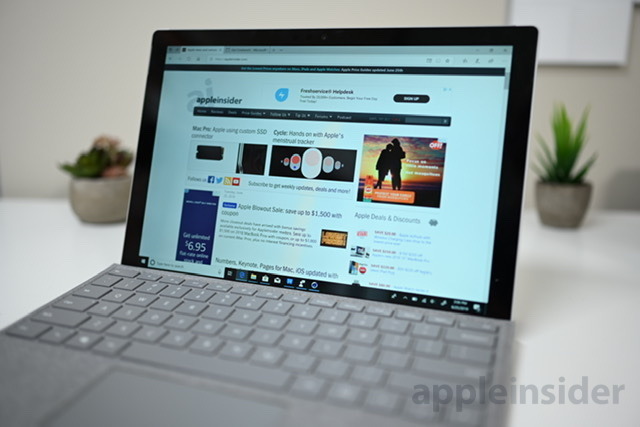 Microsoft Surface Pro 6
In regards to the operating system, like we mentioned in our Surface Pro review, Microsoft blew it in integration. Microsoft had the opportunity to control the "whole stack" like Apple does with iOS and the iPad, or macOS and the Mac. It had the opportunity to use tailor the Surface hardware and the operating system beyond what it is -- just another Windows device, and all that entails.
The winner is...
At this point, for
maximum impact
, the paradigm is to declare an overall winner of the battle of the hardware. We're not going to do that, though.
The Surface Pro, iPad Pro, and MacBook Air are all aimed at entirely different market segments. They are aimed at entirely different use cases, and there is no clear winner, nor should there be.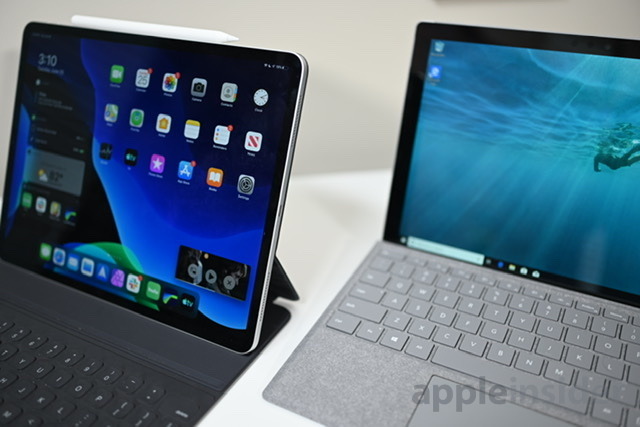 The iPad Pro is is a more integrated device while the Surface Pro 6 is the best Windows device
The Surface Pro is the best Windows tablet, bar none. The iPad Pro is the ultimate expression of iOS devices right now, and that's only going to get better in the fall with iPad OS. The MacBook Air isn't the best Mac, but it is an extremely capable, and very light device, well-suited for macOS use on the go.
How to save on your Microsoft or Apple purchase
Aggressive deals can be found on the Surface Pro, as well as Apple's iPad Pro and MacBook Air. At press time, B&H has the
lowest price
on several Surface Pro 6 models with a sales tax refund in eligible states using its
Payboo Credit Card
. Amazon.com is also running cash rebates on Surface Pro configurations, with prices
as low as $699
.
Results of the iPad Pro vs Surface Pro vs MacBook Air evaluation aside, it is a good time to shop and save. Those looking for
discounts on Apple hardware
can save up to $250 on
iPad Pro models
and up to $150 on
new MacBook Air
laptops, with many Mac systems eligible for our exclusive promo code. To find the lowest prices, be sure to visit our
Apple Price Guides
, which are updated throughout the day.