Apple's Mac sales are up a lot or down slightly in Q2 depending on who you ask
Market research firms IDC and Gartner released widely diverging worldwide PC marketshare estimates for the second quarter of 2019 on Thursday, with one firm finding Mac shipments up nearly 10% while the other saw Apple suffering negative growth.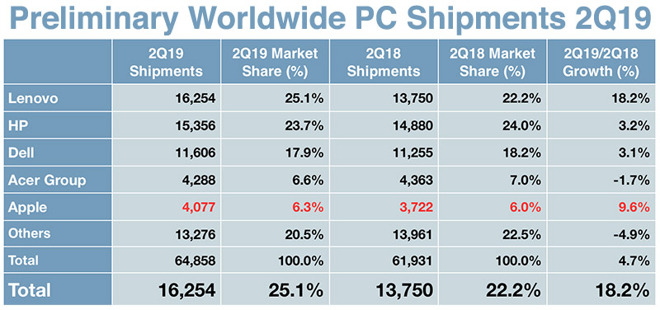 IDC's second quarter numbers.
According to IDC, Apple
shipped 4.1 million Macs
during the quarter ending in June, up 9.6% from from an estimated 3.7 million units shipped over the same period in 2018. The result earned the Cupertino tech giant a a 6.3% share of the worldwide PC market, up from 6% last year, IDC said.
Those figures contrast with estimates from Gartner, which saw Apple
ship 3.7 million Macs
in quarter two, down 0.2% year-over-year. Apple obtained 5.9% of the global PC market, down from 6% in 2018, Gartner estimates.
Beyond Apple, the research firms disagreed on Acer's performance. The Taiwan-based company landed in fourth place on IDC's top-five list with 4.3 million units shipped, down 1.7% year-over-year. Gartner, however, saw the company slip to fifth place behind Apple on shipments of 3.4 million units, down 14.4% percent from the year-ago period.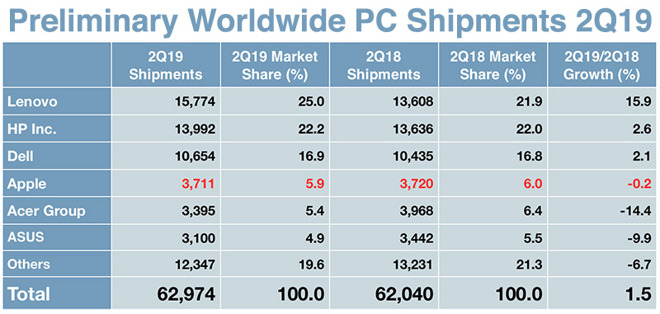 Gartner's second quarter numbers.
Both research firms placed Lenovo as the world's top PC manufacturer, with IDC estimating 16.3 million units shipped to Gartner's 15.8 million units. IDC put Lenovo's take of the market at 25.1% percent, not far off from Gartner's 25% estimate.
HP and Dell finished in second and third, respectively, with IDC estimating 15.4 million units shipped for HP, up 3.2% year-over-year. Gartner estimated HP's shipments at 14 million units, up 2.6% from the same period in 2018. Dell shipped 11.6 million computers, up 3.1% year-over-year, according to IDC. Gartner put Dell's shipments at 10.7 million units, up 2.1% from 2018.
Overall, IDC holds a much more rosy outlook on the PC market's vitality, finding the industry grew 4.7% year-on-year. Gartner's lay of the land, on the other hand, is relatively staid with total growth reaching an estimated 1.5% over the quarter.
Both IDC and Gartner's findings have
come under fire
over the past year, both by industry watchers and manufacturers. With Apple
no longer reporting
unit sales, however, media outlets are forced to rely on the estimates to gauge the health of Apple's Mac business.