Apple replaces 3D Touch with Haptic Touch on iPhone 11 and iPhone 11 Pro
Posted:
in iPhone
edited September 2019
As rumored, Apple has abandoned 3D Touch technology in its latest iPhone lineup, moving to a less hardware-intensive Haptic Touch solution that debuted with iPhone XR last year.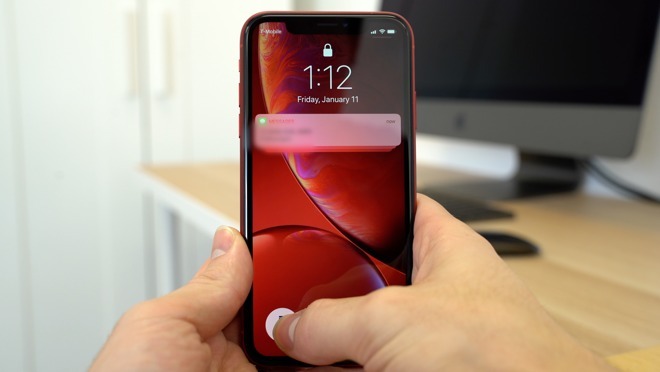 Haptic Touch on iPhone XR.
The change was left unmentioned during Tuesday's special event, with Apple quietly noting its decision to eschew 3D Touch in favor of Haptic Touch in sections of the product's dedicated
webpage
.
"Haptic Touch lets you do things faster, like take selfies without launching the Camera app," Apple says.
Tech Specs pages covering both iPhone 11 and iPhone 11 Pro lines advertise Haptic Touch integration with no sign of 3D Touch to be found.
Introduced alongside iPhone XR in 2018,
Haptic Touch
does without 3D Touch hardware, specifically a capacitive sensing layer, by delivering a similar user experience through software. Instead of pressing firmly on a 3D Touch display, users touch and hold UI elements to invoke secondary commands like app Quick Actions and contextual "Peek and Pop" views.
Apple
introduced 3D Touch
with 2015's iPhone 6S, bringing force-sensing technology first seen on Apple Watch to iPhone. The demise of 3D Touch also marks an end for pressure-sensitive input on Apple handsets, though the feature was rarely utilized by third-party developers. Pressure sensitivity is arguably more useful on iPad which does support the feature thanks to Apple Pencil.
The company was first rumored to ditch 3D Touch
in July
, a move thought to increase internal headroom and save on production costs.
More recently, reports suggested Apple would
upgrade the Taptic Engine
, which underpins all haptic feedback-related functions on iPhone, for use with Haptic Touch. Whether that is the case with iPhone 11 remains to be seen.