Mac Pro now available with $2600 8TB SSD option
Following its initial launch without the option, Apple has updated the ordering page for the modular Mac Pro with a new storage capacity, with customers now able to configure a version with up to 8 terabytes of built-in storage.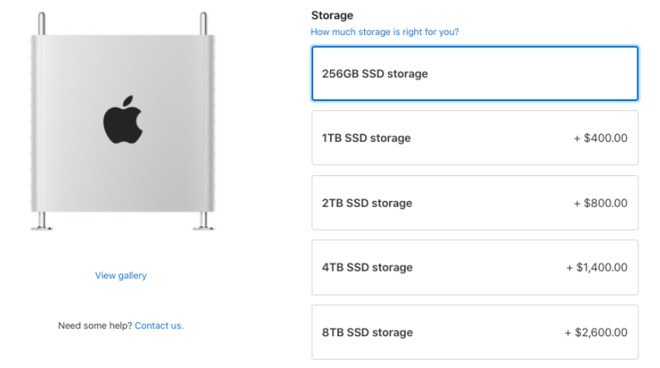 When the new
Mac Pro
initially became
available to order
, customers were able to order up to 4TB of built-in SSD storage, comprising of two 2TB modules. Specification pages and other marketing materials advised of configurations where 8TB were possible, but that option wasn't offered within the configuration screen on the Apple website.
An update to the
sales page
on Thursday adds in the extra option, which adds two 4TB SSD modules to the system, and brings the total list of options up to five: 256GB, 1TB, 2TB, 4TB, and 8TB.
Selecting 8TB of storage is a costly upgrade to make, with a move from the base 256GB SSD to the 8TB version increasing the price of the Mac Pro by $2,600. A similar upgrade from 256GB to 4TB raises the price by $1,400.
The change in storage capacities is the only real change made to the Mac Pro ordering process, but more alternatives for other components are still on the way. The page advises options to use one or two Radeon Pro W5700X GPUs with 16GB of GDDR6 memory apiece will be available to add to an order "soon."
The extra storage now means the most expensive configuration of hardware for the Mac Pro is now $53,948, which includes peripherals and wheels but not the
Pro Display XDR
nor pre-installed software. Previously, the maximum hardware configuration possible
was $52,748
.