Developer Blix claims new evidence of App Store 'monopoly' in court filing
Developer Blix, maker of apps Followapp and BlueMail, on Friday filed an amended complaint against Apple claiming it has fresh evidence that the tech giant favors its own apps over similar offerings from third-parties in the App Store.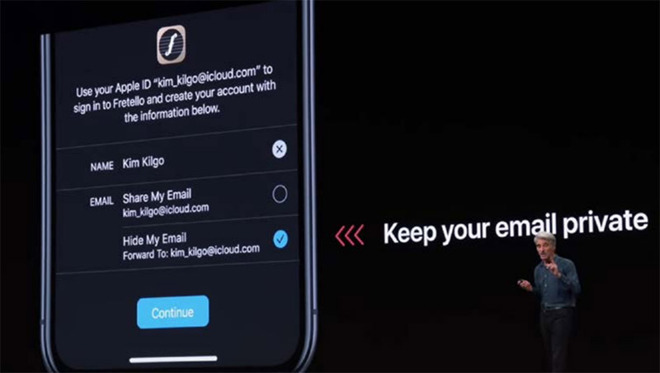 Apple SVP Craig Federighi presents "Sign in with Apple" at WWDC 2019. | Source: Blix v. Apple
The filing, lodged with the U.S. District Court for the District of Delaware, augments a lawsuit
from October
claiming Apple infringed on BlueMail's patents with "
Sign in with Apple
" technology. Blix, founded by Ben and Dan Volach, also alleges Apple exerts a monopoly over its various
App Stores
to artificially suppress the reach of apps competing with apps like Mail.
According to the original filing, Sign in with Apple apes BlueMail's signature "Share Email" feature, which enables users to communicate "using manageable
public
interaction addresses, without revealing their
private
interaction addresses." (Emphasis in original.) Share Email generates a "reverse list" of contacts that ties user actions to their public address, a technique that creates a digital fence through which parties can send and receive messages to a unique public account without divulging their private email address.
Apple's Sign in with Apple feature includes a similar tool to protect users from unwanted email marketing that often comes part and parcel with single sign-on authentication systems. Apple's solution presents an option called "Hide My Email" which, when activated, obscures private email addresses by generating a unique Apple-hosted address specific to an app or web service. Subsequent communication sent to the generated address is forwarded to a user's private account. Further, relay addresses can be disabled at any time.
Along with patent infringement claims, Blix alleges Apple, after seeing a momentous rise in popularity on the macOS App Store, pulled BlueMail in May 2018. At the time, Apple attributed the takedown to a violation of App Store Review Guidelines, later explaining the app duplicated functionality of the Blix-owned
TypeApp
. Blix informed Apple that
TypeApp
had been removed from the App Store "weeks before" the tech giant accepted BlueMail. Still, Apple maintained the app was not in compliance with developer guidelines.
Following BlueMail's eviction, the Volachs penned an
open letter
to Apple CEO
Tim Cook
, imploring the executive to reinstate the app in a "struggle for fairness." Apple's response to the letter, the first communication with Blix since June, is included in Friday's filing and claims TypeApp was not properly removed from the App Store.
In order to "remove" an app from the App Store, developers must adhere to a specific procedure that involves archiving a title. Apple said Blix failed to follow these App Store rules, according to the filing.
"These shifting explanations were themselves not credible, and at times internally inconsistent. A developer removing their application from the App Store would, Apple acknowledged, remove the application from sale -- making it unavailable, rather than currently available on the App Store,' as Apple claimed when rejecting BlueMail," the document reads.
Further, the revised filing asserts Apple does accept "duplicate" -- in form or function -- apps from the same developer, noting the "highly similar" Telegram and Telegram Desktop are currently on offer on the macOS App Store.
Blix also takes issue with Apple's recent decision to make its own apps ineligible for customer ratings. The policy "immunizes" Apple from the negative feedback and comments other apps routinely face, according to the complaint.
Building on Apple's allegedly anticompetitive App Store practices, Blix claims the iOS version of the online software marketplace is intentionally designed to dissuade users from selecting apps that compete with first-party offerings. For example, paid advertisements and App Store Stories take up a significant portion of a search results page. This is in contrast to search features employed on the Google Play Store and Amazon Appstore, which immediately surfaces a variety of choices.
In its original filing, Blix cited a
New York Times
article that claimed Apple
artificially suppressed
BlueMail from appearing in App Store search results. Following publication of the report, Apple supposedly updated its search algorithms and as a result BlueMail jumped from No. 143 to No. 13 in results for simple keywords like "email."
Perhaps not coincidentally, Blix titles have enjoyed high rankings on competing App Stores.
"It was not an easy decision to proceed with this lawsuit against the largest tech company in the world," Ben Volach told
The Washington Post
on Friday
. "Blix, and its BlueMail product, are the latest in Apple's long line of victims. Apple's monopoly over app distribution forecloses competition and harms consumers. Apple has also harmed additional developers who would otherwise compete fairly."
Volach is suing Apple for patent infringement and illegal monopolization of the App Store, and seeks an injunction, damages and legal fees.