Apple to hold annual shareholders meeting on Feb. 26
Apple is scheduled to hold its annual shareholders meeting in February at Apple Park's Steve Jobs Theater, where stock holders will cast votes on measures ranging from the election of the company's board of executives to three shareholder proposals.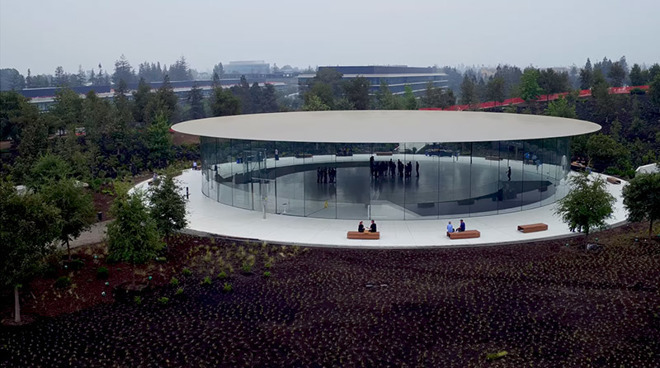 The meeting is slated to take place on Feb. 26 at 9 a.m. Pacific, according to a
proxy statement
filed with the U.S. Securities and Exchange Commission on Friday. Shareholders of record, or those who owned Apple stock at the close of business on Jan. 2, 2020, are invited to participate in person, but anyone with stake in the company can vote online through
proxyvote.com
.
For 2020, the meeting will cover a total of six proposals involving the election of directors, ratification of Ernst and Young as the independent registered public accounting firm and approval of executive compensation. Three shareholder proposals covering proxy access, sustainability and executive compensation, and policies of freedom of expression are also up for vote.
Apple presents board nominees James Bell, Tim Cook, Al Gore, Andrea Jung, Art Levinson, Ron Sugar and Sue Wagner for consideration. Bob Iger, CEO of Disney,
resigned from the company's board
last September, prior to the debut of the Apple TV+ and Disney+ streaming services. A longtime director at Apple, Iger
later said
the tech giant's interest in entering the entertainment industry put the companies on "conflicting rather than converging" paths.
During 2019, CEO Cook once again netted the lowest payout amongst fellow C-suite executives at $11.5 million, including a $3 million base salary. Other executives, including CFO Luca Maestri, General Counsel Kate Adams, SVP of Retail and People Deidre O'Brien, COO Jeff Williams, and former retail chief Angela Ahrendts, reaped between $19 million and $25 million in salary, stock grants and incentives.
That said, Cook raked in $113.5 million in vested stock units and stands to gain hundreds of millions of dollars should Apple continue to perform at expectations, as he controls 1.26 million unvested stock units worth some $275.7 million, as well as 560,000 equity incentive plan awards worth $122.5 million.
Three shareholder proposals are on the docket for 2020, including yet another proxy access amendment that seeks a second shareholder-approved nominee to the board. Apple's current proxy access regulations limit access to 20 percent of immediately serving directors rounded down to the nearest whole number, which comes out to one director. The proposal would change that language to reflect a 20 percent figure "or 2, whichever is greater."
Apple has received proxy access proposals six years running and in each case recommended shareholders vote against the proposition on the basis that the existing method of proxy access has been deemed effective.
Proposal 5 requests the Board Compensation Committee to prepare a report "assessing the feasibility of integrating sustainability metrics into performance measures, performance goals or vesting conditions that may apply to senior executives under the Company's compensation incentive plans." While Apple touts efforts in the areas of environmental sustainability and human rights, directly tying specific metrics to executive compensation could "reduce reputational, legal and regulatory risks and improve long-term performance," the proposal reads.
Apple recommends a vote against Proposal 5, noting existing programs like the yearly Supplier Responsibility Progress Report, Environmental Responsibility Report and Supplier Code of Conduct are already in place. Further, integrating the requested metrics into executive compensation would be redundant as they are already built in as core corporate values, the company says.
"An effective approach to "sustainability," as that term is defined by the proponent, requires more than simply tying executive compensation to the achievement of environmental, social, and governance goals," Apple says. "That is why, as a company, we already incorporate the Apple Values into our business strategy."
Finally, Proposal 6 seeks a report on Apple's policies on freedom of expression and access to information, "including whether it has publicly committed to respect freedom of expression as a human right." The company's dealings in China are specifically mentioned, with proponents noting Apple's
mass removal of VPN apps
from the App Store in 2017, a takedown of
at least 634 so-called "illegal" apps
in 2018 and the ejection of
The New York Times
app
in 2017
. In each case, Apple acted at the behest of the Chinese government, a regime known to stifle free speech.
The company recommends voting against Proposal 6, saying it adheres to the laws and regulations of countries in which it operates.
"In these instances, we prioritize engagement, advocating for the outcome we believe is in the best interests of our users. And, while we may disagree with certain decisions at times, we do not believe it would be in the best interests of our users to simply abandon markets, which would leave consumers with fewer choices and fewer privacy protections," Apple says. "We believe engaging and participating in markets enables us to advocate for policies and practices that are consistent with Apple's values."