Ghislaine Maxwell's iPhone and bullets in an iPhone box in the Apple Crime Blotter
Posted:
in iPhone
edited July 2020
A man sentenced for a scheme to steal Demi Moore's credit card, an international influencer arrested, blocking signals with aluminum foil, and more on the Apple crime blotter.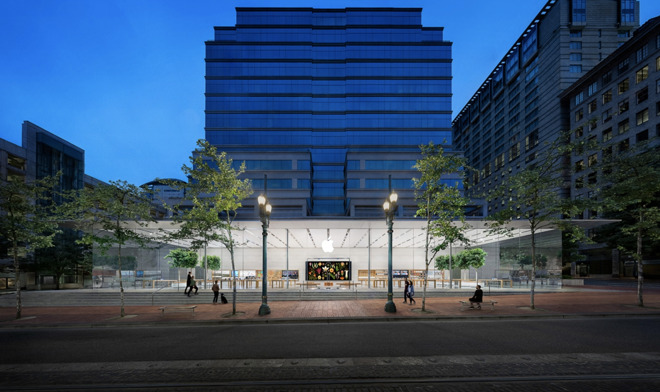 The latest in an occasional
AppleInsider
series, looking at the world of Apple-related crime.
Ghislaine Maxwell kept phone in aluminum foil
When the New Hampshire home of Ghislaine Maxwell, the ex-girlfriend and accused co-conspirator of the late mogul and convicted sex offender Jeffrey Epstein, was raided last month, FBI agents found a cell phone wrapped in tin foil among her possessions.
According to
federal prosecutors
, as cited by
CNN
, the phone was "a seemingly misguided effort to evade detection, not by the press or public, which of course would have no ability to trace her phone or intercept her communications, but by law enforcement." It's not clear if the phone was an iPhone, but
Vanity Fair
reported that
Maxwell had
an iPhone, iPad, and laptop with her during her time living incognito.
Maxwell, who
has been charged
with federal crimes including enticing a minor to travel to engage in criminal sexual activity, has pled not guilty.
Meanwhile, an iPhone case, featuring a pair of reindeer looking down a chimney with the text bubble "Where is Ghislaine Maxwell?"
is available for purchase on RedBubble.com
for $21.
Soldier jailed, discharged for selling bullets in an iPhone box
A 31-year-old British soldier has been found guilty of
possessing prohibited ammunition
after police, in 2017, stopped a car containing both a loaded handgun and 97 rounds of 9mm Parabellum ammunition, which was packed into an iPhone box. According to
EDP 24
, police traced the International Mobile Equipment Identity (IMEI) number on the box and connected it to the soldier, who was both sentenced and discharged from the British Army.
Thief who was part of a scheme to use Demi Moore's stolen credit card at Apple Store is sentenced
A California man has been sentenced to 14 months in a halfway house for his part in a conspiracy to steal actress Demi Moore's no-limit American Express card and use it for $170,000 in fraudulent purchases. According to
Patch
, the man pled guilty
two years ago
to charges that included conspiracy to commit credit card fraud, use of unauthorized credit cards and aggravated identity theft.
One of the other conspirators impersonated Moore's personal assistant at a FedEx facility and took delivery of the card, which was then used for purchases at the Apple Store, Fifth Avenue, and other Los Angeles stores.
Still no reports about Apple Store looting arrests
It
was widely reported
, following looting in early June, that Apple had placed messages on stolen iPhones that Apple was tracking the items.
However, since then there have been no news reports anywhere about Apple providing data for arrests of those who looted iPhones, and with more Apple Stores closed due to coronavirus, there have been no other reports of break-ins at Apple Stores following the spate of looting in June. One reporter did post a photo of someone being arrested near an Apple Store in Portland, although the circumstances are not clear:
iPhone and iCloud evidence used in affidavit against Instagram influencer "Ray Hushpuppi"
An Instagram influencer who went by the name Ray Hushpuppi was arrested in early July on charges that he used hacking schemes to steal millions of dollars, and that his Instagram posts were used to flaunt stolen merchandise that link him to the crimes.
According to
CNN
, Hushpuppi
was arrested
in Dubai and later extradited to the U.S.
The FBI affidavit states
that iPhone and iCloud data from the accused's co-conspirator was used against "Hushpuppi," whose real name is Ramon Abbas.
Abbas has yet to be formally indicted.
View this post on Instagram
Started out my day having sushi down at Nobu in Monte Carlo, Monaco then decided to book a helicopter to have a pedi-medi and facials at the Christian Dior spa in Paris then ended my day having champagne in Gucci #LifeGoals #BeInspired
A post shared by HUSHPUPPI (@hushpuppi) on Apr 27, 2017 at 1:01am PDT
An alleged coconspirator, known as "Woodberry," was also nabbed thanks to his
iPhone and WhatsApp
data,
Premium Times
reported.
iPhone stolen from teenager who was selling water
The community in Camden, N.J.,
has rallied around
a 16-year-old who was robbed of an iPhone and $1,000, following a long day of selling water on the side of the street. According to
6ABC
, the 16-year-old was robbed at gunpoint, but community members have pitched in to support him afterward, including through his Cash App account.
Former deputy charged with improper purchases
A former chief deputy in the office of the Des Moines County Sheriff's office in Iowa is
facing felony theft charges
, after he was accused of improperly using office funds to purchase items for himself, including a drone, a MacBook Pro, a Dell computer, a copy of Microsoft Office Home and Business, an iPhone and a membership to a website for retirement advice.
According to
KWQC
, the man was caught after he retired in 2018 and turned in his work computers, and it was discovered he had purchased newer versions of both of them.
Man accused in conspiracy to blow up ATMs refused to hand over iPhone pin
A group of men has been accused of engaging in a conspiracy to blow up ATMs in three U.K. cities between August 2019 and January 2020. According to
Basingstoke Gazette
,
two of the group
of five have pled guilty, and while one of the men "denied conspiracy to cause explosions likely to endanger life and conspiracy to steal, but admitted refusing to hand over the PIN to an iPhone," which is against Britain's Regulation of Investigatory Powers Act.
U.K. man caught with hundreds of stolen iPads and iPhones
Police in the U.K. arrested a man in mid-July, after they found
hundreds
of stolen iPhones and iPads, along with the equivalent of $60,000 in cash in the man's office. According to the
Dagenham Post
, the investigation was carried out by the Met's Proactive Money Laundering Team.
Have an Apple crime story for us? Email
AppleInsider
and tell us about it.