Piper Sandler raises iPhone estimates following 'aggressive' carrier subsidies
Piper Sandler is raising its
iPhone 12
estimates for the December quarter because of heavy carrier promotions that it believes will drive demand for the new handsets.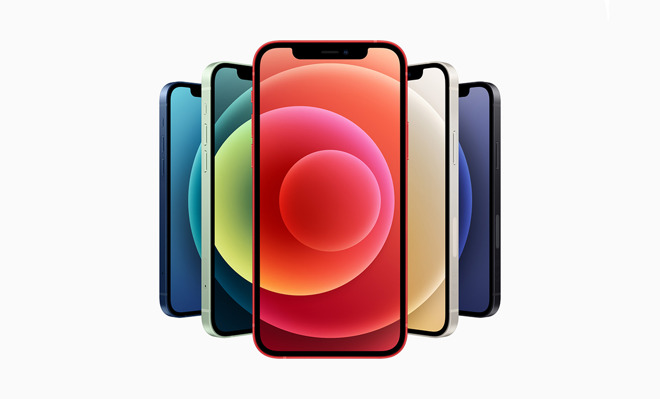 Credit: Apple
The estimate revisions
follow
an overall positive impression on the Piper Sandler team left by Apple's October 13 event. Prior to the keynote, a survey carried out by the bank
suggested
that only 10% of respondents plan to buy a new iPhone 12 model in 2020.
In a note to investors seen by
AppleInsider
on Thursday, Piper Sandler lead analyst Harsh Kumar called the iPhone 12 launch a "subscription battleground for carriers." The sizable promotions being offered could drive demand, which Kumar points out is in "sharp contrast to our survey that pointed to somewhat lackluster demand."
The analyst notes that carriers are being "extremely aggressive with subsidies, almost to the point where they are giving the phone away for minimal costs." That explains, Kumar points out, the conflict with current demand trends and the analyst's survey conducted earlier in October.
"In our view, it is nearly impossible for the consumer to ignore the upgrade possibility given the current subsidy offerings," the analyst writes.
The investment bank has also spoken to carrier stores and has learned of a higher level of incoming calls and walk-in traffic in the wake of the iPhone 12 and
iPhone 12 Pro
launch. Piper Sandler's sources said that the activity is much higher than other recent iPhone launches, and the analyst believes it will continue to be strong.
As a result of the better-than-expected demand trends, Kumar is raising the bank's iPhone estimates for the December quarter by about 8 million units. Piper Sandler is now forecasting 73 million units shipped during the quarter, up from a previous estimate of 65 million.
That results in an additional $7 billion in iPhone revenue for the quarter. With that factored in, Kumar is now predicting iPhone revenue for the period to be $62.8 billion -- higher than the Wall Street consensus of $59.9 billion.
Additionally, Kumar notes that Apple's iPad and Mac segments are continuing to benefit from remote work and education trends, with both product lineups maintaining strength into the third quarter of the
coronavirus
pandemic.
"Overall, we continue to believe Apple will be the premiere 5G smartphone provider across the globe over the next several years," Kumar writes.
The bank is maintaining its 12-month
AAPL price target of $130
, based on a multiple of about 31x to 27x on an earnings-per-share estimate of $4.13.
Shares of AAPL were trading at $115.72 on Tuesday afternoon, down 0.98% in intra-day trading.