Compared: New Apple Silicon MacBook Air versus Intel MacBook Air
Apple's new
M1
-based MacBook Air could be the next portable workstation for Mac users, but how does it measure up against the long-standing Intel-based version? We compare the specifications between the two lightweights.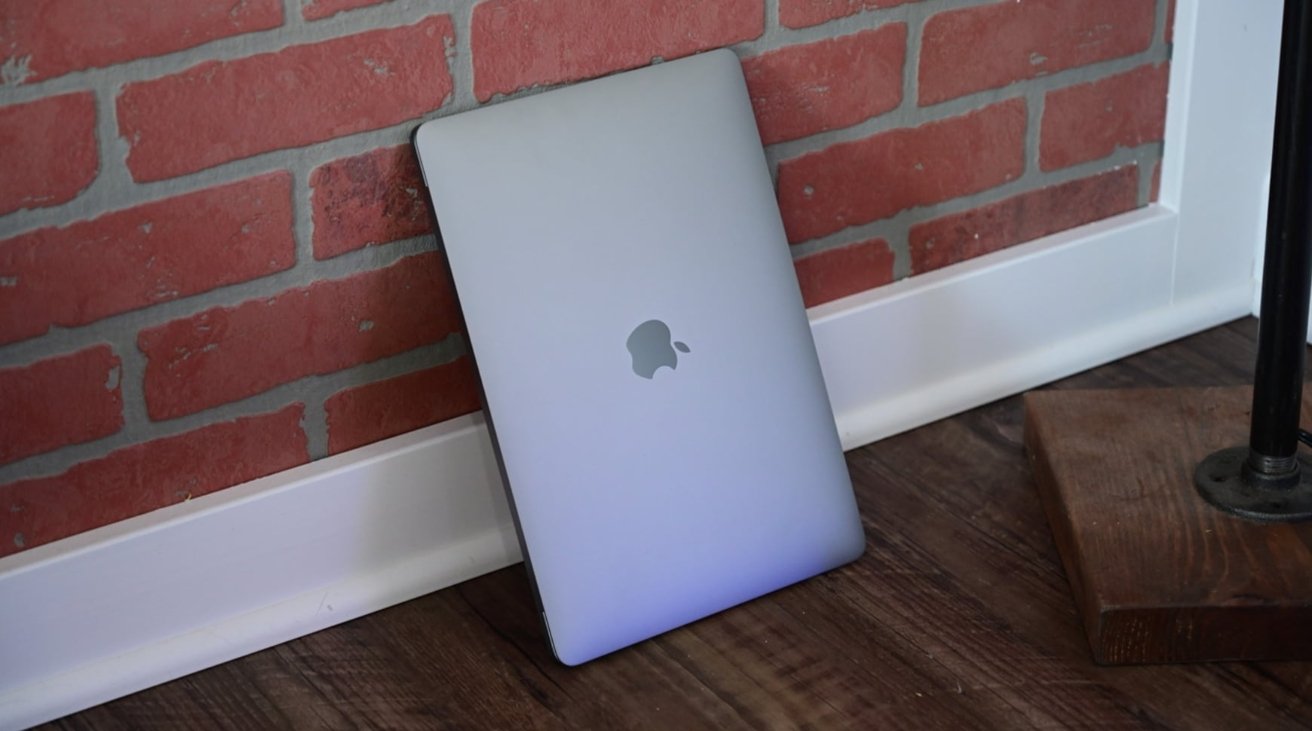 The new MacBook Air is very similar to the old MacBook Air, at least externally.
The
MacBook Air
has been the go-to for anyone wanting to have a MacBook that is thin and highly portable. Add in that it is the cheapest MacBook money could buy in the entire range, and you can easily see why it has become such a popular model.
With the
introduction
of the M1-based model and Apple's overall shift away from Intel processors in favor of
Apple Silicon
, there's a new attractive Mac on the roster that could drag prospective MacBook buyers in its direction.
To do so, the new MacBook Air has to not only offer compelling physical attributes, but also provide enough performance for users to get things done.
Specifications
M1 MacBook Air
Intel MacBook Air (2020)
Starting Price
$999
Best Apple Silicon MacBook Air prices
$999
Lowest Intel MacBook Air prices
Dimensions (inches)
0.16-0.63 x 11.97 x 8.36
0.16-0.64 x 11.97 x 8.36
Weight (pounds)
2.8
2.8
Processor
Eight-core Apple M1
10th-Gen 1.1GHz dual-core Intel Core i3
10th-Gen 1.1GHz quad-core Intel Core i5
10th-Gen 1.2GHz quad-core Intel Core i7
Graphics
7-core Apple GPU
8-core Apple GPU
Intel Iris Plus Graphics
RAM
8GB 16GB
8GB, 16GB
Networking
Wi-Fi 6
Bluetooth 5.0
802.11ac Wi-Fi
Bluetooth 5.0
Storage
256GB, 512GB, 1TB, 2TB
256GB, 512GB, 1TB, 2TB
Display
13.3-inch 2560x1600 LCD with IPS and True Tone
13.3-inch 2560x1600 LCD with IPS and True Tone
Ports
Two USB4 ports
3.5mm headphone jack
Two Thunderbolt 3 ports
3.5mm headphone jack
Biometrics
Touch ID
Touch ID
Touch Bar
No
No
Battery
49.9Wh, 30W USB-C charger
49.9Wh, 30W USB-C charger
M1 MacBook Air versus Intel MacBook Air - External Appearance
The MacBook Air's signature aspect is its appearance, with the design of the notebook keeping it quite thin in terms of size. While at its thickest it's a fairly conventional 0.64 inches, the thinnest edge of the Intel-based version tapers down the body to just 0.16 inches, a move which cuts considerable physical volume from the notebook.
In terms of its overall footprint, it is 11.97 inches wide and 8.36 inches deep when closed.
As it is largely an internals switch, the M1-based version has almost identical dimensions, with the wedge going from 0.16 inches to 0.63 inches, the width being the same 11.97 inches, and a depth of 8.36 inches. In effect, there's no real physical difference between the two enclosures, at least without a ruler.
While it has the word "Air," the Intel MacBook Air isn't quite a lightweight at 2.8 pounds. This is only a few ounces below the 3.1-pound 13-inch Intel-based MacBook Pro.
For the M1 variant, the weight remains the same at 2.8 pounds.
Evidently, it is very clear that Apple has worked on switching around the insides, without messing about with the external aesthetics at all.
M1 MacBook Air versus Intel MacBook Air - Displays
The display on the Intel MacBook Air is the long-standing 13.3-inch LED IPS screen, which has a native resolution of 2,560 by 1,600. This gives it a pixel density of 227 pixels per inch.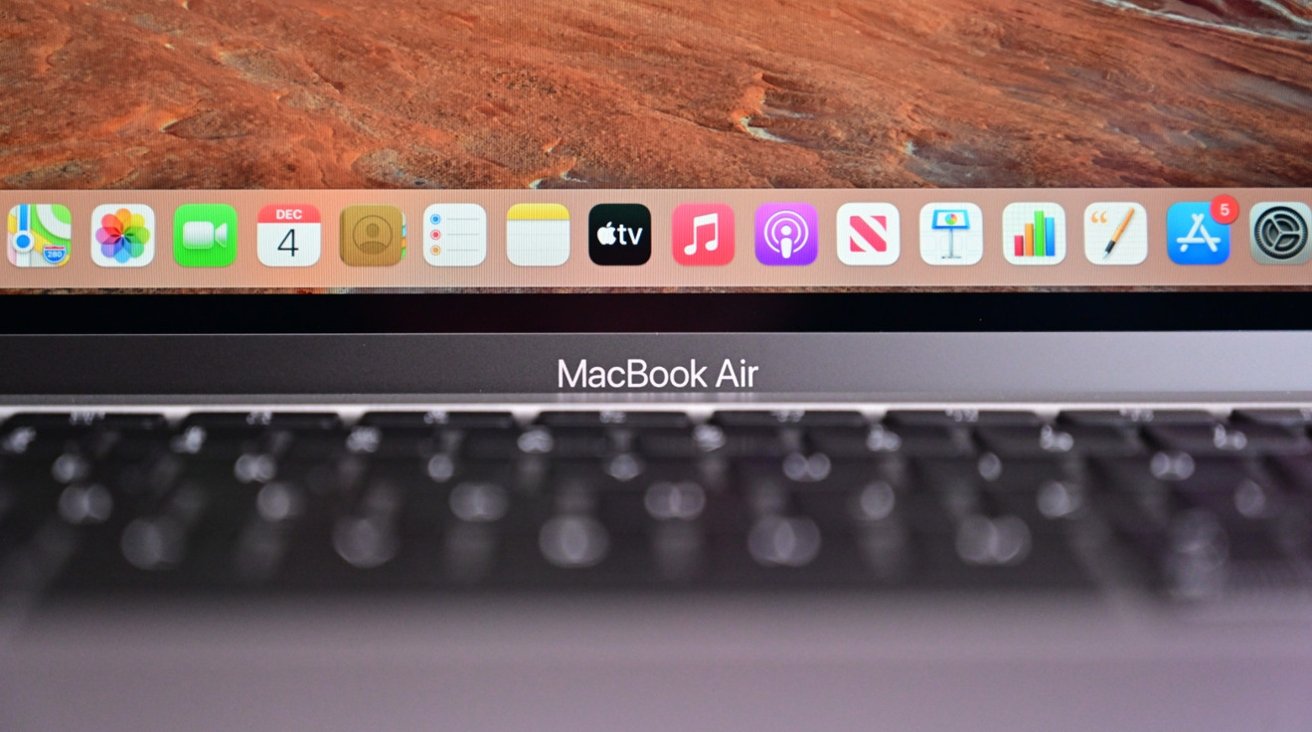 The display of the new MacBook Air will be familiar to users of the old model.
Unsurprisingly, the M1 model sports the same display size, resolution, and pixel density. There is also no change in terms of brightness, with Intel and M1 variants able to produce up to 400 nits.
Both versions also include support for Wide Color (P3) and True Tone, Apple's system for automatically adjusting the display's color temperature to match changes in environmental lighting, to prevent the screen from seeming to change to the user compared to their surroundings.
M1 MacBook Air versus Intel MacBook Air - Processors
Apple offered a choice of three processors for use in the Intel-based MacBook Air. The base model has the Core
i3-1000NG4
, a dual-core 1.1GHz processor with a Turbo Boost of up to 3.2GHz and 4MB of L3 cache.
The middle-tier option is the Core
i5-1030NG7
, a quad-core 1.1Ghz processor with a 3.5GHz Turbo Boost and 6MB of L3 cache. Lastly, there's the Core
i7-1060NG7
, a quad-core 1.2Ghz chip with a 3.8GHz Turbo Boost and 8MB of L3 cache.
All of the chips are 10th-generation "Ice Lake" processors, so are within the current generation offered by Intel.
The
M1 chip
in the new MacBook Air is one of Apple's own design, leveraging on its experience making its A-series chips for iPhones and iPads. Consisting of a system-on-chip, it uses a 5-nanometer process instead of the 10-nanometer version used by Intel, with Apple squeezing 16 billion transistors onto the silicon.
It uses eight cores, consisting of four high-efficiency cores and four high-performance cores, which can be used in various combinations to provide enough performance for the user while reducing battery usage. The four high-efficiency cores are said to be as fast as a dual-core chip on their own, with the M1 even able to employ all eight cores at once if required.
The use of a unified memory architecture stands to help improve performance further, though there's also the onboard Neural Engine to consider. The 16-core engine offers up to 11 trillion operations per second, which will assist with tasks that take advantage of machine learning.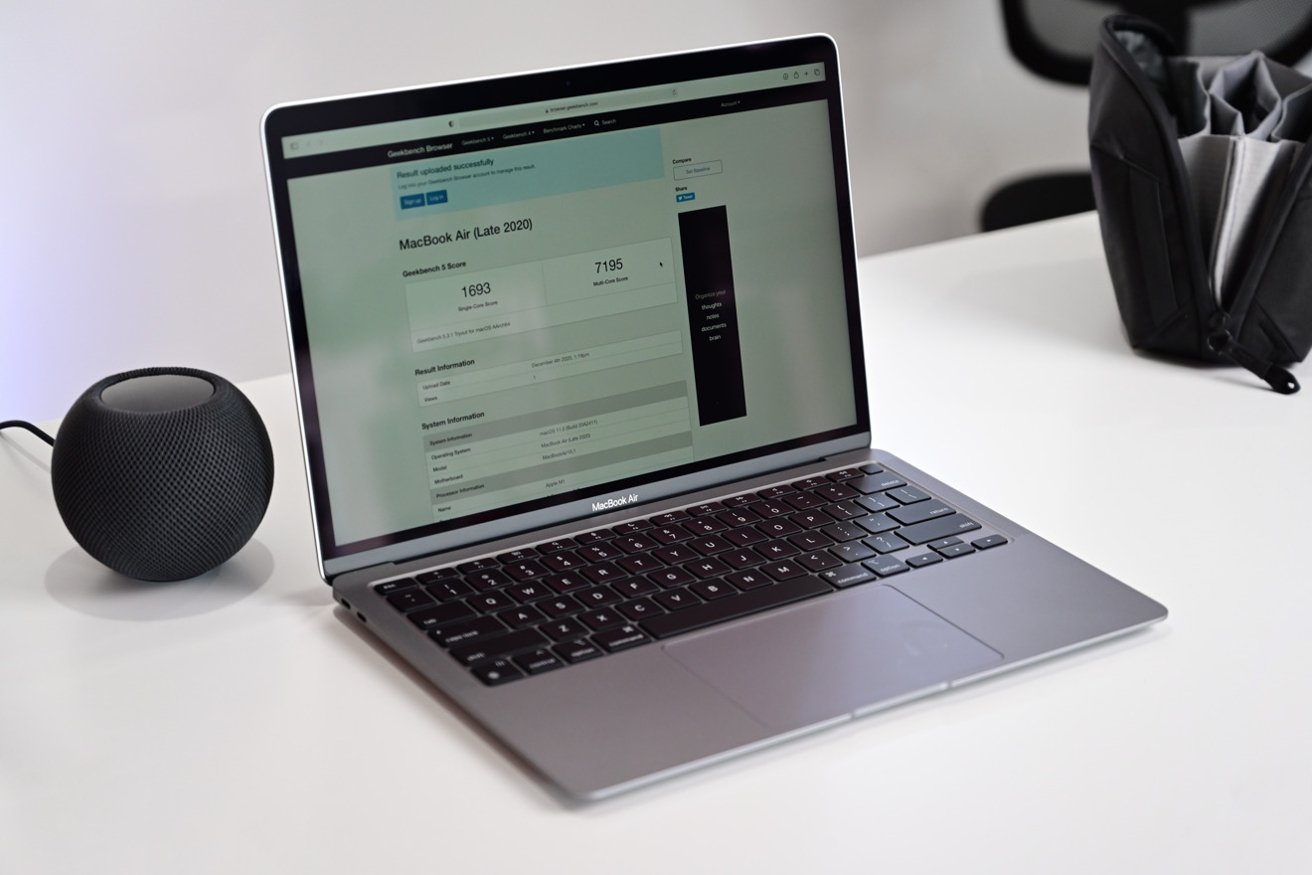 Apple's M1 chip should give it an advantage over Intel's designs.
In Geekbench's processor benchmarks, the Core i3 scored 873 on the single-core test and 1,589 on the multi-core version The Core i5 achieved 1,078 on single-core and 3,096 on multi-core, and the Core i7 managed 1,005 and 2,432 respectively.
By comparison,
AppleInsider's
benchmark for the M1 MacBook Air manages 1,639 on the single-core test. This puts the M1 at double the lowest-tier Intel counterpart on the single-core side, and roughly 50% more powerful against the Core i5 and Core i7 variants.
It's the same story with the multi-core tests, as the M1 manages to score 7,195. This is over four times the score of the Core i5, and more than double the nearest competitor, the Core i5.
One of the elements assisting Apple here is the change to the MacBook Air, which has considerably better thermal management opportunities available to it over mobile devices like the iPhone or iPad, hardware Apple has previously designed chips for. However, its use of a fanless design may result in reduced performance for high workloads over time, unlike the fan-based version used in the M1-equipped 13-inch MacBook Pro.
M1 MacBook Air versus Intel MacBook Air - Graphics
Apple uses integrated graphics in the Intel MacBook Air, with all using Intel Iris Plus Graphics. This is the graphics solution supplied as part of the Intel processors being used in the computer.
For the M1 MacBook Air, Apple's using its own design of GPU as part of its SoC, which is based partly on the ones it designs and uses to provide graphics in the iPhone and iPad lines. From what Apple has explained, the GPU is the "most advanced graphics processor" the company has created, and is claimed to provide twice the performance of a PC chip's integrated graphics system.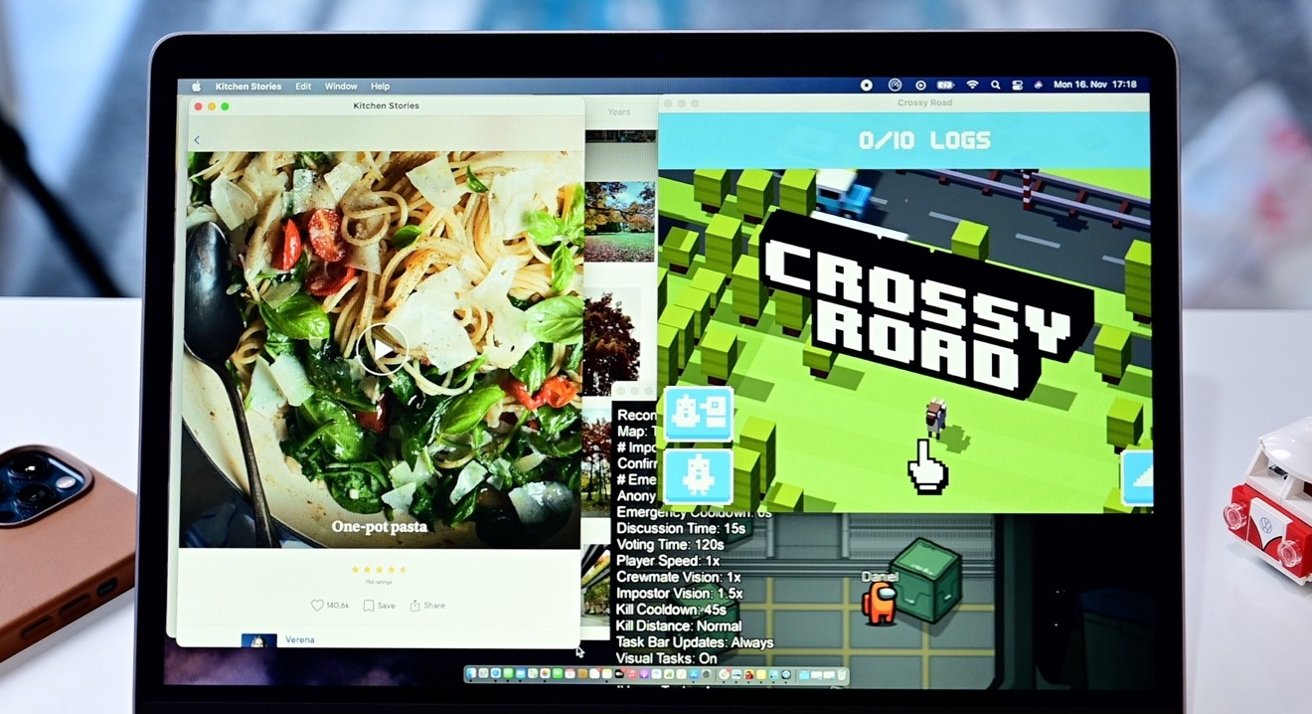 Yes, it's possible to run iOS and iPadOS apps on Apple Silicon.
The M1 uses up to 8 GPU cores, with the new MacBook Air offered with M1 chips using either 7 or 8 GPU cores. Apple also claimed it would deliver up to 5 times faster graphics than the previous generation for the 8-core version.
Using the Compute benchmark running Metal, the base-level 2019 MacBook Air using Intel's Iris Plus Graphics managed a score of 5,853. The 8-core GPU in the M1 wipes the floor with Intel Iris Plus, achieving 20,284. While the 7-core isn't as powerful as the 8-core version for Metal processing, it's still considered to be almost as powerful given it has many of the advantages that the 8-core has, like access to the Unified Memory.
Much like the processor results, the high performance may not necessarily last for long periods of time due to the use of a fanless design, but it does show what the GPU is capable of doing under optimal conditions.
M1 MacBook Air versus Intel MacBook Air - Storage and Memory
Apple offered the Intel MacBook Air with 8GB of 3,733MHz LPDDR4X memory, which can be configured at the time of purchase to 16GB.
It is a similar story for the M1 version, which starts with 8GB of "Unified Memory," configurable to 16GB.
The base SSD storage of the Intel MacBook Air started at either 256GB or 512GB, depending on the starting configuration, with further options available for 1TB and 2TB of capacity.
Depending on the variant chosen, the M1 MacBook Air has 256GB or 512GB of SSD storage, with similar upgrades up to 2TB.
M1 MacBook Air versus Intel MacBook Air - Connectivity
The Intel MacBook Air has a pair of Thunderbolt 3 ports on one side of the casing, which can be used to connect devices. The ports could also be used for recharging, though if it's used with a charger directly instead of a dock with power delivery, this can effectively bring users down to having one Thunderbolt 3 port accessible at times.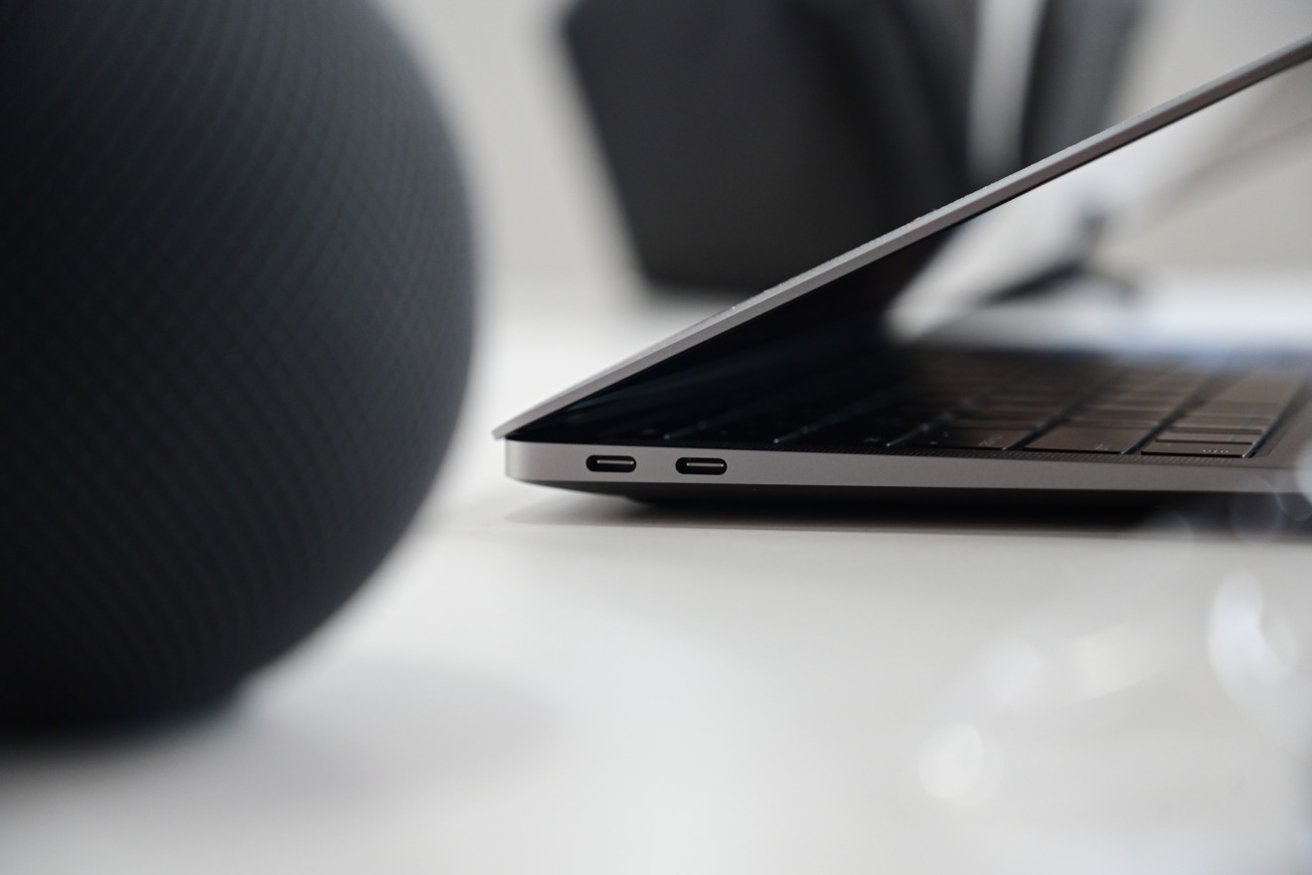 A headphone jack and two Thunderbolt ports appear on both versions of the MacBook Air.
This hasn't changed for the M1 MacBook Air, which uses two Thunderbolt ports on the side, but they're listed as USB 4 with Thunderbolt 3 support. They offer the same USB 3.1 Gen 2 and Thunderbolt 3 support as the versions on the Intel model, but they're more future-proofed.
On the opposite side of both models, there is a 3.5mm headphone jack.
For wireless connectivity, the Intel version supports 802.11ac Wi-Fi and Bluetooth 5.0. Wired networking is also a possibility, using an adapter attached to a Thunderbolt 3 port.
Over on the M1 model, the Wi-Fi has been updated to Wi-Fi 6, which is also known as 802.11ax and is one generation newer than 802.11ac. Bluetooth 5.0 support is also present.
M1 MacBook Air versus Intel MacBook Air - Power
The Intel MacBook Air has a built-in 49.9-watt-hour lithium-polymer battery, which is claimed to provide up to 11 hours of wireless Internet access or up to 12 hours of Apple TV app movie playback in a single charge. Able to last up to 30 days on standby, it is also supplied with a 30-watt USB-C power adapter for recharging, though it can also be used with docks and adapters with sufficient power delivery features.
The battery is listed as having the same capacity for the M1 MacBook Air, along with the 30-watt USB-C power adapter, but the power efficiencies of the M1 give it some considerable benefits. Battery usage has been raised to a maximum of 15 hours of web access, and up to 18 hours for movie playback.
For users, this extra battery life means the new MacBook Air is capable of lasting for far longer than the previous generation, regardless of the workload.
M1 MacBook Air versus Intel MacBook Air - Other Specifications
Apple has included a 720p FaceTime HD camera in both versions of the MacBook Air, which is located above the display. For the M1 version, Apple is taking advantage of the Neural Engine to perform image processing, such as adjusting the white balance and exposure, for a better image.
Touch ID is present and usable in both for biometric authentication.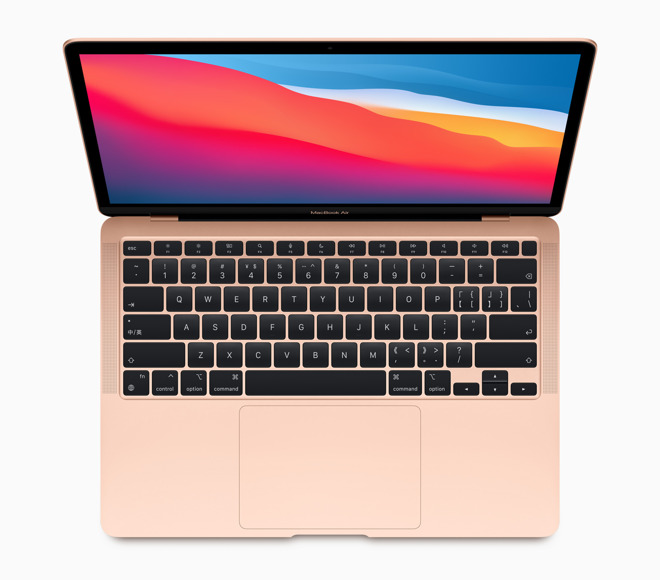 The Magic Keyboard and its scissor mechanism are retained in the new MacBook Air.
Both versions of the MacBook Air have a pair of stereo speakers with wide stereo sound and support for Dolby Atmos playback. For recording audio, it has a three-microphone array with directional beamforming.
Apple has retained the Magic Keyboard in the M1, complete with the ambient light sensor, backlighting system, and scissor mechanism. The Force Touch Trackpad is similarly unchanged.
And, for those interested in absolute silence, the Apple Silicon MacBook Air has no fan. This is a bit of a double-edged sword, as that silence and lack of power drain that comes with no fan, is offset by performance under load will be a bit less than a fan-cooled model, such as that found in the Mac mini or new 13-inch MacBook Pro. This will, of course, vary by workload, and we'll know more about that when the machines ship.
M1 MacBook Air versus Intel MacBook Air - Pricing
The Intel MacBook Air was offered in two starting configurations.
The first configuration was $999, which includes the Core i3 processor, 8GB of memory, and 256GB of storage. Upgrading to the Core i5 cost $100, while the Core i7 was an extra $250.
Storage could be improved from 256GB to 512GB for $200, to 1TB for $400, and to 2TB for $800. The memory could be upgraded from 8GB to 16GB for $200 extra.
The second version of the MacBook Air started from $1,299, and had the Core i5 processor, 512GB of storage, and 8GB of memory. Moving to the Core i7 cost $150, and to 16GB of memory cost $200.
Storage upgrades from 512GB were $200 for 1TB and $600 for 2TB.
On the M1 side, Apple offers two configurations, but with smaller differences.
The first version at $999 has the M1 with the seven-core GPU with 8GB of memory, and 256GB of storage. The 16GB memory upgrade is $200 more, while the storage upgrades are $200 for 512GB, $400 for 1TB, and $800 for 2TB.
The second variant at $1,249 starts with the M1 equipped with the eight-core GPU, 8GB of memory, and 512GB of storage, The memory upgrade is the same cost, but storage configuration changes move to $200 for the 1TB and $600 for 2TB.
Big power in a small and thin package
The MacBook Air was always going to be a candidate to be one of the first moved over to Apple Silicon. Its relatively cheap cost makes it fairly easy for people interested to justify buying it and making the jump from Intel, with relatively little risk.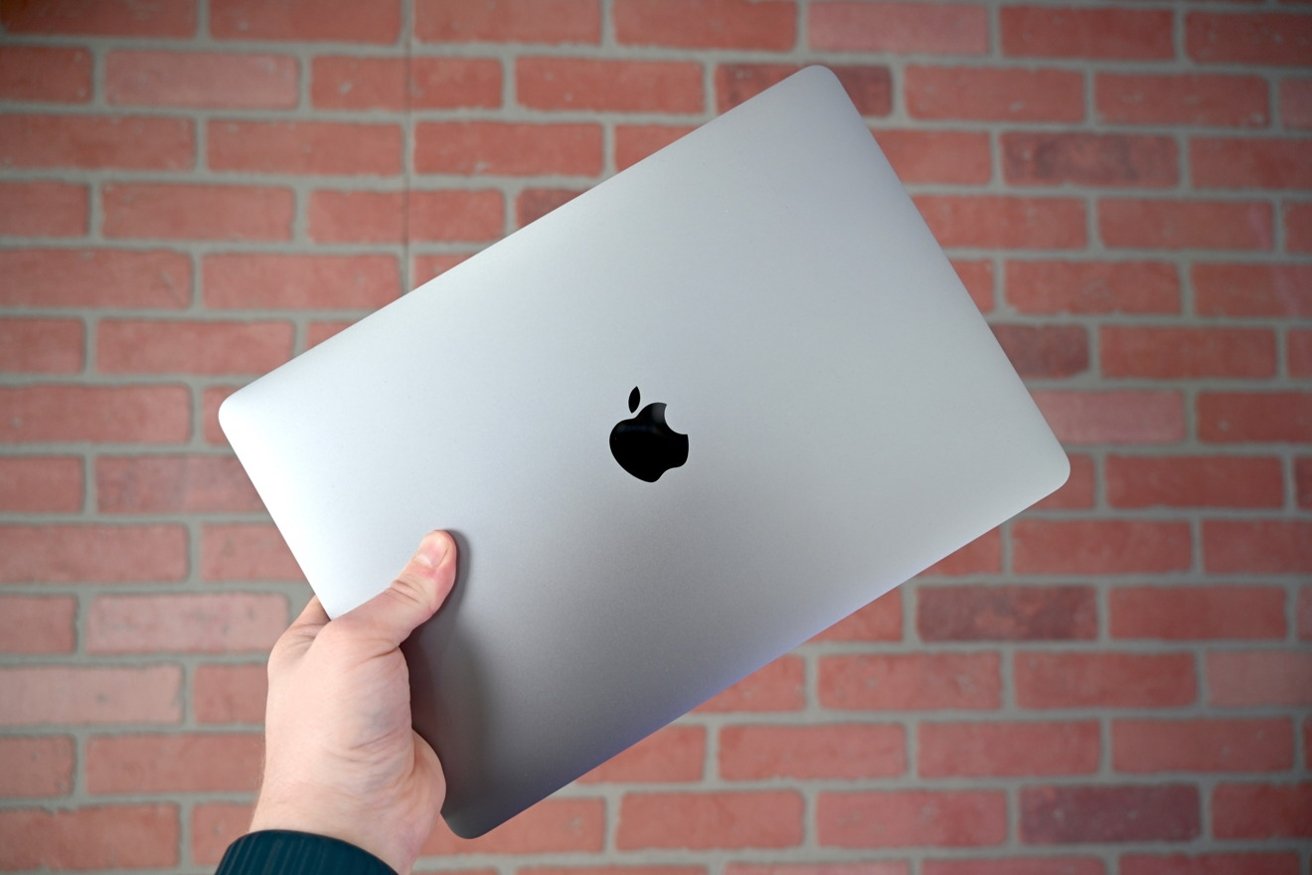 Apple hasn't messed with the external design of the MacBook Air at all.
As is very evident by the specification rundown, Apple's initial M1-equipped models are literally internal switches, rather than major redesigns. You're getting a visually and physically similar overall package in either version, with all the changes being inside.
Apple has framed the M1 as a highly capable SoC, complete with machine learning and other design tricks that Intels' offerings simply cannot compete with in a straight fight.
The initial benchmarks indicate that, on a performance-only basis, the M1 wipes the floor with its Intel counterparts. This has also been observed in everyday use, with
AppleInsider
finding it to be a much faster overall experience under real workloads than on Intel models.
This processing performance also offers other benefits that aren't as apparent when looking at benchmark results.
For example, by keeping the overall form of the MacBook Air the same, Apple manages to enhance battery life simply through chip power efficiencies alone, not through using an upgraded battery pack.
Arguably the biggest thing that may keep users back is if their software will run on it, and a lot will depend on how Apple implements its macOS-based Catalyst and Rosetta 2 to cope with the change in chip. If Apple does a good enough job, it will alleviate one potential consumer fear.
You also benefit from the amazing capability of being able to run iOS and iPadOS apps within macOS on the M1 model. This simply isn't possible with the Intel counterpart.
Overall, the M1 is a very compelling package, containing processing and graphical improvements along with a considerably enhanced battery life, all in a package that doesn't majorly rock the boat.
Update:
November 14, 2020 1:00pm ET - Added data on initial benchmark results for the M1.
Update:
May 10, 2021 1:00pm ET - Added
AppleInsider
benchmark results and other post-release information.