Apple's Jeff Williams and Jay Blahnik talk new 'Time to Walk' feature
Apple Fitness+'s Time to Walk feature aims to encourage people to walk and connect with interesting people, Apple COO Jeff Williams and Fitness and Health technologies director Jay Blahnik, with the new
Apple Watch
addition meant to mimic going for a walk with someone.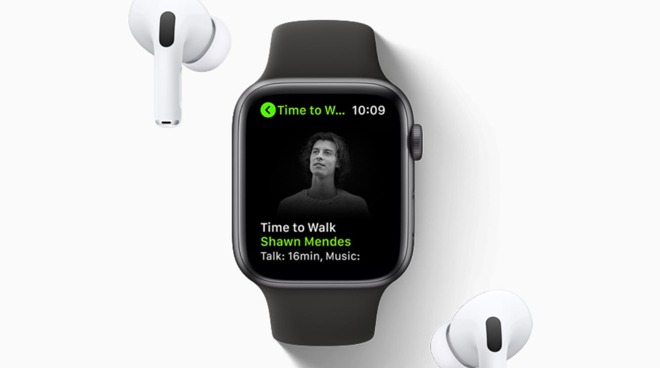 On Monday, Apple launched the
Time to Walk
audio workouts for
Apple Fitness
, a walking workout led by a celebrity talking about their lives as the user ambles around. In an interview, Williams and Blahnik offered someone extra thoughts behind the creation of the feature.
On the subject of how the feature functions, namely a celebrity speaking to the user with occasional images appearing on the Apple Watch screen, Blahnik
told
The Independent
that there was a "lot of ways that the creative execution of this could have gone, but in the end, having just the guest felt like the right thing."
"The conversations you would have with another person if you were really walking with them are different to the way an interview might go or a big group conversation can happen," Blahnik adds.
According to Williams, "If you ask somebody to tell you a life story, they will almost always involve challenges and, because we all face those, it's wonderful to hear about other people's challenges and how they've dealt with them. It's such a part of the human connection."
Williams further proposes the feature could be useful for those stuck working from home or restricted by social distancing measures. "I think this is useful anytime, but one of the things with shelter-in-place is it can drive isolation."
"I think people yearn for social connection and Time to Walk encourages people to get out and walk and offers this sense of connection to interesting people," the COO adds. "I've found that within a couple of minutes of an episode, I feel like I'm out walking with someone."
The Apple Fitness+ service was designed "to be welcoming to everybody," according to Blahnik, "whether it was an add-on to a really hardcore fitness program or the on-ramp to the first time you've done fitness." While there's good feedback indicating it is covering both ends of the fitness spectrum, there's also users who are motivated but "just need someone to lead them through a 10-minute yoga session."
For Time to Walk, Blahnik thinks there will be hardcore users taking advantage of it, but also those who "really enjoy walking their dog and this makes it more interesting." Blahnik also thinks this could push people to go for longer walks and to get more exercise, especially for those new to fitness.
"I think for a lot of people this may be the best on-ramp. They start walking and then they graduate to other things in Fitness+, the director proposed.