San Francisco's Clipper card to support Apple Pay Express Transit
San Francisco Bay Area residents will soon be able to use
Apple Pay
on their Clipper cards to catch a ride on transit services like BART and Muni, with the coming payments integration also set to support streamlined service via Express Transit Mode.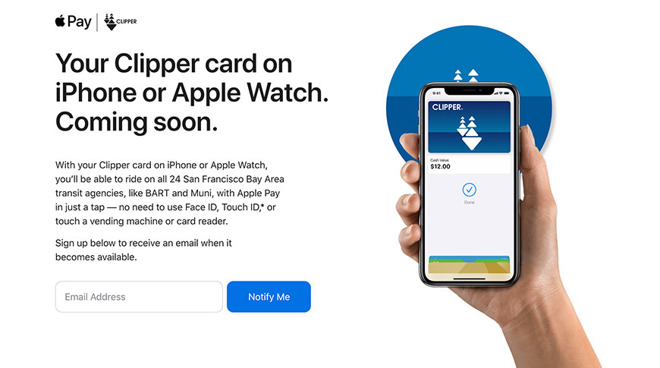 Announced through Apple's website, Apple Pay will
soon see
implementation with the Clipper card, the standard in electronic transit fare payment for the Bay Area.
Clipper is currently used by more than 20 transit agencies including BART, Caltrain, FAST, Muni, VINE, and WestCAT.
When Apple Pay integration rolls out, riders will be able to use Express Transit Mode and tap their provisioned
iPhone
or
Apple Watch
to a payment terminal without first unlocking the device via
Touch ID
or
Face ID
. Apple notes Express Transit will not be available on SFMTA cable cars and other transit services that utilize handheld card readers.
When activated in Wallet, Express Transit enables riders to simply tap their iPhone or connected Apple Watch on an active turnstile or payment point to enter train stations and buses without first unlocking the device. The functionality has been adopted by major transit authorities including
New York's MTA
, the
LA Metro
, and Washington D.C.'s
Metropolitan Area Transit Authority
, as well as Hong Kong's
Octopus Card
.
Apple does not offer a timeline for release, though users can sign up to receive an email when the service goes live.