iPhone 13, iMac, 14-inch MacBook Pro and more: what's coming from Apple in late 2021
Apple is months away from its expected refresh to the "
iPhone 13
," but many other products may also be launched at the same time, and in the months ahead. Here's what you can expect to see being released by Apple to the end of 2021 and beyond.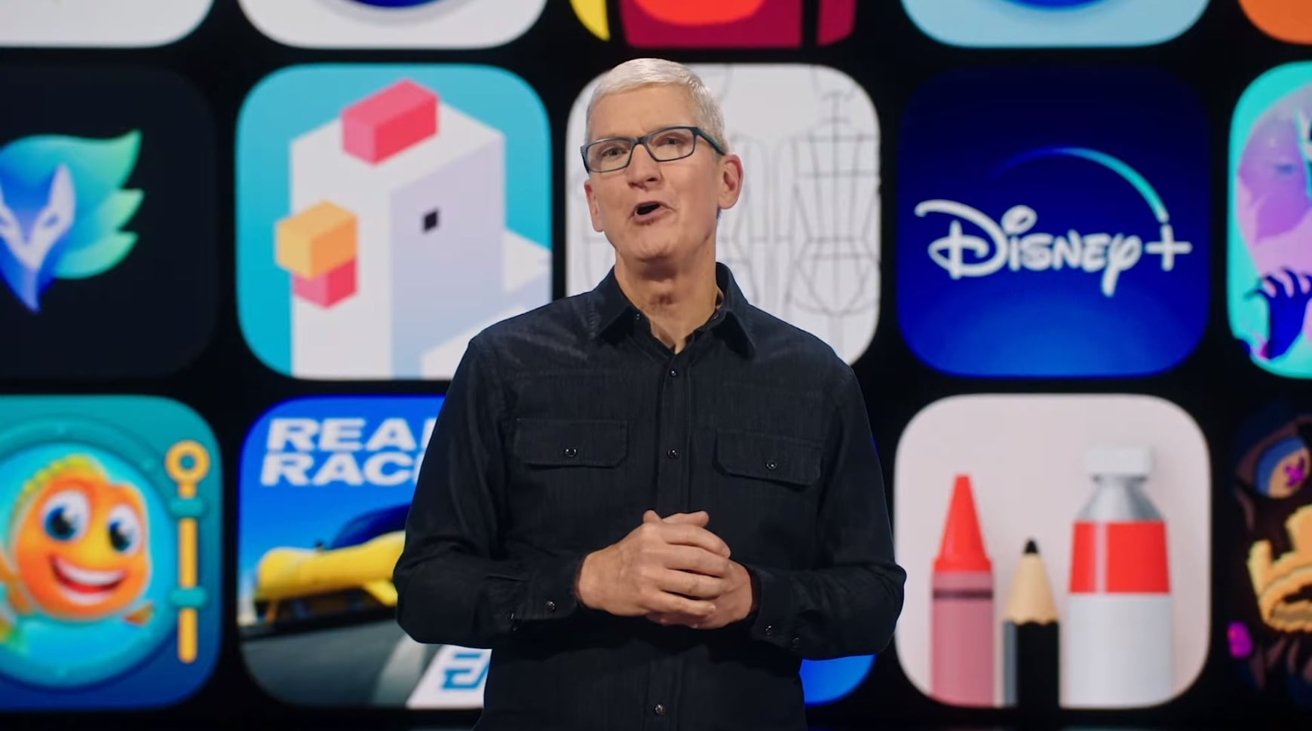 Apple CEO Tim Cook
While Apple is the target of many rumors, reports, and speculation about its product launches, the claims reach fever pitch during the summer. In the months ahead of Apple's annual fall introduction of new iPhone models, more leaks surface claiming to show what will be making an appearance down the line.
Though the main focus is on the iPhone range, Apple also has many other products in its catalog that it is rumored to be bringing out in the future. Here's what you can expect from the Cupertino tech giant regarding product updates and launches for late 2021, and possibly early 2022.
When's the next product launch?
Apple tends to keep its product launches to a fairly rigid schedule, with a spring event usually occurring around March, WWDC in June, and more special events going towards the fall. However, given that the schedule was overhauled in 2020 to get around the
COVID-19
pandemic, that forced Apple to make some changes to its presentation.
Following the summer WWDC launch, which typically focuses on software rather than hardware announcements, the next usual event on the Apple calendar is the September special event, which typically revolves around iPhone launches. On occasion, that event is followed by another in October, which generally handles other product launches.
In 2020, Apple changed its event strategy to have three events towards the end of the year: one each for September, October, and November.
Each of those events handled different collections of products. The usual iPhone event was in October, rather than September, with the
iPhone 12
range joined by the
HomePod mini
.
September 2020's event revealed
Apple Watch
changes and the
iPad
range. Lastly, the November event revolved around Apple Silicon product launches.
So far, it is unclear exactly what Apple's plans are for its event structure in late 2021. There haven't been any clues about whether it will be another virtual event or an in-person meeting at
Apple Park
, nor how many events there will ultimately be.
Moving to early 2022, given Apple's tendency to have its first product launches of the year in March, it seems to be a safe bet that the pattern will continue.
All of this doesn't consider Apple's occasional event-less product launches, which can happen between events, and sometimes without an accompanying presentation. They can also occur at pretty unusual times of the year, such as the December 2020 unveiling of the
AirPods Max
.
It's entirely plausible that any of its products could be launched this way, but Apple errs towards holding some form of event for its bigger names. For those, they're pretty regular, even during a pandemic.
iPhone 13
Expected:
Fall 2021
Confidence:
Near certainty
By far the most probable product arriving this fall will be new iPhones, with Apple sticking to the
same four-device
lineup of the "
iPhone 13
," "iPhone 13 mini," "iPhone 13 Pro," and the "iPhone 13 Pro Max." While they will most likely follow the
same general styling
as the iPhone 12 range, there will still be some changes in the collection.
The infamous notch at the top of the display is expected to be smaller, thanks to the shifting of components. On the back, the camera bump is expected to be
slightly bigger
, the
cameras
could also have physically larger lenses, and a potential diagonal camera placement for the non-Pro models.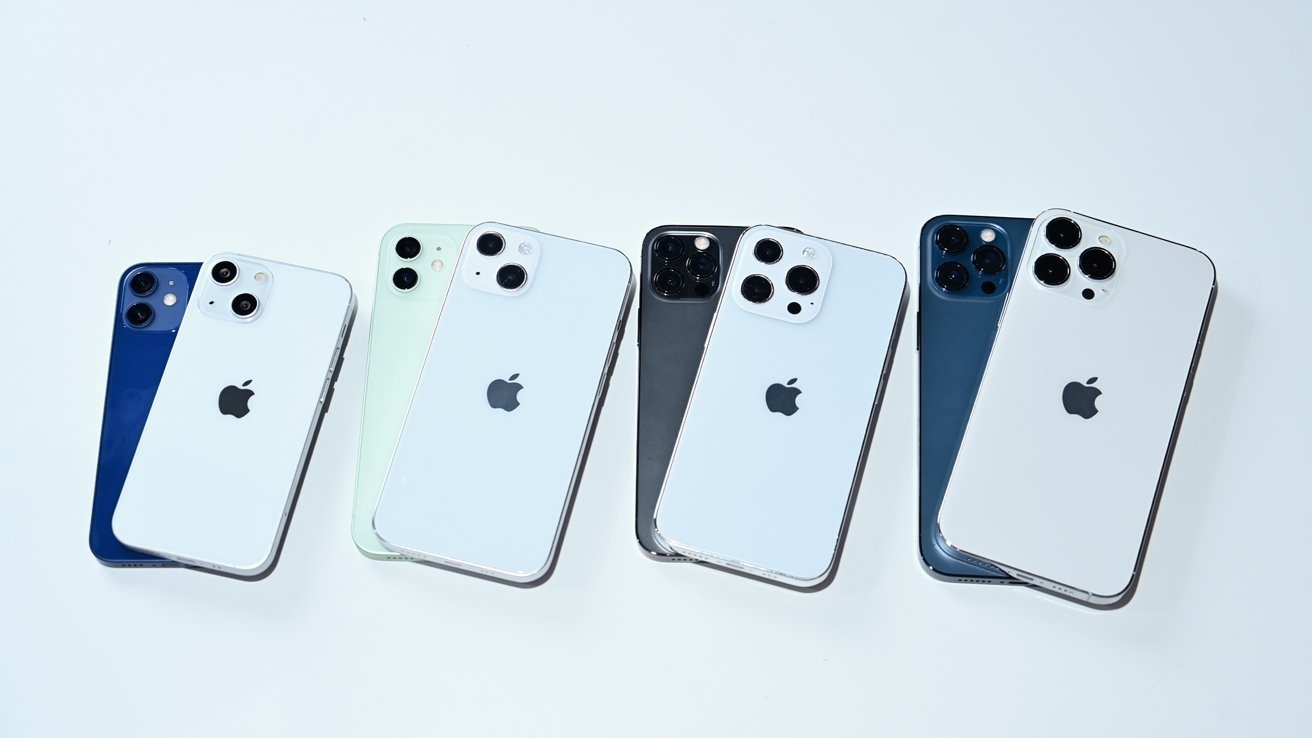 Dummy units showing what the "iPhone 13" could look like.
The other big change this time around could be the display, in that Apple's long-rumored shift to
120Hz ProMotion
versions have been teased once again. There have been murmurings of
Apple Pencil
functionality, though this seems like a long shot.
Other changes range from the likely move to the "A15" chip to the also-speculated shift from Lightning to
USB-C
, and possibly some alterations regarding
MagSafe
.
Ninth-generation iPad
Expected:
Fall 2021
Confidence:
Likely
The launch of the 8th-generation iPad, also referred to as the
10.2-inch iPad
, in fall 2020 certainly makes a fall 2021 launch for an update to Apple's mainstay iPad offering very plausible. However, unlike others in the range, there's relatively little known about what to expect from the next model.
So far, all that has circulated was a line in a
June report
about the iPad Pro and iPad mini, which claims Apple's next iPad will be aimed at students and will be thinner.
There could probably be specification updates, but relatively little in the way of design changes for 2021.
iPad mini
Expected:
Fall 2021
Confidence:
Likely
Apple's last update to the iPad mini was in March 2019, so a fall launch would be a year and a half after the previous model's release. Various reports have pointed to a
fall launch
, so it seems like a probable product to appear before the end of the year.
For the
iPad mini 6
, Apple is believed to be preparing a major redesign, one that may bring it in line with the modern iPad Air in terms of styling and functionality.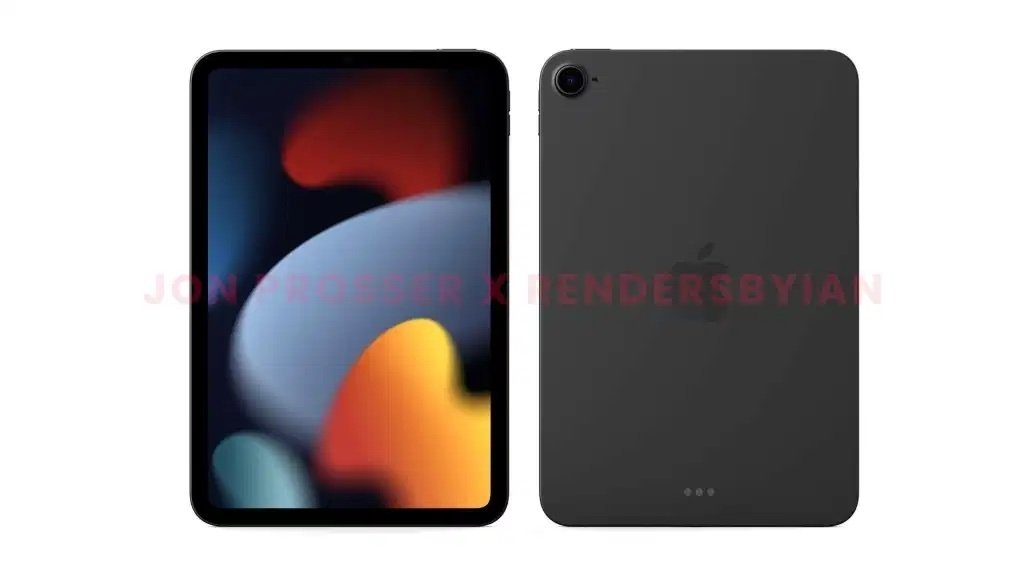 Alleged renders of the "iPad mini 6"
It is rumored that Apple could be using a larger screen, increasing the size to between
8.5 inches and 9 inches
, depending on the source, but it will apparently have a similar footprint to its predecessor. The change will necessitate the removal of the
Home button
and slimmer bezels, but Touch ID may remain by being shifted to the power button.
A switch from Lightning to USB-C has also been touted, along with support for the second-generation Apple Pencil and a possible camera upgrade from 8 megapixels to 12 megapixels on the back, and from 1.2 megapixels to 7 megapixels on the front.
Apple Watch Series 7
Expected:
Fall 2021
Confidence:
Very likely
Apple's decision to launch the
Apple Watch Series 6
and
Apple Watch SE
during fall 2020 offers the possibility of the company doing the same again for 2021, giving the Apple Watch a one-year upgrade cycle.
For the
Apple Watch Series 7
, it seems that the release will be a design-related update than one about features. Starting from May, rumors pointed to a new
squared-off design
, bringing it in line with other recent Apple products.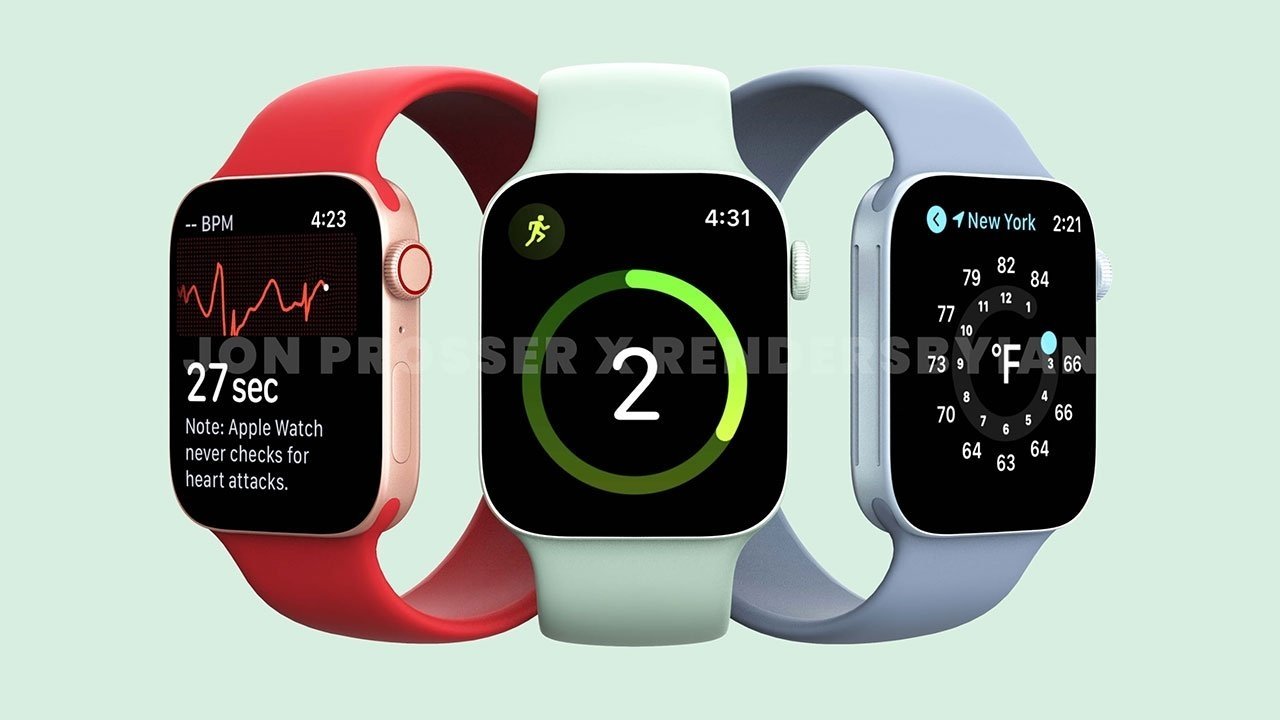 A render of what could be the "Apple Watch Series 7"
In June, a report claimed the Series 7 would be marginally thicker with a
redesigned chassis
, while the display will allegedly be closer to the front cover of the device due to the use of a new lamination method.
Inside, the use of a faster processor and improvements to wireless connectivity are expected, along with Ultra Wideband support. The "S7" chip was said to be
physically smaller
through the use of a double-sided system-in-package, which will apparently provide more internal space, which in turn could allow more battery life to be included.
There has been
some talk
of a ruggedized model, but there have been suggestions it has been pushed back to 2022.
An updated Apple Watch SE has been touted, though again, reports point to it being a 2022 release.
AirPods 3, AirPods Pro Lite, AirPods Pro 2
Expected:
Fall 2021
Confidence:
Medium
Many rumors have circulated about the next AirPods release, which could take the form of the "
AirPods 3
," "
AirPods Pro Lite
," or the "
AirPods Pro 2
," depending on the report. While there's confusion over naming, the sheer quantity of claims throughout 2021 that new models are ready for release certainly point to the rumor mill
being certain
they are on the way, but not necessarily when.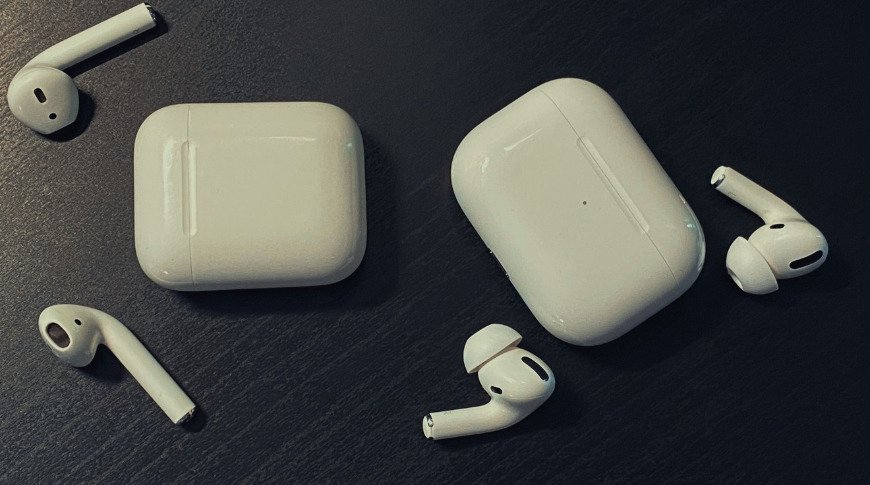 AirPods and AirPods Pro
The general belief is that there are multiple forms of AirPods on the way, with the base model being the "AirPods 3." Expected to be closer to the AirPods Pro, the third-generation may not necessarily gain changeable tips from the Pro but could have
shorter stems
and improved battery life.
AirPods Pro Lite are anticipated to be a bridge between the two current models, in that it could offer some of the features of the Pro but at a more wallet-friendly price point. It is entirely possible that the product doesn't exist or has been scrapped by Apple, but it's still a possibility.
The AirPods Pro 2 are expected to be an improvement on the existing AirPods Pro, with rumors including updated motion trackers for fitness applications and the possibility of there being
multiple sizes
of the device on offer. However, reports also claim that the AirPods Pro 2 may not arrive
until 2022
, making it less likely to appear in the fall of 2021.
14-inch MacBook Pro, 16-inch MacBook Pro
Expected:
Fall 2021
Confidence:
Likely
Apple is on a two-year schedule to migrate from Intel processors to its own
Apple Silicon
, and it's now in its second year. With some Apple Silicon products already out, the attention turns to products that don't currently use Apple's new chips.
On the MacBook Pro front, there are rumors of a refresh of the
16-inch MacBook Pro
, as well as the introduction of a
14-inch model
. Rather than reusing designs for existing models, it seems that Apple may be incorporating several changes in the lineup.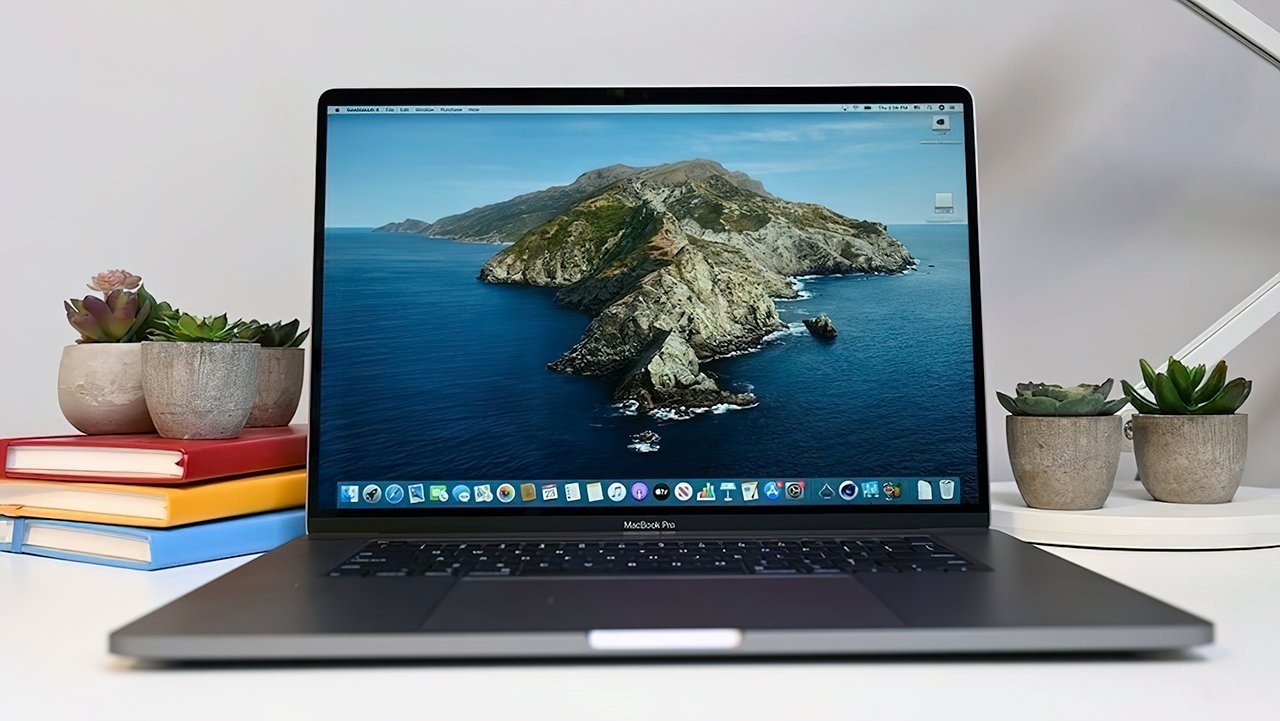 The current 16-inch MacBook Pro
Both models are expected to use a follow-up to the M1 chip, possibly the "M1X," which could have a 12-core CPU and a 16-core GPU. Equally important is the display, with each possibly being upgraded to use
mini LED
backlighting like the 12.9-inch iPad Pro, enabling higher contrast levels and improved color representation.
There has also been the claim that Apple will finally improve the webcam, moving from a 720p FaceTime camera to a
1080p version
.
While earlier reports pointed to a 14-inch launch in the fall followed by an early 2022 launch for the 16-inch model, it seems that the supply chain is geared up for a
third-quarter release
instead. This means the MacBook Pros could be strong candidates for this fall's events.
MacBook Air
Expected:
Early 2022
Confidence:
Medium
One of the first products to be given the M1 chip, the
MacBook Air's
current iteration will be at the one-year mark in the fall, which makes it plausible to receive an upgrade. However, we're probably not going to see it in 2021.
According to one July leak, Apple may be waiting for the
first half of 2022
for the release of the MacBook Air, one that could use the "M2" chip rather than the "M1X."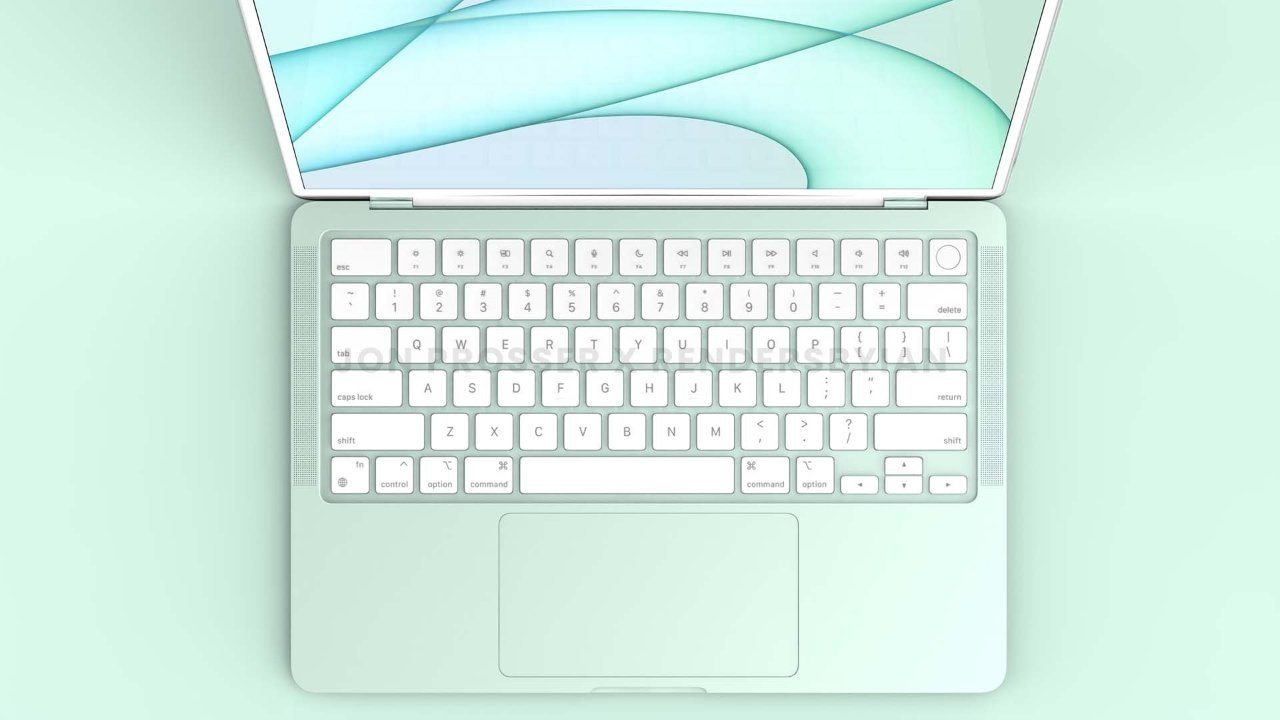 A render of the updated MacBook Air.
In renders
from May
, it seems that the MacBook Air may too follow down the route of a redesign. A thinner version without the wedge shape would be used, with barely enough thickness to fit the USB-C port on the side.
Following on from the
24-inch iMac
, it will apparently be offered in a variety of colors, use a white bezel, and white keys to contrast against the casing.
Mac mini
Expected:
Unknown
Confidence:
Medium
Another of the first-round Apple Silicon devices, the
Mac mini
didn't go through a major redesign for its introduction. Again, it is seemingly a strong candidate to undergo a massive transformation.
Renders based on
leaks from May
claim the new Mac mini will be thinner than previous models, with the circular base exchanged for rubber strips and the rear vent shifted to underneath the device. The chassis will also have aluminum sides but a "plexiglass-like" top panel and possibly enclosure color options.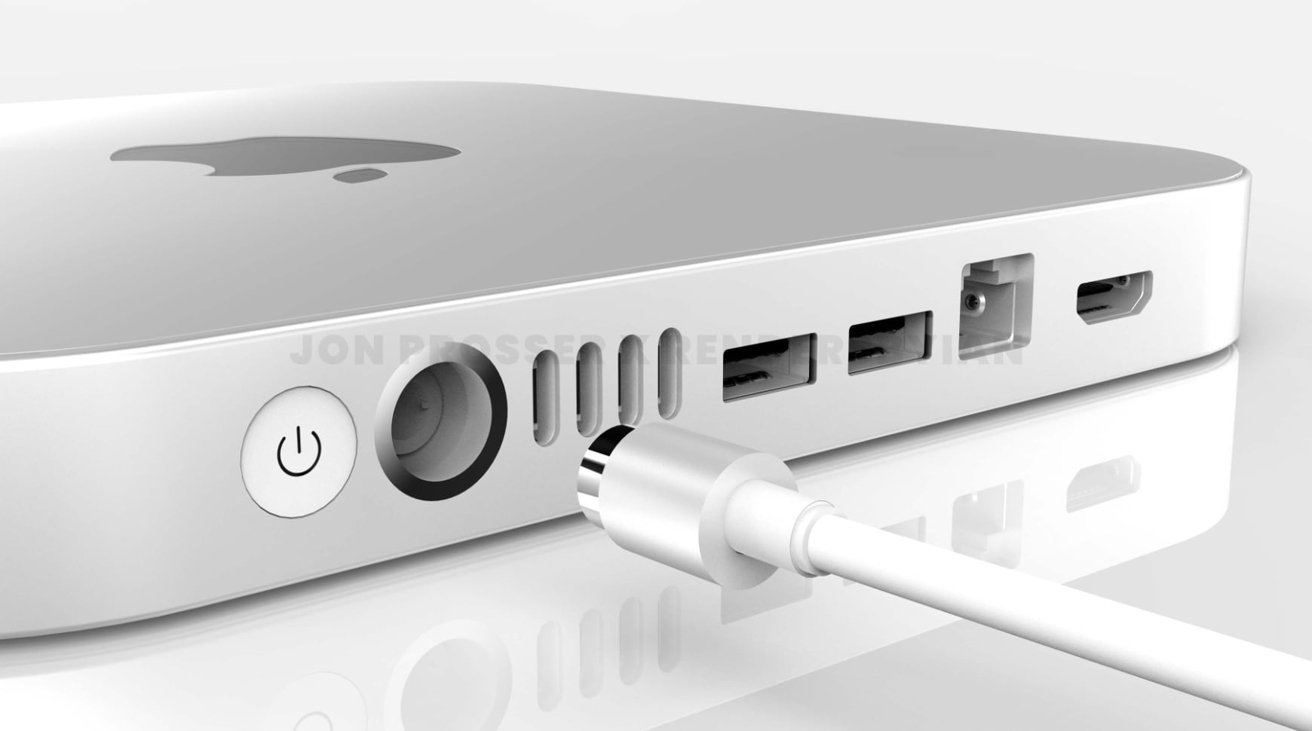 The render of the updated Mac mini.
On the back is said to be four USB 4-Thunderbolt 3 ports, two USB-A connections, Gigabit Ethernet, and HDMI, as well as the magnetic circular power connector as used on the 24-inch iMac.
A chip change will also be anticipated, though it is unclear whether it will be the "M1X" or the "M2." The release date is similarly unknown, with no rumors suggesting when it will ship, though it could just as easily arrive in early 2022 to allow other devices to launch in late 2021.
Larger iMac
Expected:
Unknown
Confidence:
Unlikely
The least-likely out of all currently-rumored products is a larger iMac. After introducing the 24-inch as a seeming alternative to the
21.5-inch iMac
, it seems plausible that Apple is working to create a bigger version to replace the
27-inch iMac
, which runs on Intel processors.
One rumor
from April
before the introduction of the 24-inch model claimed a version was in development that would have a larger viewable display area than the 27-inch model. However, the leaker had allegedly "retired" from leaking and didn't provide much detail.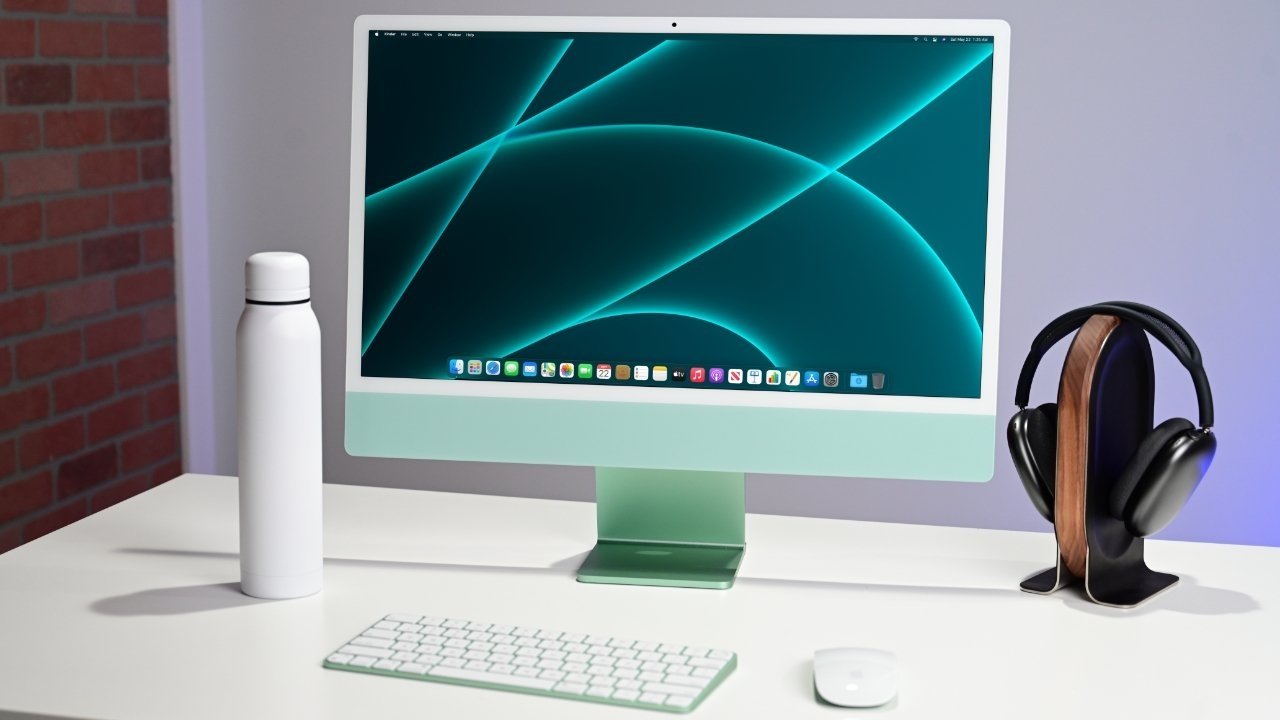 The current 24-inch iMac.
Another report from July
mentioned
there was a larger iMac on the way that would use Apple Silicon and would have a screen size bigger than the 24-inch variant. However, again, there were no real details about the hardware.
If the supposed iMac exists, it would probably follow the same design and specifications as the 24-inch model but would be bigger and with a higher-resolution screen. Depending on its release, it could also have a better processor, such as the rumored "M1X" or "M2."
The sheer lack of detail about the product, outside of it being a bigger iMac, and no hint as to its potential release, makes it very unlikely to appear this fall at all. An early 2022 launch is more plausible, but the rumors certainly don't offer any clarity on when it will arrive, if at all.
Software: iOS 15, iPadOS 15, tvOS 15, watchOS 8, and macOS Monterey
Expected:
Fall 2021
Confidence:
Near certainty
While the bulk of this list relates to hardware, it is worth remembering that Apple's software is also an important part of the user experience and major releases in their own right. As usual, Apple used
WWDC
2021 to showcase the operating systems it will be bringing out this fall, which will accompany the expected hardware launches.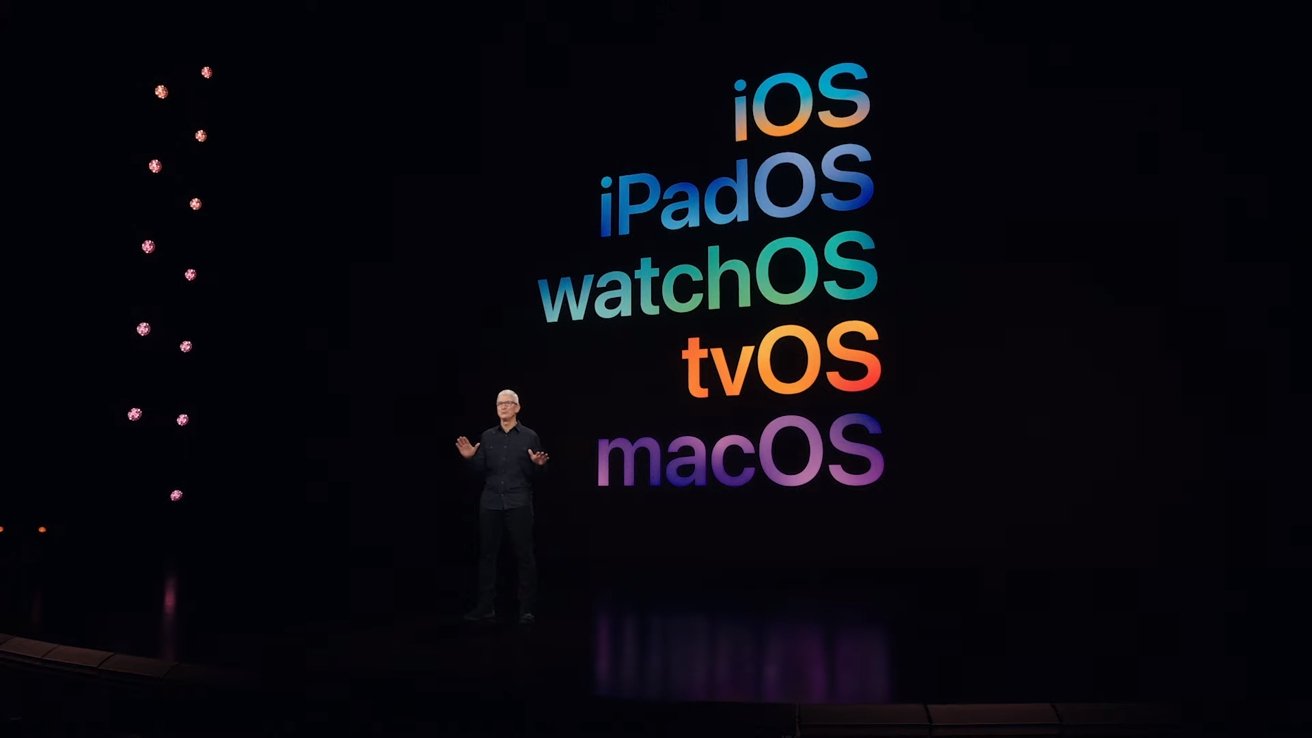 WWDC 2021 previewed this fall's operating system updates.
These are all known quantities, as they are currently being beta tested for their upcoming release in late 2021. This year, the milestone operating systems are
macOS Monterey
,
iOS 15
,
iPadOS 15
,
tvOS 15
, and
watchOS 8
.
iOS 15 introduces a number of changes affecting Messages and FaceTime, as well as new Weather graphics and features, additions to Maps, and Photos. A new on-device Live Text OCR system, digital IDs stored in the Wallet app, and new Focus Modes are also inbound.
For iPadOS 15, there's also refinements to multitasking to make it more useful, along with home screen widget support, a system-wide Quick Note feature, and the addition of the Translate app, among other alterations. The Swift Playgrounds app arguably has the most important changes, as it can now enable development on the iPad, as well as the submission of apps to the App Store directly.
On watchOS 8, users can enjoy changes to the Sleep app in tracking respiratory rates, along with Tai Chi and Pilates workouts in the Fitness app. Messages gains cursor control with the Digital Crown and a GIF search function, and Photos adds memories and a mosaic layout.
macOS Monterey brings Shortcuts to the Mac, adds Focus Modes, iMessage sharing options, an upgradedSafari, Live Text support for Photos, and Quick Note, among other changes. The big two updates are arguably the inclusion of AirPlay to Mac and Universal Control.
Keep up with everything Apple in the weekly AppleInsider Podcast -- and get a fast news update from AppleInsider Daily. Just say, "Hey, Siri," to your HomePod mini and ask for these podcasts, and our latest HomeKit Insider episode too.If you want an ad-free main AppleInsider Podcast experience, you can support the AppleInsider podcast by subscribing for $5 per month through Apple's Podcasts app, or via Patreon if you prefer any other podcast player.