Backbone One iPhone controller users get new features with optional subscription
The Backbone One
iPhone
gaming controller gets Twitch integration, screen sharing, and more thanks to an upcoming update and paid service called Backbone+.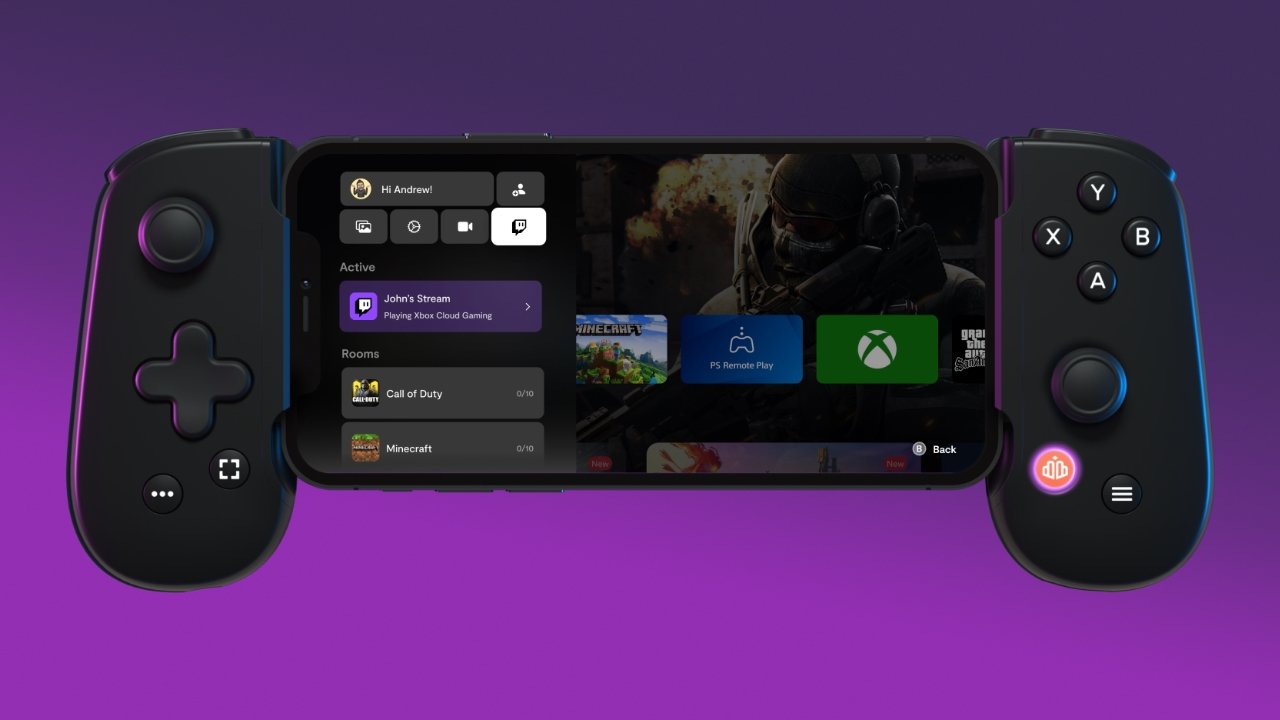 Stream to Twitch using the Backbone integration
The new update changes how the Backbone One interacts with games, introduces new compatibility for cloud gaming, and enables the controller to connect to other devices via a cable. Game recording and social features are also getting a boost, especially for those who stream via Twitch.
AppleInsider
reviewed the Backbone One
shortly after it released to the public and found it to be a near-perfect gaming experience for iPhone. These latest updates build upon that and address many of the concerns brought up during the review.
Backbone One firmware changes
Outside of the Backbone+ service, there are a few small tweaks being made to the actual hardware controller to improve its overall usefulness.
First, the Lightning port can now be used to connect the controller to other machines for wired use. So rather than packing multiple gaming controllers for your MacBook and iPhone, just pack a Lightning to USB-C cable to use the Backbone One with either machine.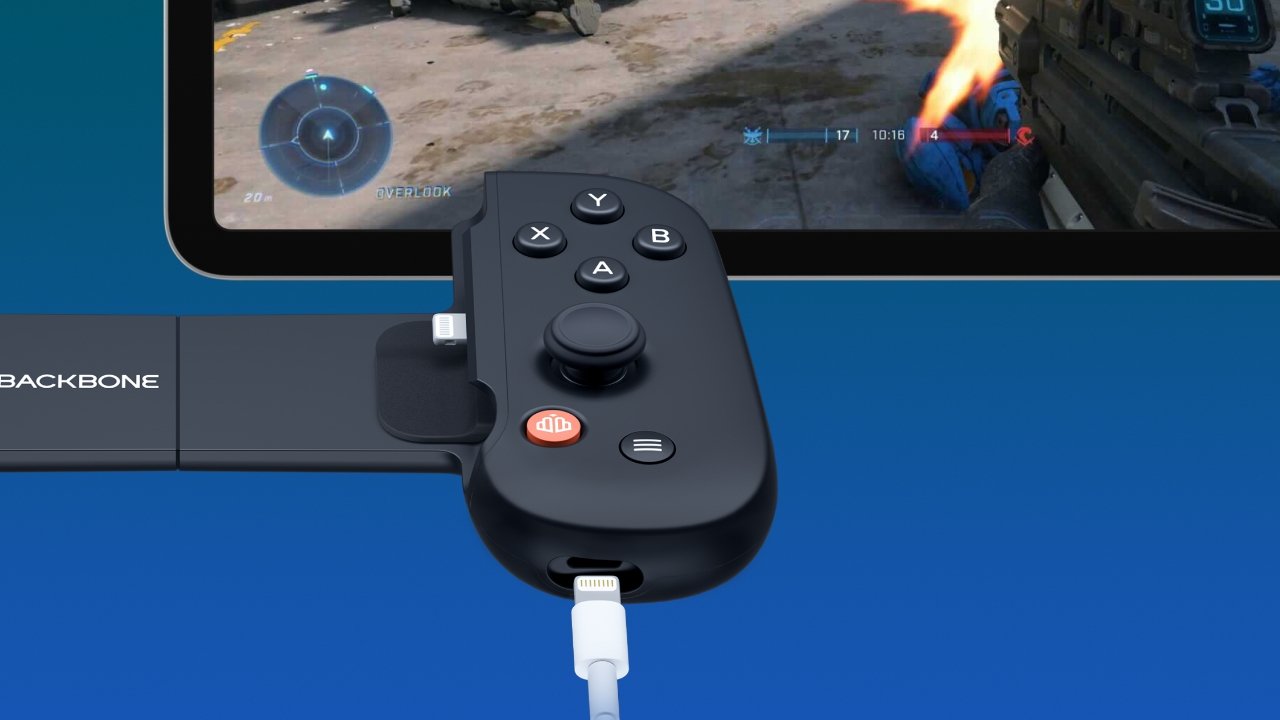 Backbone One can be used with other computers using a wired connection
Backbone says that the controller has been optimized for latency and performance based on each device it could connect to. Users will select which device they will connect to using an in-app menu, and the Backbone button will glow blue when in use.
Another feature being added to the controller is Stadia support. Now, when docked with the iPhone, the BackBone One can be used as a Stadia Controller over a WiFi connection. You'll no longer need Google's proprietary controller to use this feature.
Backbone+
Backbone+ is a new service for Backbone One users that enhances how the Backbone app works with the games being played. The app itself is also rebuilt using the Twitch IGDB to highlight where games can be played, like Stadia or Xbox Game Pass.
An enhanced search feature lets users find the games they want to play as well. There are advanced filters to show what games are playable and which service they are available on.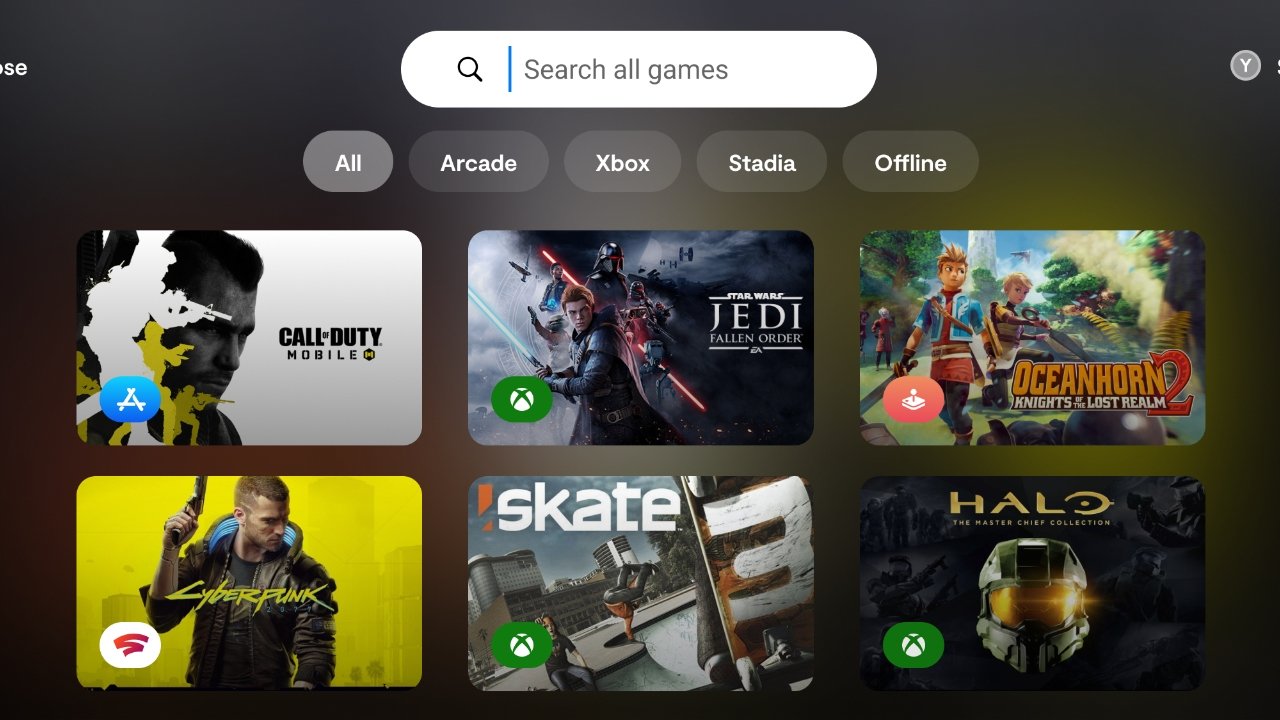 Get a new search interface with Backbone+
The interface will also go beyond simple game clip sharing and highlight Twitch streams of friends and other Backbone players. Users will be able to join the streams and have access to comments and reactions directly from the controller interface.
There are also new enhancements to the screen recording feature. Players can capture gameplay at 1080p 60Hz encoded with H.264. There's also the ability to capture the previous 15 seconds of gameplay using a specific capture mode within the app.
One of the most important features of Backbone+ is perhaps Twitch streaming integration. Players will be able to stream their game from the iPhone using dedicated UI within the Backbone app.
To address the worry that streaming or screen recording might show unwanted notifications, the Backbone One can automatically enable
iOS 15's
Focus Modes. By default, it will activate a custom gaming focus to prevent notifications from interrupting gameplay.
Price and availability
The new service isn't required for the Backbone to continue working normally -- it is still the same gaming controller and game launcher it was before this update. Backbone+ adds to that, and anyone with a Backbone One account before Thursday's launch gets a free lifetime membership.
Those who purchase the Backbone One going forward get a free year of Backbone+. Those who never redeem the free year or choose not to subscribe will still get new software updates to ensure compatibility with future versions of iOS.
Once the free year is up, players will be asked to subscribe for $50 a year or about $4.17 a month. Along with the other announced features, Backbone will be offering subscribers exclusive perks like free trials, free months of Xbox Game Pass Ultimate, and other future offers.
Get your own Backbone One by ordering one directly from the Backbone website
for $100
. Owners of the iPhone 13 Pro can get an adapter for free, or find instructions to 3D print their own on the order page.
Read on AppleInsider