Mac mini, Mac Studio, iMac - Best desktop Mac to buy at any pricepoint
If you need to buy a new desktop Mac, Apple offers a wide range of devices that you can buy. Here's what to consider picking up, based on the size of your budget.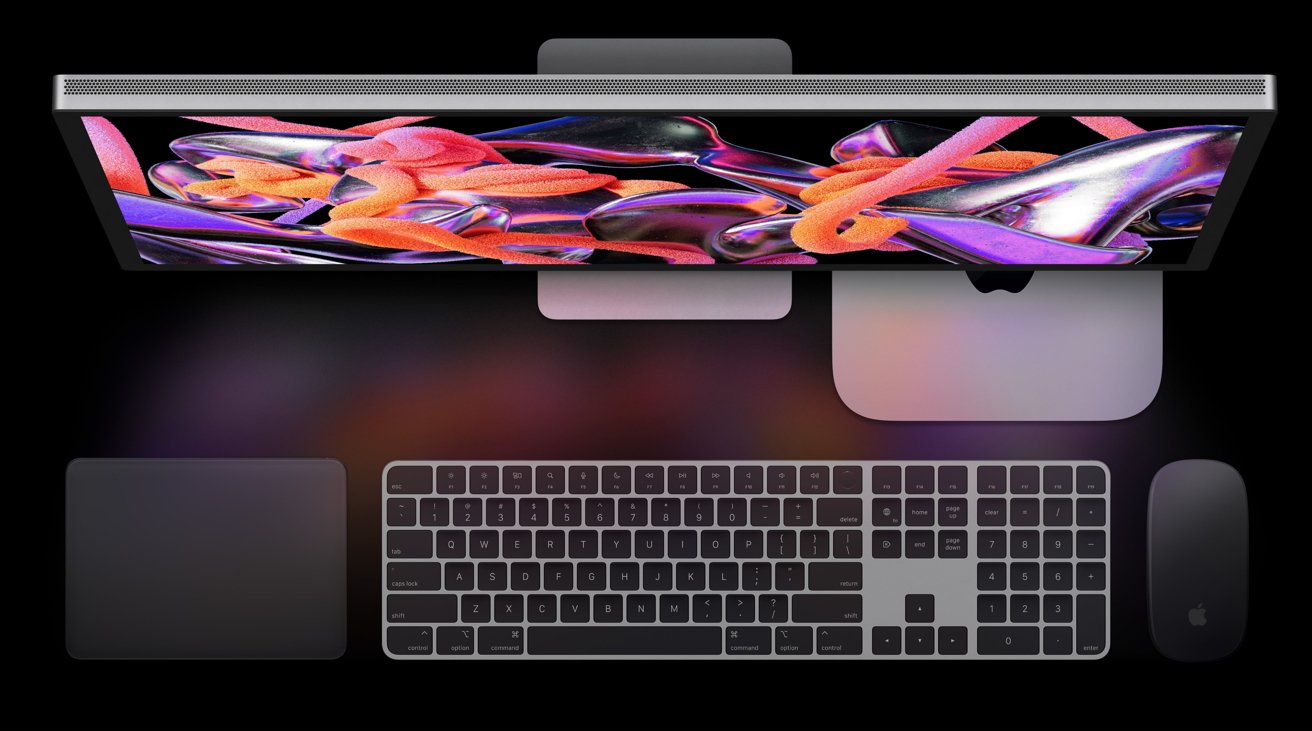 Apple's M2 Mac mini offers even more choice in the desktop Mac landscape.
Buying a new computer can be difficult, with a lot of research involved when it comes to features and specifications. This is especially true when you consider the range Apple offers to consumers.
With the introduction of
Apple Silicon
, Apple has worked hard to shift its product range away from Intel chips to a small array of its own creations. While it has yet to complete the transition with the
Mac Pro
, there's still an awful lot of choice available to you.
With the introduction of new chip options and configurations for the
Mac mini
, there is even more to decide upon.
It may seem like a bewildering choice, but depending on whether you care more about budget or cost, there's a Mac that's out there for you.
Overall Apple Silicon range
The current desktop Mac range equipped with Apple Silicon consists of three distinct product families, namely the Mac mini, the
24-inch iMac
, and the
Mac Studio
.
However, you really should be considering it a six discrete ranges, since there are chip options available for each three models. It's best to consider each chip option as a "standard" or "high performance" variant of each model, with more performance fetching higher prices.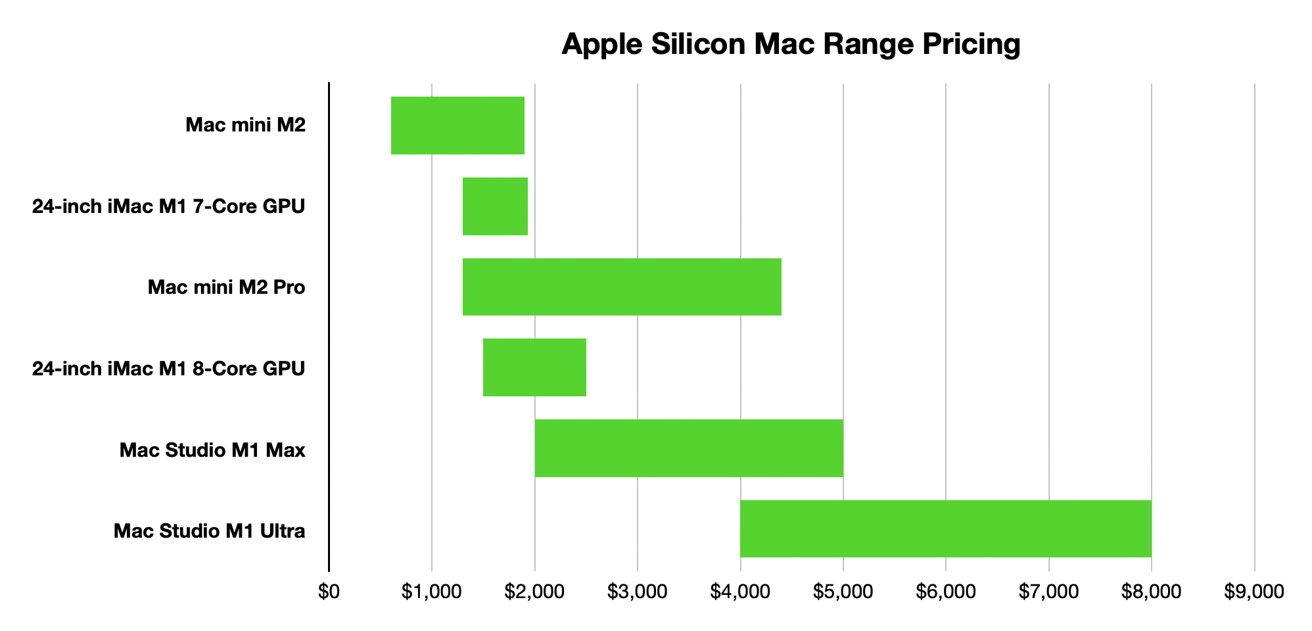 The full range of pricing for Apple Silicon Macs as of January 2023
These can be easy to spot based on the name of the chip being used, at least for the Mac mini and Mac Studio lines. The Mac mini has
M2
and M2 Pro varieties, while the Mac Studio has M1 Max and M1 Ultra options.
For the 24-inch iMac, it uses the
M1
chip, but offered with either a 7-core GPU or an 8-core GPU. It's a more granular version of the same principle.
In the interests of categorizing the type of purchases, we are splitting the collection down into two broad ranges, namely below $2,000 and above $2,000. That seems to be enough of a milestone in performance for the purposes of this article.
Storage and memory upgrades
One thing you have to bear in mind when buying a Mac is that, with the exception of the Mac Pro, you are going to be stuck with the configuration you bought for the life of the device, until you replace it.
This goes beyond the chip you choose, and into the fields of memory and storage. There is the temptation to pay for extra storage and memory because of this lack of user upgradability.
You really need to consider the implications of paying for storage or memory from the outset.
For memory, since Apple uses Unified Memory, the allocation you buy is able to be used by the CPU, the GPU, and other chip components as a larger pool, all without using component-specific memory or pre-allocated pools. Buying more memory will help the CPU, as usual, but it'll also impact the performance of your GPU.
Sometimes, these memory upgrades are mandatory. For example, the M1 Max models of the Mac Studio
start at 32GB
with a 64GB option included as an extra option, while the
M1 Ultra starts at 64GB
.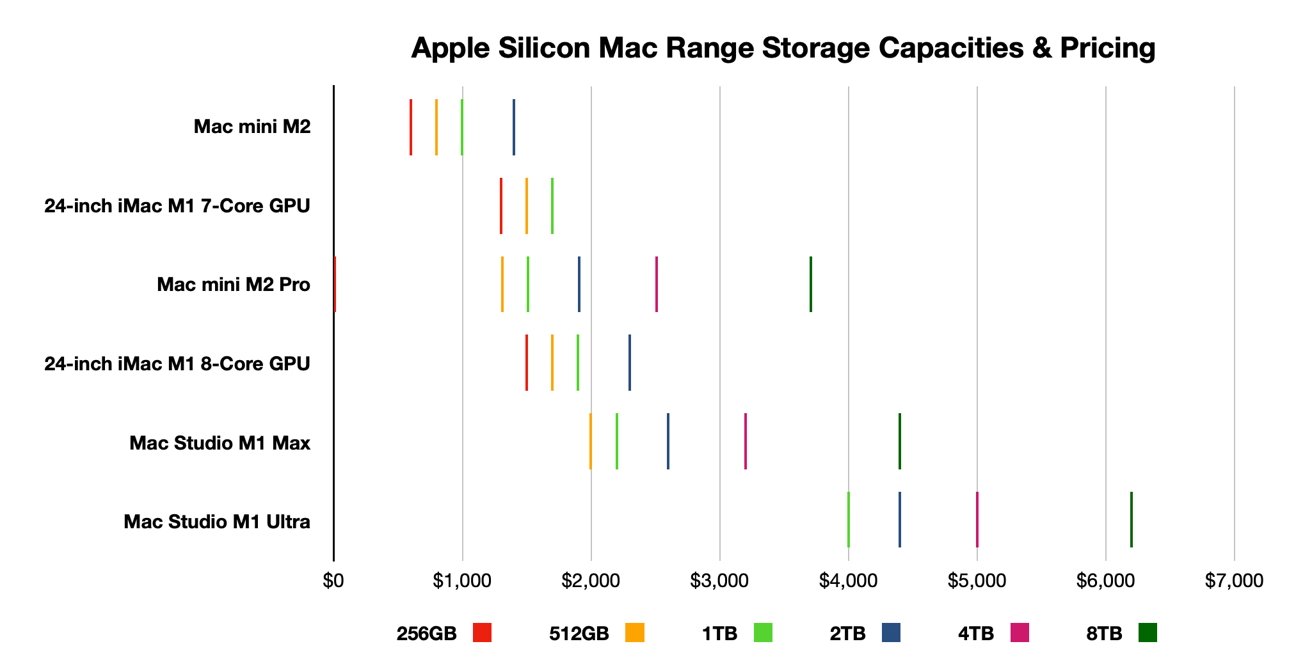 Storage costs can easily eat into your budget.
Storage is also a potentially costly area, as you could pay a lot for upgrades. For example, going from 256GB to 512GB may cost $200, but as the selected capacity grows, so does the cost of going to the next tier, such as $1,200 from 4TB to 8TB.
AppleInsider
recommends considering external drives as another storage location for your data. Many external drives can work as fast or faster than your Mac's built-in storage, and can do so at a reasonable cost.
This could be handy to consider, as you may prefer other performance improvements for the Mac instead of paying highly for storage. If you can deal with adding external storage to your setup at a later time, then you're better off doing that and spending more on a better chip or more memory.
Under $2,000 - Mac mini and 24-inch iMac
The
cheapest Mac
you can buy is the Mac mini, with the updated M2 edition
costing a mere $599
, $100 cheaper than the cheapest M1 Mac mini.
At this range, it's your only option until we reach $1,299. For the early upgrades, you could probably get away with going from 256GB to 512GB of storage or paying the same $200 for 16GB of memory instead of the base 8GB, and then doing the other upgrade as you reach $999.

Apple Silicon Mac price ranges for $2,000 and lower budgets.
At $1,299 is when we have our first real decisions to make. Would you prefer a display, more performance, or lower performance but more memory and storage capacity?
If you want a display, you're probably going to look to the
24-inch iMac with the M1 and 7-core GPU
. However, you could probably get away with an upgraded M2 Mac mini and buying a display for that.
One way of thinking about it is that you're effectively paying a premium of around $700 for a 24-inch display over a comparable Mac mini specification.
If the aesthetics or the need for an all-in-one setup is strong enough, it could be worth getting the iMac.
But for the same price, you could go down the performance route with the M2 Pro Mac mini. You may have a similar amount of memory and more storage with the M2 model, but the performance increase of the M2 Pro may be a better option overall.
As the prices rise to $1,499, the
24-inch iMac with the 8-core GPU
becomes an option. However, for roughly the money, you could get an iMac with more memory or storage, an M2 Mac mini with more memory and even more storage, or for $1,599, the M2 Pro model with the 12-core CPU and 19-core GPU.
As the money rises closer to $2,000, the M2 Mac Mini will max out at $1,899 with 24GB of memory, 2TB of storage, and the 10Gig Ethernet update. It's only $30 more to get a maxed-out 7-core GPU version of the 24-inch iMac with 1TB of storage, Gigabit Ethernet, and 16GB of memory.
Before you actually hit $2,000, you have options like the 12-core M2 Pro Mac mini with 16GB of memory and a 1TB SSD or at $1,999, 32GB of memory and 512GB of storage. Meanwhile the 24-inch iMac with the 8-core GPU will get you 16GB of memory and 512GB of storage at $1,899.
Yet again, the smart money is on buying the better Mac mini and dealing with acquiring a display separately, unless you're desperate for the 24-inch screen.
Beyond $2,000 - M2 Pro Mac mini and Mac Studio
At the upper end of the scale, you should be considering performance over aesthetics. Yes, the 24-inch iMac is still hanging around, but given it's
maxed out at $2,499
with 16GB of memory a 2TB SSD, and still uses an M1 chip, it's not really a feasible option considering the rest of the catalog on display.
At $2,000, the battle is really between the Mac mini with the M2 Pro and the Mac Studio, with its M1 Max chip.

Apple Silicon Mac price ranges for $2,000 or more.
The M2 Pro Mac mini could be configured with the 12-core CPU and 19-core GPU, as well as 32GB of memory and the 512GB of storage. However, the base M1 Max model has a 10-core CPU and 24-core GPU, 32GB of memory, and 512GB of storage.
This is a bit of a toss up, but it seems likely that the performance of the M2 Pro's CPU may be a better option, unless graphical power is really important.
Going beyond $2,000, you're basically just upgrading the storage of the M2 Pro Mac mini, as well as adding the 10Gig Ethernet option. Meanwhile on the Mac Studio, you could always go for the 32-core GPU or boost the memory to 64GB before you touch the SSD options.
At this point, you're probably better getting the M1 Max Mac Studio, at least until the
M1 Ultra version
of the Mac Studio enters at $3,999. That has a 20-core CPU, 48-core GPU, 32-core Neural Engine to the usual 16 cores, 64GB of memory, and a 1TB SSD.
At that point, you're staring at the only alternative, which is the M1 Max Mac Studio with the 32-core GPU, 64GB of memory, and a 4TB SSD
for $3,799
.
The smarter money is on going over to the Ultra due to the massive performance gains, and the policy of trying to mitigate increasing the storage. You could consider the M1 Max with high storage quantities until you reach $5,000, but changing to looking at the high-performance Ultra models is too good an opportunity to miss.
At these stakes, you should consider prioritizing the $1,000 chip upgrade to the 64-core GPU or the $800 memory upgrade to 128GB over storage, which is already fairly useable at 1TB.
After those, if you have spare cash to spend, you could do more storage upgrades. However, strongly consider whether the $1,200 cost of going from 4TB to 8TB is really worth it. For that money, you could easily get a NAS and fill it with drives to provide you with network storage.
What about the Mac Pro?
This article has covered most of Apple's desk-based Mac range, with one clear exception: the Mac Pro.
The last of the Intel Macs in the catalog, the Mac Pro is both a status symbol and an oddity, as it is far away from the construction of Apple's other Macs.
It's one of the only Macs Apple sells that has a level of user serviceability, in that you can add more cards, storage, and memory to it.
However, we know that its days as an Intel device are numbered. Apple has
teased something
Mac Pro-like using Apple Silicon for a while, and we're still waiting for it to arrive.
Then there's the problem of performance, in that despite being a performance powerhouse, Apple executives have
already enthused
about the M1 Ultra's performance. One time, it was proclaimed that the M1 Max could run seven 8K ProRes content streams in Final Cut Pro, more "than on a 28-core Mac Pro with an Afterburner card."

The Mac Pro is the last Intel Mac standing, but it can be extremely expensive.
There's also the balmy pricing to consider, as you're potentially paying tens of thousands of dollars on a Mac that's outperformed in some tasks by an Apple Silicon version that's considerably cheaper.
Of course, the Intel Mac Pro continues to exist because there are companies out there that absolutely need it. Such as those running applications requiring a terabyte of memory, or for software that won't run on Apple Silicon, even under
Rosetta 2
.
That's before you get to the small market of people who buy the Mac Pro for bragging rights or similar reasons.
Sure, it's entirely possible for someone to justify paying $53,799 for a 28-core Intel Xeon W Mac Pro with 1.5TB of DDR4 EEC memory, gobs of storage and GPUs, and an Afterburner card.
For the same money, you could get a top-specification Mac Studio that can do better than the Mac Pro in many situations, as well as 76 M2 Mac minis, and still have enough to buy an
Apple Watch SE
.
Where to buy (and save) on a desktop Mac
Dozens of desktop Macs are on sale in the
AppleInsider
Mac Price Guide
. There, you can find exclusive coupon offers discounting iMac and Mac Studio configurations by triple digits -- plus deals on AppleCare.
You can also jump directly to our roundups of the top deals by product line:
Read on AppleInsider