Onyx Boox Tab Ultra C e-ink tablet review: good for what it is, but it still isn't an iPad...
The Boox Tab Ultra C e-ink tablet by Onyx offers a range of features and functionality that make it a commendable device in the e-reader market -- if you don't already own an iPad.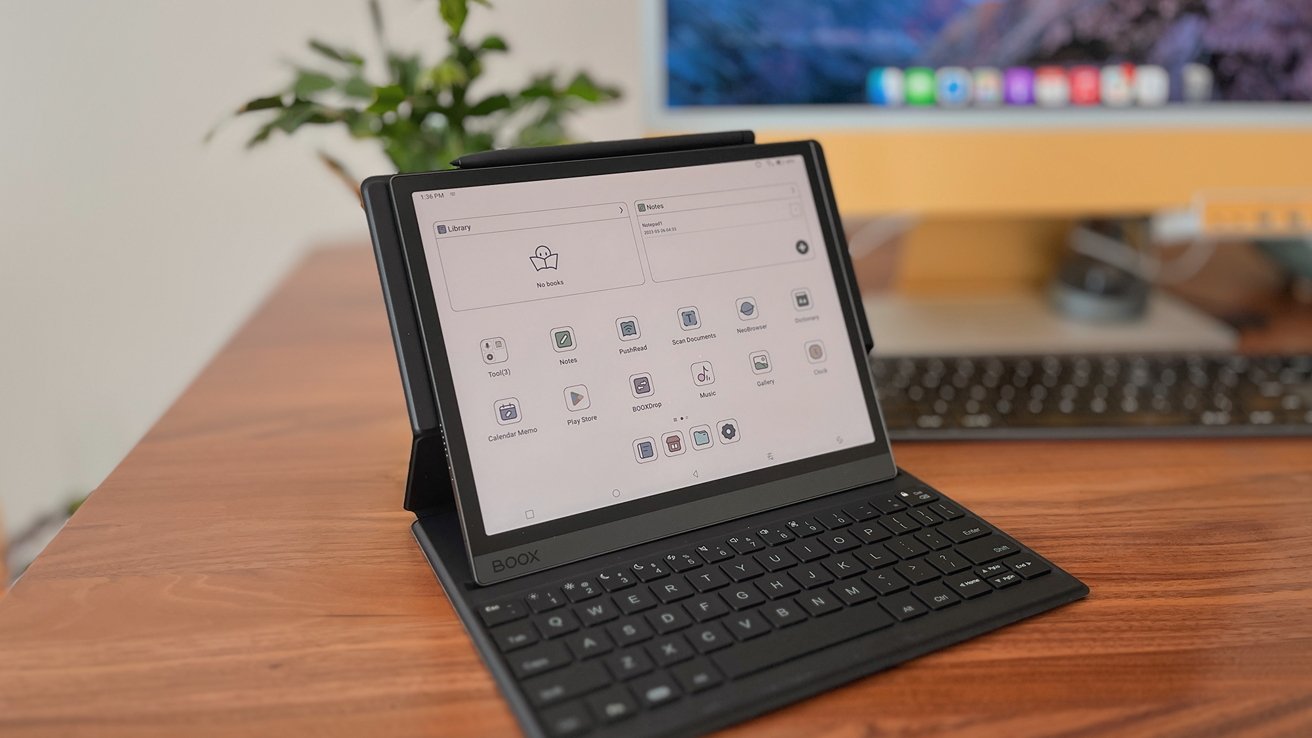 Boox Tab Ultra C
It's no secret that spending too much time on your favorite devices isn't great for your eyes. That's why plenty of people have begun migrating to using e-ink devices, such as Amazon's Kindle or Barnes & Noble's Nook, to their favorite ebooks.
However, there's a whole world of digital content beyond ebooks. The Onyx Boox Tab Ultra C promises to give you a comfortable reading experience not only for books but also for emails, web browsing, and note-taking.
Onyx Boox Tab Ultra C e-ink tablet - Design
The Tab Ultra C looks a lot like other tablets on the market. It features a thin design with minimal bezels, and its 16.9oz weight makes it easy to tote in your tech bag.
The 10.3-inch Kaleido 3 glass screen features a resolution of 2480 x 1860 (300 ppi) for black and white content and 1240 x 930 (150 ppi) for color.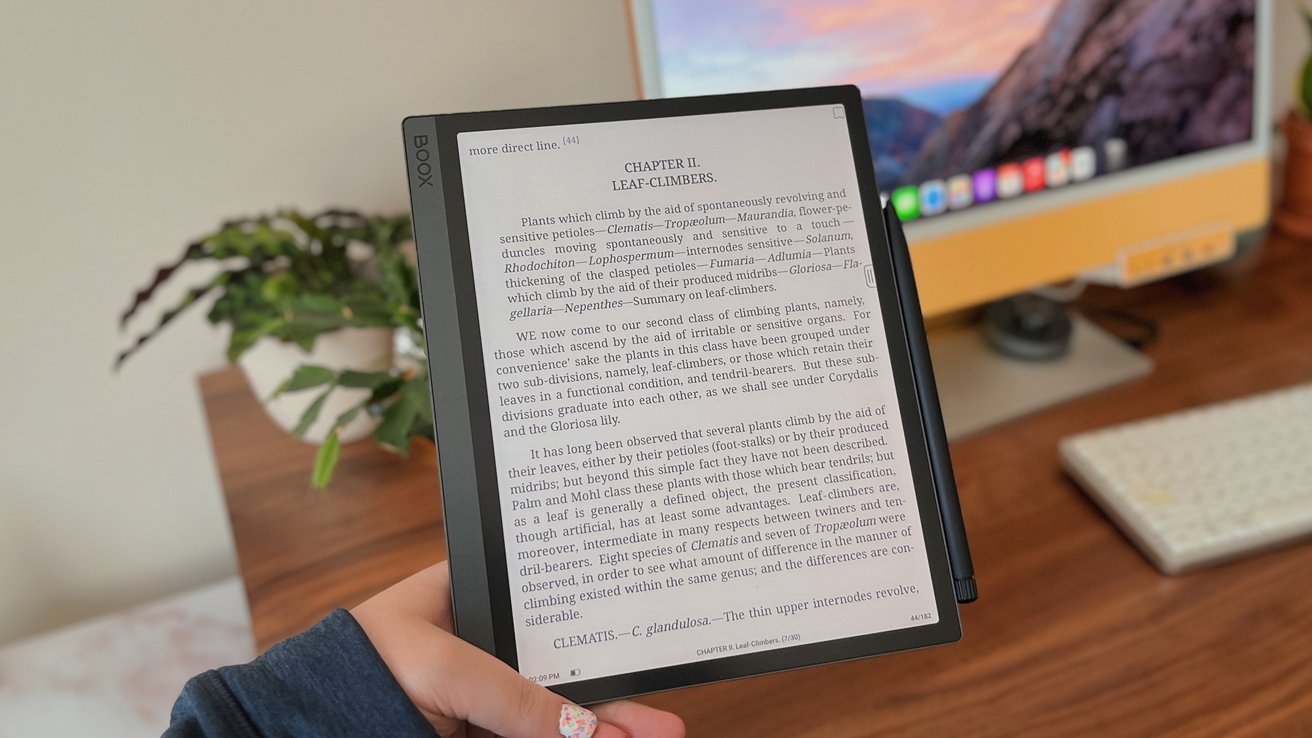 Reading on the Tab Ultra C is fantastic, thanks to its e-ink display
The included Boox stylus features 4,096 levels of pressure sensitivity and capacitive touch capabilities, ensuring precise input and navigation options.
The tablet is powered by a Qualcomm Advanced Octa-core processor and 4GB RAM. In addition, it boasts 128GB of internal storage, allowing users to store their documents, books, and other media files.
Additionally, the tablet supports 2.4GHz and 5GHz Wi-Fi and Bluetooth 5.0. It also features built-in dual microphones and dual speakers, which shouldn't be surprising.
One notable feature is the front light with CTM, offering adjustable warm and cold tones. This feature allows users to read comfortably in various lighting conditions. Moreover, the tablet incorporates a 16MP rear camera, which can scan documents.
Running on Android 11, the Tab Ultra C provides access to a wide range of compatible third-party applications from the Google Play store. For example, we installed Slack and Discord on it and found that they both worked wonderfully.
It supports a multitude of document formats, including PDF, DJVU, CBR, CBZ, EPUB, AZW3, MOBI, TXT, DOC, DOCX, FB2, CHM, RTF, HTML, ZIP, PRC, PPT, and PPTX.
Additionally, image formats such as PNG, JPG, BMP, and TIFF, as well as audio formats like WAV and MP3, are supported.
When buying the Tab Ultra C, you have the option to purchase either the tablet alone or with a magnetic keyboard cover. We'd highly suggest investing in the keyboard cover.
Onyx Boox Tab Ultra C e-ink tablet - Performance
With its high-resolution e-ink display, the Tab Ultra C renders text sharp and clear, providing a comfortable reading experience for extended periods. If you've never used an e-ink display before, it's hard to explain the difference, but it's a refreshing switch-up from staring at digital screens all day.
The e-ink technology minimizes eye strain, replicating the appearance of ink on paper and enhancing readability. This makes it particularly suitable for managing emails or browsing content-rich websites, where reading and textual comprehension are paramount.
We loved using it to read articles on our favorite news sites and converse with coworkers over Slack or friends over Discord.
Additionally, unlike traditional LCD devices, you can use this in full sun, making it perfect for use on the deck or in the park.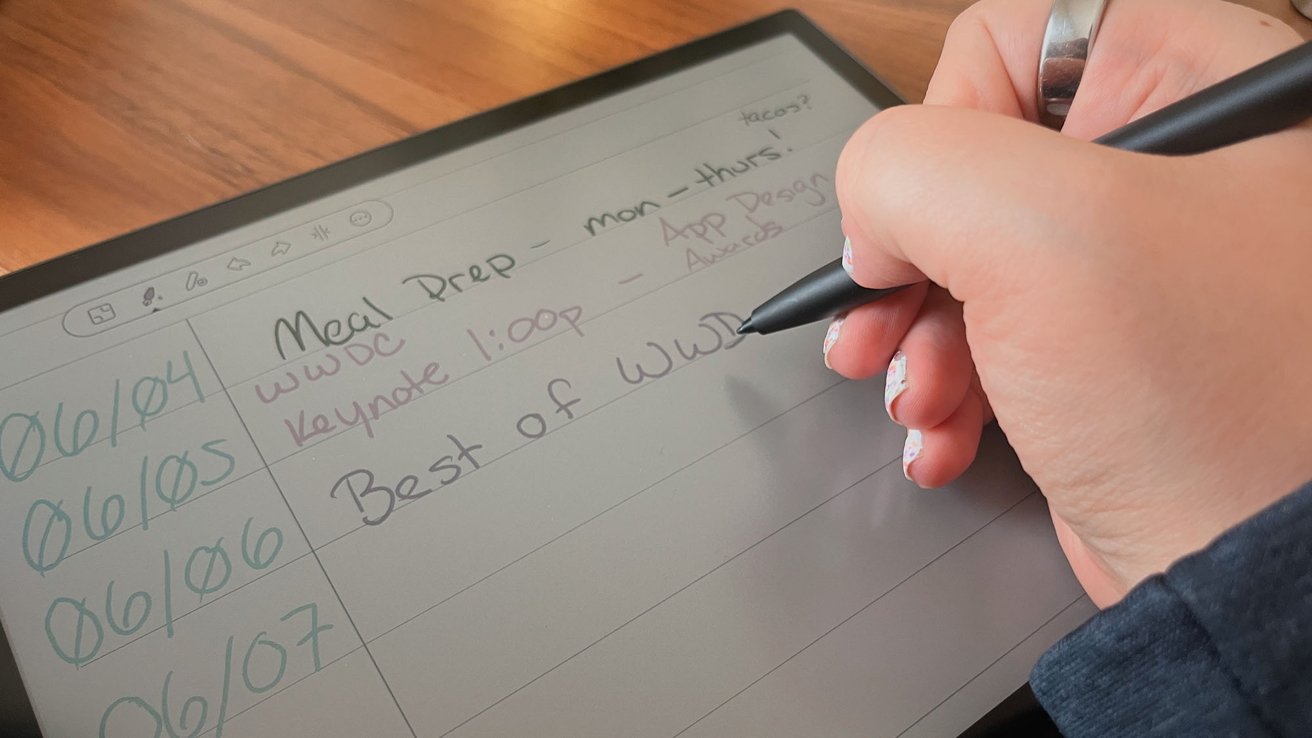 Writing on the Boox Tab Ultra C
Taking notes on the Tab Ultra C is fantastic. While it doesn't offer a true paper-like experience, it's much better than writing on most tablets. In fact, it feels even better than taking notes with an
Apple Pencil
, which we already think is pretty special.
The Tab Ultra C becomes an even more effective tool when paired with the magnetic keyboard cover. Simply snap it onto the keyboard to respond to emails, and then pull it back off to take notes or return to reading your favorite book.
And, for the most part, it was pretty good regarding speed. We found that apps opened quickly and were responsive, though it occasionally struggled with content-heavy websites.
The speakers worked well, though we assume most people would be more likely to pair a set of Bluetooth earbuds with such a device. The microphones were decent for making audio calls via various chat apps, but nothing to write home about.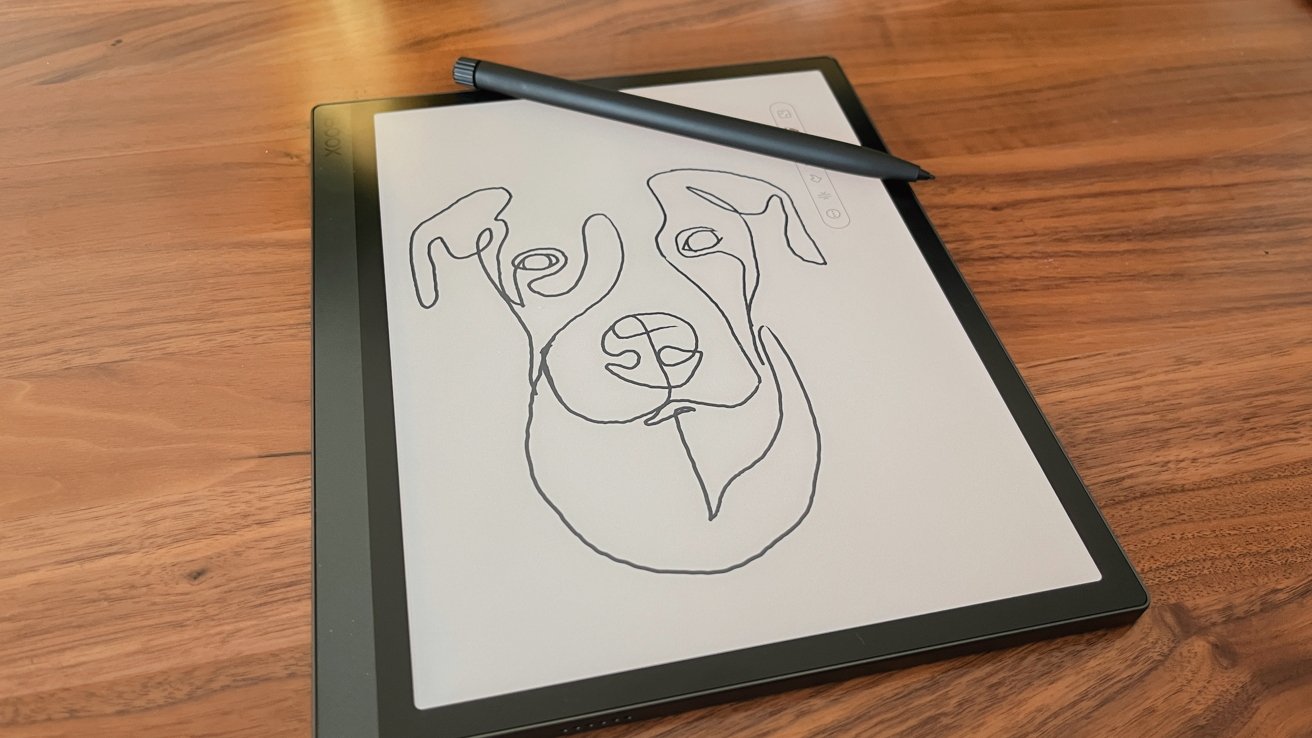 While the Boox Tab Ultra C performs well as an e-reader and simple, on-the-go web use, it's hardly what we'd call an all-purpose tablet.
If you're the type of person who wants to play games on your tablet, this is not the tablet for you. However, we anticipate that most of you have already reached that conclusion.
It's important to note that the Tab Ultra C doesn't quite measure up when providing a satisfying video-watching experience. The refresh rate is too low, and while impressive for PDFs and note-taking, the colors appear muddy and dull when watching video.
Basically, pretty much any other device that
doesn't
have an e-ink display does a better job, and it absolutely falls short when compared to the exceptional video-watching experience offered by an iPad.
Who the Boox Tab Ultra C is for
For what it is, the Boox Tab Ultra C e-ink tablet is impressive, with its color e-ink display and fantastic note-taking capabilities. It excels as a dedicated e-reader, providing a rich reading experience for various content formats.
We also thought it made a solid showing when sending messages over chat clients, making it a bit more practical for on-the-go work.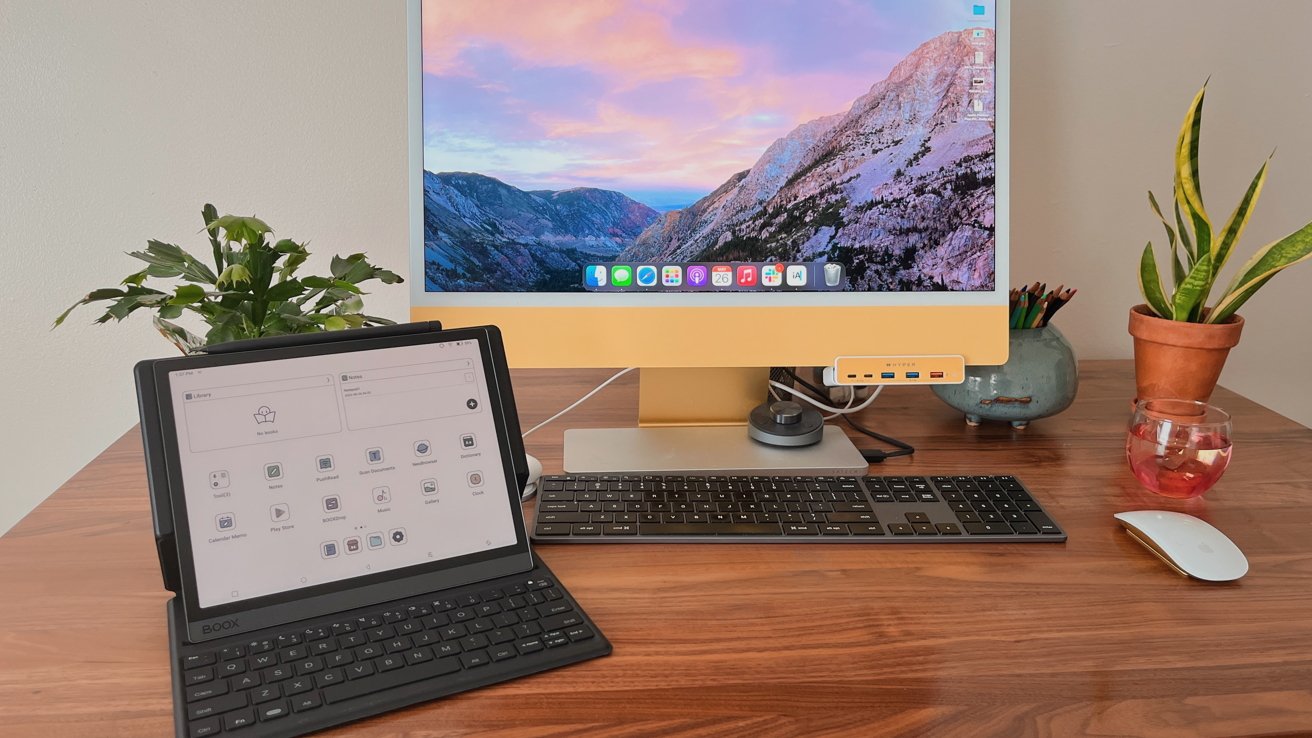 The Tab C Ultra features a similar design to most tablets
It may be worth looking at if you don't have a tablet and want something portable. This is especially true if you're looking for something to use for text-heavy applications or if taking notes by hand is critical to your workflow.
But, at more than $650, it's nearly impossible to recommend this device to those with a similar tablet setup. Unless you are prone to extreme eyestrain, there's no reason to swap out your iPad or Android tablet.
And, if you need the ability to watch videos or want to play games, you're better off investing in an iPad.
After all, you can get a 10th-generation iPad with 64GB of storage, a first-gen Apple Pencil, and a
Magic Keyboard
Folio for $557 -- and bumping up to a 250 GB model only increases the price to $700. And, if you're already in the Apple ecosystem, you can use a lot of the apps you've purchased for your
iPhone
on a new iPad.
So, ultimately, it's up to you to decide whether or not it meets your needs. We think it's great for what it is.
Boox Tab Ultra C -- pros
Comfortable to read on


Excellent note taking experience


Excellent stylus


Portable


Access to the Google Play app store


Boox Tab Ultra C cons
Subpar video watching experience


Expensive compared to other tablets on the market


May not work well for those ingrained in the Apple ecosystem
Rating: 3 out of 5
It's difficult to rate a product like the Tab Ultra C because so much depends on personal preference. However, while we believe the iPad is more versatile, it's hard to ignore the fantastic reading and writing experience of the Tab Ultra C, which greatly surpasses that of the iPad.
Where to buy the Onyx Boox Tab Ultra C e-ink tablet
You can snag a Boox Tab Ultra C from Amazon
for $599.99.
If you want to purchase the keyboard cover, that will set you back
an additional $109.99
Read on AppleInsider