iPods threatened by digital cameras?
what if the real ipod's competition doesn't come from those ugly Creative and Co. players, but from traditional digital cameras' manufacturers instead?
look at this new one from canon:
(see more here:
canon camera
)
this cute little thing is smaller than the ipod mini (albeit thicker and weights 20 grs more) and is a FULLY featured (pocket) digital camera.
Comes with a great canon 5mpx CCD, screamly fast DIGIC II CPU (like on my $4000 EOS-1D markII), very decent 3x optics, USB 2.0, records video at 640x480 at 30fps, records voice notes, manages JPGs, WAVs and AVIs, and has a hi-res 2" color screen (same size as iPod photo), which can be used not only for shooting, but also to "slide show" photos at whatever resolution (not only thumbs) as well as to play recorded/stored videos.
Ah, when connected to a TV it can of course do all that as well.
4GB flash memory cards already exist. They're still expensive, but that's just a matter of months. With such memory cards, this camera would have almost every single feature from the ipod photo, but at the size and with the storage space of the iPod mini. It only lacks audio playing circuits (D/A converter and phones out), but as seen with the shuffle, they are not only very cheap to manufacture but small enough to fit in a chasis like the one from this very canon ds400 camera.
hey, someone's already thought about a -not so great, camera-mp3 player: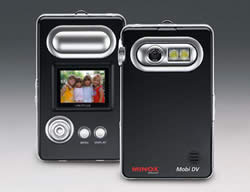 think twice. What would you prefer, an iPod mini or a same sized 5mpx Canon digcamera and mp3-photo-video-player for 100 dollars more? (with user-and-instant repleaceble 4GB cards and batteries)
How should Apple react?