iBoss - a special edition iPod for Bruce Springsteen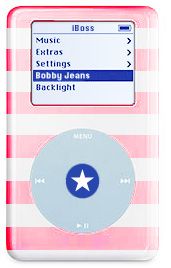 A special edition iPod for Bruce "The Boss" Springsteen was unveiled today by Steve Jobs and Jon Landau at Apple Headquarters in Cupertino, CA. Clearly, Springsteen was having a laugh on us when he referenced Bill Gates during his U2 induction speech... but he wasn't joking about the hardware. With Springsteen's signature inscribed on the back, the new iPod comes in 20G and 40G models, each of which will include his entire Columbia catalog, as well as an 80G model which will add every live version of "Bobby Jean" ever played.
The "iBoss," as Jobs referred to it, is "a device that plays music." However, this one does not include a Shuffle feature; Landau explained that the original integrity of the song order is crucial to an understanding of the story Bruce has been telling over his career. But the extra touches are numerous and subtle, from the sweat-stained protective case to the "rosy" glow of the backlight.
A commercial to promote the iBoss was set to feature a silhouetted Springsteen dancing the Boogaloo, which in the end was not approved. A more "generic" 15-second TV spot will be used instead, with the Apple hippie-chicks grooving to "The Hitter."
--
www.backstreets.com