Convert Video/DVD to Apple TV Guide
I just found another Apple TV guide while I just wandered around there.
Share it
The original article is from
http://www.mp4converter.net/guides/c...-tv-guide.html
Here is a snatch:
Quote:
Setup and Interface
With cables in hand, setting up Apple TV is fairly easy. Regardless of the type of wireless network you?re using (see Performance Concerns, below), once iTunes 7.1 has been installed on your PC or Mac, and Apple TV has been plugged into your television set and the wall, the process is nearly automatic. You?ll pick a language, connect Apple TV to your network by name and password, watch a brief glamour video, and sit back as the unit sends a signal to iTunes that it?s ready to tango.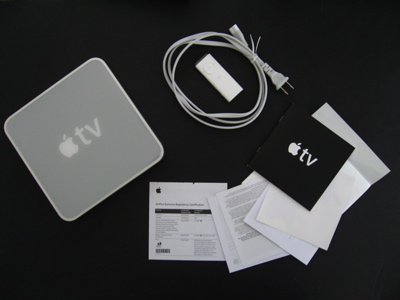 How to Encoding Video/DVD
Apple doesn't exactly make it simple to watch content that's not purchased from iTunes, and the Apple TV was clearly meant to be an iTunes portal for the living room. The Apple TV's spec page indicates that it supports a very limited number of file formats: anything from the iTunes store, H.264-encoded movies, and MPEG-4 video. For the average user, these will likely be fine, and it's not hard encoding one's own movies to fit one of these formats. On both the PC and the Mac, a user can employ
Apple TV Video Converter
and
DVD to Apple TV Converter
(from mp4converter.net) to open almost of different formats/DVDs and then encode them "for Apple TV".