How to copy *.vob files on DVD to the hard disk and merge them together
How to copy *.vob files on DVD to the hard disk and merge them together
When copying VOB files to the hard disk, due to CSS protection, generally the copied movies can not be played on the player and become the noisy sound, even more serious, the movies are not allowed to copy to the hard disk, namely, the instructions are not implemented While now, the protection has been cracked. If you still do not learn about it, you must know about it, as this is the basic concept.
1. Download DECSS
This step is easy if you have read the instruction.
It does not matter if containing too many files on DVD. We can merge them into a single one. Why do we still merge the files into a single one since it is too big to put in the disc? You know, the capability of the disc is about 640 MB, and even though you divide *.vob with 1GB capability into two parts with ripping tool, it still takes up too much space. Only merge all of the VOB files into a VOB file, we can save disc space and avoid missing *.vob files. Right?
DeCSS has already provided the function to merge *.vob files altogether into a file. Pay attention: choose the first 1 GB file as the starting to the final one and remember to exclude the unwanted ones and tick the ?merge? option. Then it will be done!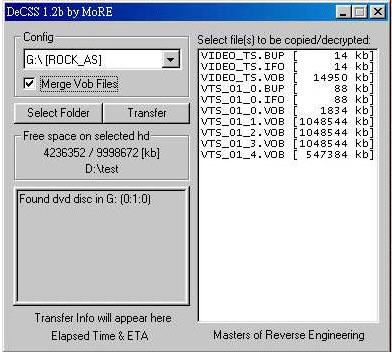 2. Rip *.vob files
Now, it is time to split *.vob files. This step is ready for putting them into CD-RM. We use Vob Splitter as the ripping tool to split the made super *.vob files into several small *.vob files with 600MB capability. It is so easy that you just need to open the super *.vob file and then Vob Splitter will start to help you split the file. \t
It should be noted that Vob Splitte will take some time to cut VOB file and will retain the original large VOB file. If we deal with a 4 GB *.vob file, it must take up 8 GB space of hard drive. It is not recommended at this time to go to the implementation of other actions in case that the ripped *.vob files are out of sync.
Tips:
The backup *.vob files should be played on the computer and I am not sure whether it can be compatible with players. (I have never had a try. ) In addition, if your original DVD is very poor, (bad scratches) or it is not good for the reading effects of DVD-ROM, it may not be watched. It is recommended that you can rebuild your hard drive to make it the best state before all the important operation. Of course, if you want to reduce the trouble, and would rather spend more money on it, you can use the simple ways to complete it. Please read here:
http://www.pavtube.com/dvd_copy/guide/
These are some skills purely and can not be used in the illegal piracy!