Intel previews nextgen Atom architecture Pine Trail
Atom moves to a 2-chip setup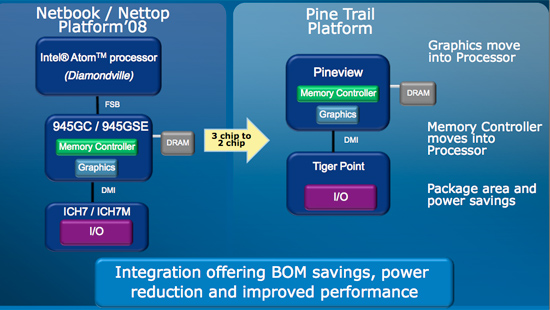 It should enable lower cost product and cooler running product but I'm of the belief that Apple will not use Atom in any products.
1. Their low end desktop will remain the Mini which will move to Arrandale processing next.
2. Their 278 million purchase of PA Semi will be dwarfed by the costs to design custom SoC chips
3. In order to amortize the costs of custom SoC Apple will use their own designs in iPhone/iPod, AE and Time Capsule and other mobile or networking devices
4. X86 compatibility isn't that necessary. Much of OS X is running on ARM now.
The loser in this battle is going to be Nvidia. They're going to get shut out of making IGP once G55 graphics are embedded into Clarkdale processors.
I look for Nvidia to be an acquisition of Apple in a couple of years and they will be purchased for a fantastic deal. There isn't much of a future for a GPU dominant
company moving forward. Either Nvidia will have to make X86 processors and deliver the whole widget or get acquired by someone who can help them get aboard.