Products from when I was younger hard to find now
How many of you have thought about things that used to be available at the store when you were a child and today seem to have just vanished from ever existing.
I grew up in the Dallas / Fort Worth area and we shopped at several different grocery stores in those days but most often Safeway. When I was a child I remember we used the pancake /waffle syrup called Vermont Maid
http://www.bgfoods.com/brand_vermontmaid.asp
Today it is hard to find I suppose as other national brands have played the game for shelf space and won the battles.
I also remember breath mints caled Certs and they just seem to have vanashed:
Remember these?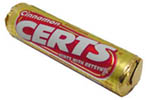 Now all you see are these:
Life Savers are now these huge things in bags which used to be smaller in rolls which used to actually taste good. Today I am not sure what they are made of but they are not what they used to be.
From this:
To this:
What ever happened to the original Dentyne gum which had that nice cinnamon flavor?
Remember this anyone?
Now all you see are these hard candy coated Dentyne Ice kind of gums sold in blister packs which have an entirely different flavor to them...
What ever happened to original Trident gum?
Now all we have is Trident White again sold in blister packs:
My family used to drink Maryland Club coffee
It does not exist today.
I just wondered if any of you all have seen things that you used to be familiar with as a child vanish in the last several decades.
If so please share your examples.
Fellows