Seagate set to announce promising SSD/HDD product
What if you could gain most of the benefits of SSD without the drive size &
price limitations?
Well on May 26th Seagate will announce
Momentus XT
the next generation of
hybrid SSD/HDD technology.
Older hybrid technology relied on the host computer to manage the data on the SSD vs HDD. With Momentus XT Seagate is doing the management on the drive itself. A 32MB DRAM cache ties things together and delivers most of the speed of SSD after a few reboots without the harsh size penalty. How's this for a benchmark?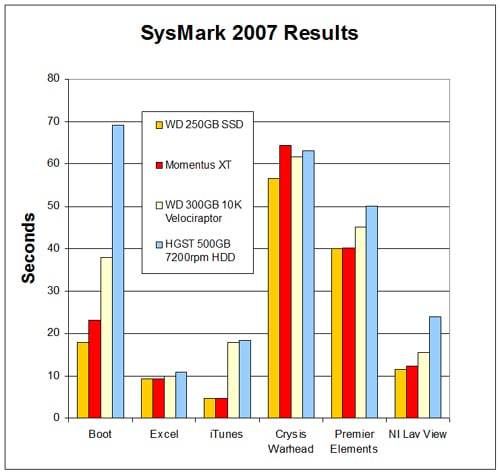 Nice isn't it?
Stephen Fosket
t says:
Quote:
Originally Posted by Foskett


Assuming I?m right about Seagate?s fully-integrated cache architecture, this drive ought to blow away everything else on the market. The Register includes test results showing SSD-like performance for many workloads, yet this drive is half the cost and twice the capacity. It beats the 10k VelociRaptor drive in every test and will absolutely smoke any ?normal? 7200 or 5400 rpm laptop drive. Feel free to exclaim ?wow!? at this point.

Wow indeed. Provantage.com put up some pricing and I think I will actually be looking at grabbing a 320GB or 500GB drive this summer. I hope that Seagate can keep these drives in stock.
Model\tCapacity\tStreet price

ST92505620AS\t250 GB\tUnknown

ST93205620AS\t320 GB\t$111.59

ST95005620AS\t500 GB\t$133.84


Imagine....having the data size you want at the superlative speed without going broke in the process.
Sounds like a potential homerun here for Seagate.