How to capture screenshots of the Touch Bar on Apple's new MacBook Pro
The Touch Bar input strip on new MacBook Pro models is itself a Retina Display, but it doesn't show up as a display in System Report. That's prompted Apple to create specialized support in its Grab app to enable capture of screenshots of its current status.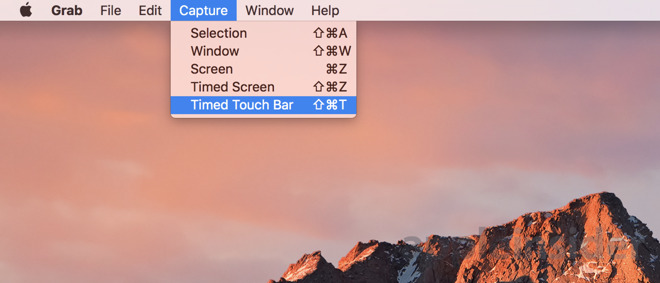 The Grab app was originally used to capture
screenshots
of the entire display, a specific window or an arbitrary selected portion. Apple hasn't publicly released the beta version of Grab that also enables a timed capture of the Touch Bar, but plans to make the tool available in a subsequent release of macOS.
Because the Touch Bar is dynamic, Grab offers to set up a 10 second timer to allow you to switch to the app you want to capture within.
As with virtually all of Apple's bundled apps, even the unreleased beta version of Grab supports Touch Bar; when you initiate a screen capture with Command Shift 4, the Touch Bar presents options to capture a Selected Portion, a Window, or the Entire Screen, and also allows you to set a location for saving the grabbed image.

This also highlights how the Touch Bar goes beyond simply offering another way to type basic keyboard shortcuts. While a variety of early reviews groused that the Touch Bar didn't impress them much because they already knew some common keyboard shortcuts, the fact is that Touch Bar can present useful options in tandem with keyboard shortcuts, and presents these options graphically so there's no need to learn every complex option available.
Touch Bar
appears to function
as a self contained input peripheral, isolated from the rest of the computer. It appears to run an embedded variant of iOS on Apple's new ARM-based T1 chip, which also handles security for the Touch ID sensor, using the same Secure Enclave architecture as Touch ID-enabled iOS devices.
The Touch Bar doesn't show up as an attached display, nor as a USB device, nor as part of the keyboard and trackpad. It essentially appears to be a separate computer that boots up in parallel with the Mac, enabling it to also function (at least in a limited fashion, presenting esc and 12 basic Function Keys) when the MacBook Pro hardware is booted into Windows via Boot Camp.
This design suggests that Apple could integrate its new Touch Bar into an external keyboard for use with other Mac models, including the iMac, Mac mini and Mac Pro.