Review: May the force be with you when flying Propel's Star Wars battle drones
The battle is on as Propel's XT-65 X-Wing and Tie Advanced X1 take to the skies in our hands-on review of the iPhone-connected drones.
Upon
unboxing
Propel's XT-65 X-Wing Starfighter and Tie Advanced X1, one is immediately greeted with dramatic Star Wars music, a unique feature that is sure to please fans. The drones themselves are front and center, each anchored to its own musical stand that lights up, displaying the hand-painted drones in a futuristic enclosure that oozes a collector-grade feel.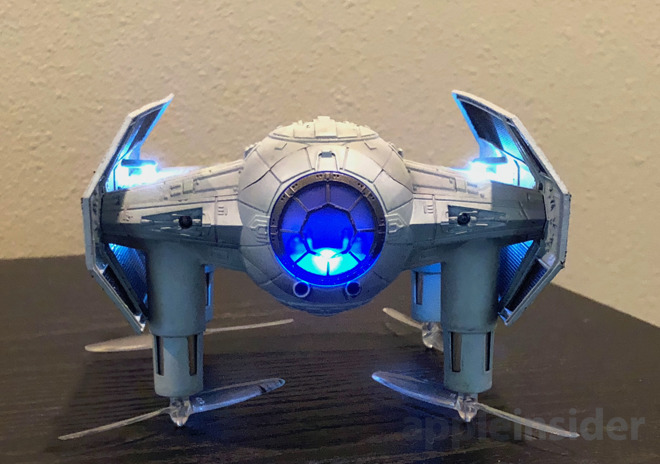 Propel's Tie Advanced X1 Battle Quad
In addition to the drones themselves, the kits also come with a 2.4GHz controller that's robust in size. There's a hidden smartphone holder that can easily be tucked away when not needed. With a little finagling, I managed to squeeze my iPhone X, which is housed in a Caseology case, into the stand and it felt nice and secure. Having a smartphone in plain view is beneficial when starting live battles and viewing scores. More on that later.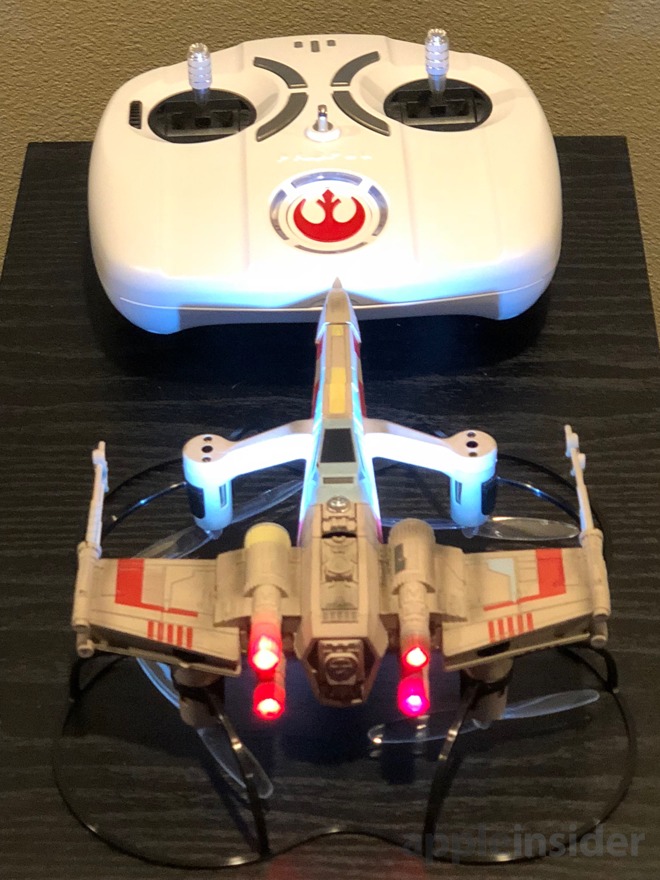 Propel's XT-65 X-Wing Starfighter with controller
In terms of accessories, Propel includes additional rotor blades for the drones, which are simple to attach, and a training harness for softer landings. I initially thought the blades would need to be replaced often, but after spending ample time with the drones, the blades withstood multiple flights (and crashes) with ease. The stunning paint, however, met its match when coming in contact with cement, resulting in small chips. To protect your investment, I'd avoid hard surfaces.
Outside of the hardware, Propel also developed an
advanced app
to train and assist pilots. Available for both Android and iOS, there's a multi-part tutorial to gain familiarity with the controls.
I found using an
iPad
in this environment was easiest in order to maneuver through the simulator thanks to the additional screen real estate. There were quite a few times when the Bluetooth connection between the quadcopters and their corresponding controllers disconnected, which was simple to fix, although it did disrupt the session. When all was said and done, though, I was eager to start flying.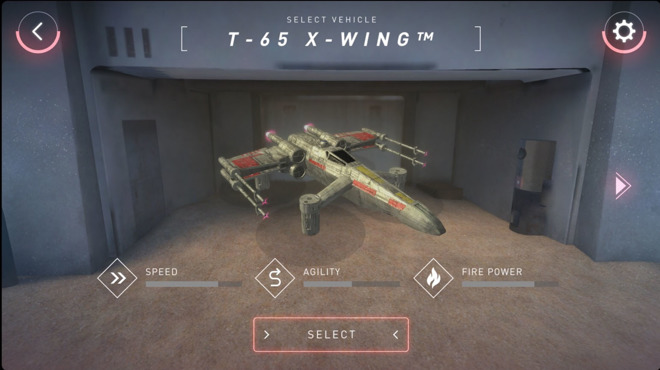 Propel's iOS training app
As a relatively new pilot, controlling the Tie Advanced X1 Battle Quad was challenging. There are multiple speed levels, and I recommend going slow until you're familiar with the speed and maneuverability of the gadgets.
Speaking of speed, these drones are fast. With a max flying speed of 35 miles per hour, the Star Wars drones are capable of covering a lot of ground at an exceptionally fast pace, so it's imperative to choose the right location if you're a beginner. Skilled pilots can play indoors, but those with less experience would benefit from an open field with good visibility and little to no trees.
Once up in the air, the fun begins. The lifelike, hand-painted details paired with laser lights immediately immerse you in a battle. The app supports up to 12 players in each live fight and I must say it's quite fun. Pilots can show off with push-button aerial stunts like barrel rolls, which elicited an "ooh" from the pilot next to me. Battery life is pretty decent as well.
Users can expect to see flight times of five to eight minutes with each battery, allowing for enough time to participate in multiple two minute live battles. Propel also includes two batteries with each Star Wars quadcopter with a compact charging base that plugs easily into the wall.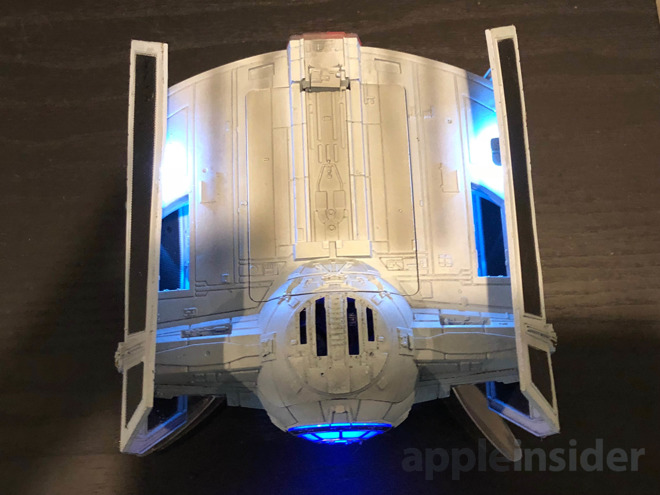 Each drone is hand-painted with great attention to detail
While having multiple batteries on hand is great for staying in the air, powering the machines off is another story. In order to turn off each battle drone, you have to manually remove the battery. This is fine and dandy if you discharge the batteries fully, but if you're just getting started or inserted a fresh battery pack and want to take a quick break, it's a bummer to have to disconnect the battery when you plan to return shortly.
Conclusion
These drones are sophisticated and great to look at, albeit hard to fly for beginners. Star Wars fans are sure to enjoy the dramatic music, hand-painted details and immersive experience paired with exhilarating speed. Prices have also come down significantly at third-party resellers, making the drones a great investment for those wanting to amass a set for display.
Score: 4 out of 5

Where to buy
While Propel charges $129.99 for each battle drone, Adorama currently has the
X-Wing
on sale for $99.99 and the
Tie Advanced X1
marked down to $104.99 with free expedited shipping to the contiguous U.S. Amazon also carries the battle drones with prices
starting at $69.00
.