Apple to debut new ARKit tools at WWDC supporting multi-player augmented reality
Posted:
in iPhone
edited December 2019
Apple's ARKit may make a big leap forward at WWDC, with Apple adding the ability to allow multiple iPhones to share the same the same virtual environment while also limiting personal data transmitted to the company's server.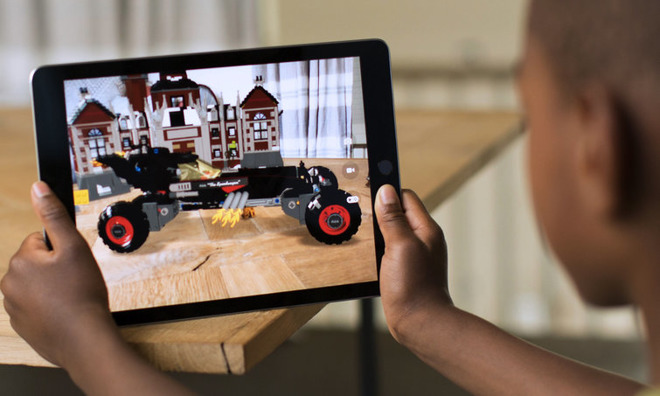 Apple's
ARKit
software platform is currently a single-user affair. An expansion to the technology predicted to debut at WWDC will allow for peer-to-peer communication to some extent between the two devices, while still limiting personal data that Apple has to handle and transmit back
A report discussing the announcement claims that raw scans of a surrounding area will be shared between the users, without an interim stop "at rest" on a server someplace. However, how the data would be handled when a player drops out, or for more than two players wasn't detailed.
It also remains to be seen if the effort scales to more than two people. If the data is not stored on a central repository, total data transmission demands for the scan data increase exponentially as more players are added to the mix.
Google's execution of multi-user augmented reality requires scans of a user's environment which are then sent and stored in the cloud,
according to
Reuters
. This could have what AR publisher Construct Studios CEO Joel Odgen called "really severe privacy implications we haven't really explored yet."
Apple's
ARKit debuted at the 2017 WWDC
. It was updated to version 1.5 with the March 29 release of iOS 11.3 which builds on the original ARKit allowing for integration of real world images in AR experiences and placement of virtual objects on vertical surfaces. For example, movie posters and signs can be made to trigger AR animations viewable through an iPhone or iPad.
Major companies including
Lego
,
Ikea
, and
Amazon
have adopted the technology for its apps, with others replacing their own systems with Apple's version. For example, Niantic optimized its
Pokemon Go
iOS app with ARKit, with the AR+ mode allowing players to "sneak" up on an AR Pokemon to capture it, as well as making the creature's placement in the environment more realistic.
Owners of the iPhone X are also able to use ARKit in another way:
on their face
. ARKit's face tracking system powers the popular
Animoji feature
, as well as its Portrait Lighting effects, masks, and avatars, which developers are only just starting to use for their
own purposes
.
Stay abreast of Apple's announcements by downloading the AppleInsider app for iOS, and follow us on YouTube, Twitter @appleinsider and Facebook for live, late-breaking coverage. You can also check out our official Instagram account for exclusive photos from the event.

Can't watch Apple's livestream of the keynote? AppleInsider has you covered with a live blog covering all the announcements.