Review: Netgear's Cable Orbi Kit delivers fast whole-home Wi-Fi
The Netgear Cable Orbi is a quality -- if pricey -- all-in-one package, potentially ideal for people looking to escape modem rentals and leap into mesh Wi-Fi at the same time.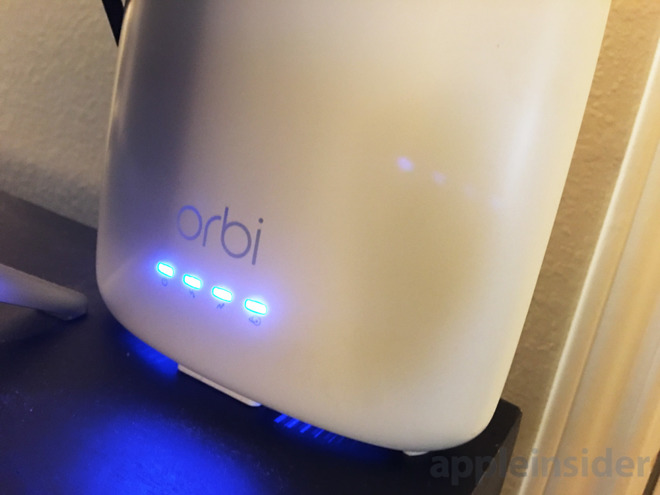 Mesh systems seem to be the future of Wi-Fi. They're probably overkill if you live in an apartment, but homes and businesses are so often saturated with internet-connected devices that it's essential to eliminate dead spots, especially when it comes to smarthome accessories like security cameras.
The gist of the mesh concept is that on top of a primary router, you can connect one or more satellite units that seamlessly widen your network without requiring multiple SSIDs, as with normal Wi-Fi extenders. Mobile devices will automatically switch access points as you roam.
Unlike some mesh systems,
the Cable Orbi
comes with just two components: a combination modem/router and a single satellite. Local Wi-Fi bandwidth tops out at 2.2 gigabits per second, split between two 866-megabit channels and one 400-megabit path. One of these is a dedicated 5-gigahertz backhaul for the satellite access point, ensuring that speeds don't drop off dramatically away from the router. The router also has four gigabit Ethernet ports, while the satellite has two.
This is all pretty similar to Netgear's existing Orbi models. What's new of course is the modem, which delivers 32x8 DOCSIS 3.0 with up to 1.4 gigabits of bandwidth, more than enough for current home connections. Some people have complained that it's not futureproof without DOCSIS 3.1, but that technology is still expensive, and even a Google Fiber connection is unlikely to max it out.
The
Netgear Orbi app
for iPhones and iPads does a pretty good job of guiding users through the setup process, which is of course more complicated for the Cable Orbi since you'll need to contact your ISP and supply them with a MAC address and/or serial number. Set aside some time for installation -- even if your hardware works perfectly, you might still run into provisioning problems with your ISP, and you may have to manually reconnect household devices.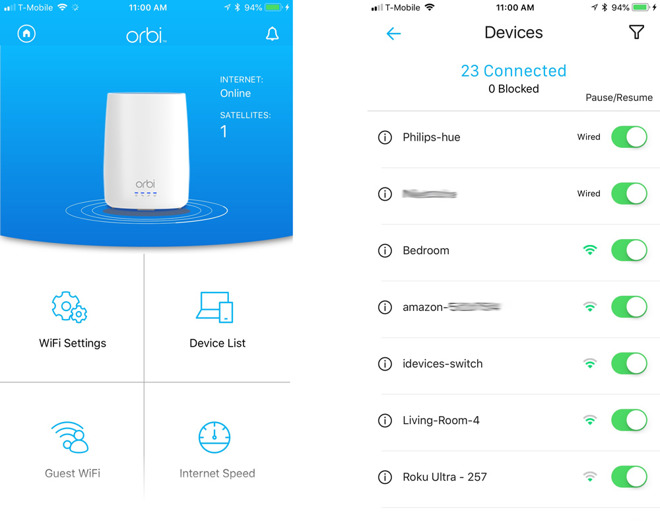 In our case we ended up rebooting the Orbi a few times, stopping midway through to configure as much of the rest of the product as we could. More than likely this was just issues on our ISP's end.
Once we configured the Orbi with our old SSID information, most devices and accessories reconnected automatically without a hitch. There were a few exceptions, including a TCL Roku TV,
Sonos speakers
, a Logitech
Circle 2
, and an
August Doorbell Cam Pro
. While not universal, a recurring theme was any device that had been set to connect to the previous router's 5-gigahertz SSID -- an obvious problem. Others insisted on being manually reconnected for security reasons.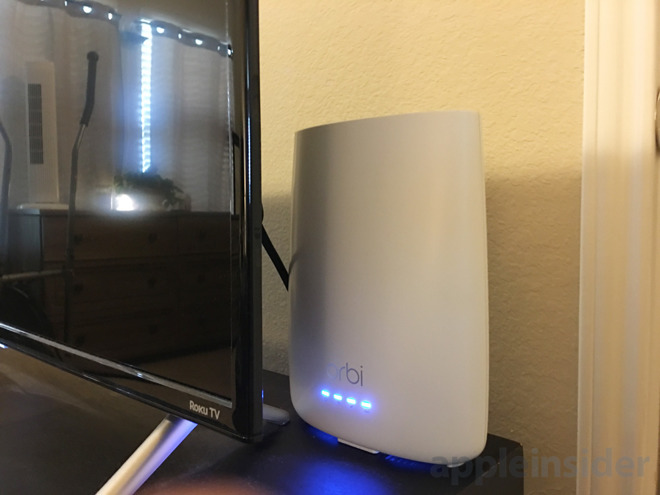 There's no option in the Orbi app to create separate SSIDs for 2.4- and 5-gigahertz bands, but this point is largely moot, since the aim of the Cable Orbi is to have devices connect to the fastest and strongest signal automatically.
During testing, all of our 2.4- and 5-gigahertz devices operated smoothly once they established an initial connection. It was uncanny actually -- areas of a two-floor townhome that previously struggled with an ISP-supplied modem/router showed much more reliable connections, often loading faster as well. Apps like Comedy Central and YouTube loaded videos quicker on our
Apple TV 4K
, and the live feed from the Doorbell Cam Pro would often start in two or three seconds, instead of up to twice that long.
This may be attributable to better LAN bandwidth, but having a satellite -- with a dedicated backhaul, no less -- was probably a major factor. Many signals no longer had to penetrate through ceiling materials, and Netgear brags that with a lone satellite, the Cable Orbi can cover up to 4,000 square feet. This seemed to bear out, since we had a full-strength signal with an iPhone 6s Plus in a car parked in front of the house. Previously the same phone would teeter on the edge of switching to LTE.
Testing using NetSpot Pro, Speedtest, and Netflix's Fast showed the house was blanketed corner-to-corner with strong signals. We even managed slow but usable connections in places that previously had no signal, such as a detached garage and the sidewalk across the street. Standing within several feet of the satellite, we were able to top out a 400-megabit Suddenlink connection.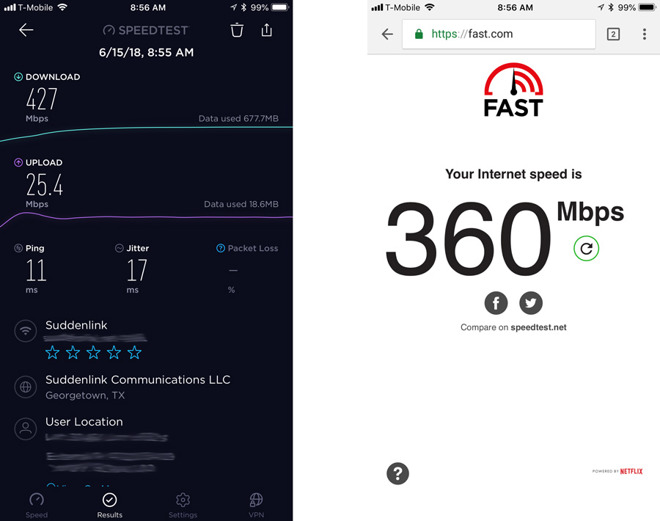 Peak bandwidth within close range of the satellite.
We didn't encounter any of the
HomeKit bugs
affecting some Wi-Fi-only Orbi models, possibly because the Cable Orbi does use different firmware.
If we have any complaints about the product they're limited to the
Orbi app
. Its simplicity is both a blessing and a curse. It's easy to set up satellites and guest networks, monitor data use, or selectively "pause" connected devices. Options don't extend far beyond the essentials, though -- the only traffic meter buttons are "Enable," "Total," and "Average" for example, and there are no built-in parental controls.
Instead people are encouraged to turn to third-party software such as Disney's Circle, which isn't even supported yet.
Conclusions
Strictly speaking there are speedier cable modems available, and faster routers. Power users may bemoan a lack of tools and customization.
The Cable Orbi is still a high performer though, and for many people, choosing a mesh router will arguably provide better Wi-Fi than picking a conventional one with the best specs. It's a matter of dropoff -- it hardly matters that your car can go 200 miles per hour if it runs out of gas halfway to the destination.
The real question is whether something like the Cable Orbi fits your needs or budget. It's excessive if you live in an apartment, and even if you own a house, you may have already paid for a separate cable modem, in which case a regular Orbi is all you need. If you don't have any particularly bandwidth-heavy tasks like security cameras, multiplayer shooters, or 4K streaming, you may want to consider cheaper mesh options like the
Google Wifi
.
For its niche though, the Cable Orbi is hard to beat, and if you're in that niche, the Netgear Cable Orbi gets a...
Score: 4.5 out of 5
Where to buy
Netgear's Orbi Whole Home WiFi System with a built-in cable modem (CBK40) retails for $449.99, but Amazon is knocking
$50 off the bundle
, bringing the price down to
$399.99
with free shipping. Those looking for the mesh Wi-Fi router and built-in cable modem (CBR40) can also order the single unit
for $299.99
at Amazon.