Apple's manufacturers: Qualcomm's 'China Ban' just a distraction technique
Posted:
in iPhone
edited December 2018
Qualcomm's patent infringement suit seeking an import ban on Apple's iPhones in China is a desperate distraction staged by the imperiled chipmaker in an attempt to draw attention away from a series of critical lawsuits it faces from device makers, global regulators, and a class action of consumers which all challenge its core business model, according to the attorney representing Apple's manufacturers in a recent interview.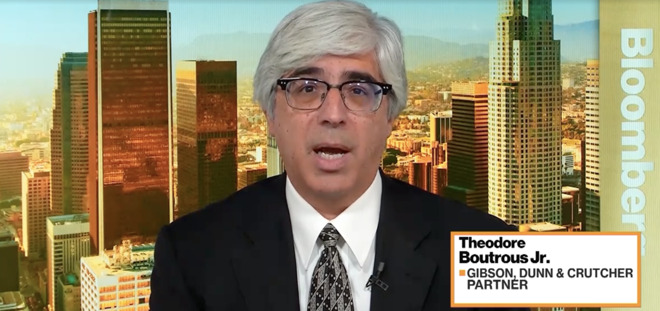 Theodore Boutrous Jr. represents manufacturers suing Qualcomm over illegal business practices
Qualcomm's iPhone China Ban hype
Earlier this month, Qualcomm
won a preliminary order
in China's Fuzhou Intermediate People's Court, banning the import and sale of iPhones with older versions of iOS installed out-of-the-box.
The news managed to bamboozle a variety of analysts, including Samik Chatterjee from J.P. Morgan, who wrote up a note imagining that Apple might lose tremendous revenues from hypothetically lost sales.
However, the nature of Qualcomm's legal filings in China shares a lot in common with the company's marketing of its latest Snapdragon 855, a chip it portrayed as an unprecedented technical marvel when in reality it is
well over a year behind Apple's latest A12 Bionic
, was swaddled in dubious claims that verged from exaggerations into the purely ridiculous, and which faces serious issues in finding many premium buyers interested it it.
Prominent journalists who were bamboozled by Snapdragon marketing have also sought to make hay out of Qualcomm's legal challenge in China, without bothering to understand the issues involved.
'Not a blow, a distraction technique'
In
an interview
conducted by
Bloomberg
, Theodore Boutrous Jr., an attorney representing Apple's contract manufacturers, was asked, "this decision in China that bans effectively six older models of the iPhone, how big a blow is that?"
Boutrous answered, "it's not a blow at all. It really is part of Qualcomm's distraction technique. They went in secret and got an order my clients-- the companies that build the iPhones and iPads-- didn't even know about it. But it turns out it's an order that relates to software; it doesn't have anything to do with the cellular technology that's an issue in the lawsuits that we have against Qualcomm for my clients which are seeking about $9 billion in damages."
Instead, Boutrous presented the order as part of "all sorts of distraction techniques [by Qualcomm] meant to take people's attention away from the fact that they're facing three big lawsuits here in the United States that challenge their business model to the core."
Qualcomm working to leverage acquired patents in defense
Qualcomm sought to ban both the import and (unsuccessfully) the manufacturing of Apple's iPhones in China. It has
complained
that Apple continues to sell its products there and has attempted to expand the order to involve Apple's
newest iPhone models
.
However, in a statement to
AppleInsider
last week, Apple flatly said that "Qualcomm's effort to ban our products is another desperate move by a company whose illegal practices are under investigation by regulators around the world. All iPhone models remain available for our customers in China. We will pursue all our legal options through the courts."
Apple has since addressed the patent issues in
a software update
that sources inside Apple not authorized to speak on behalf to the company told
AppleInsider
would remove all doubt that iOS 12 wasn't in violation of Qualcomm's patents.
As Boutrous explained in his most recent interview, "the patent that they're claiming in China isn't even something that they created [at Qualcomm], it's something they bought. And again, it has nothing to do with the legal hurdles that they face here in the United States."
If that sounds familiar, it's because Samsung pursued a similar strategy of defending itself against Apple's patent infringement cases seeking to stop it from "slavishly copying" iPhones by
buying up unrelated patents
and claiming that Apple had infringed them. Samsung was subsequently given equal time to present its invented infringement claims, even as Apple's actual patents were pared down to a bare minimum, supposedly because the courts had such limited resources to investigate.
Challenged by U.S., Qualcomm is deflecting attention to Apple
In its interview,
Bloomberg
took Qualcomm's legal claims seriously, asking Boutrous, "what happens at factories if Apple cannot sell most popular devices on the Chinese market?"
Boutrous answered, "I just don't think that's gonna even come close to happening. And again, Qualcomm is just exaggerating in a way that's really deceptive to the investing public. Their CEO has been saying there's a settlement on the horizon, which is just false.
"It's the kind of thing the SEC looks into when companies make these sorts of statements," added Boutrous. "That order isn't going to affect manufacturing, the contract manufacturers that I represent.
"But again, Qualcomm is just trying to take away from the fact that the United States government is taking them to trial on January 4, arguing and claiming that their business model, which is a monopolistic practice, excessive pricing, and abuse of the law must stop. So that's what they're trying to pull everyone's attention away from that's what this is all about."
Qualcomm's problems beyond Apple
Beyond
losing Apple's massive modem business to Intel
and perhaps facing direct completion with a
new custom baseband
developed by Apple internally, and also facing a loss of billions of dollars in royalty payments it had been collecting from Apple's contract manufacturers before Apple directed its partners to stop making the payments until its legal questions were resolved, Qualcomm also faces legal challenges from a series of regulatory agencies.
"This case has been talked about as 'Apple vs Qualcomm,'" Boutrous stated, "but it's really a lot more than that. It's my clients-- the builders of the devices-- it's the United States government and it's regulatory authorities around the world: China, Europe, Korea have all found this conduct to be illegal and imposed over $3.5 billion in fines.
"So Qualcomm needs to cease its illegal activity, to treat competitors fairly and to treat consumers fairly. Because the bottom line is its behavior is injuring consumers in the United States and around the world."
Bloomberg
asked, "Qualcomm says they're settling with the FTC. If that happens, then what happens to Apple's case and the case of the contract manufacturers?"
"Well, they keep saying that they're settling," Boutrous answered. "That is news to me if that's happening. And in the trial scheduled for January 4, if they settle the FTC case, then they're going to face a trial in April against my clients, the contract manufacturers, where we're seeking about $9 billion in damages, which under US law would then be trebled, tripled, if we prevail.
Then there's a consumer class action that is scheduled to go to trial in June [] where the class is about 250 million consumers arguing that Qualcomm's behavior is injuring consumers by hurting innovation by raising prices in an unfair way.
"So whatever happens in the FTC action that's just that's hurdle one for Qualcomm and for its business model. They have two serious additional cases coming up."
Reaching a settlement is difficult for Qualcomm's existing business
Asked what would need to happen to resolve the disputes between Apple and Qualcomm, Boutrous stated, "what Qualcomm would have to do is cease its illegal practices.
"What happened is Qualcomm took a lead in early cellular technology, and it obtained a monopoly and then it used that monopoly power to basically tax innovation, to add a double price, something that no manufacturer or no company could ever get away with when they sell chips to product manufacturers. Qualcomm needs to stop that, it needs to compensate my clients, the contract manufacturers, for the injury and harm."
He separately noted, "when a company like Qualcomm goes to China and seeks in order that's clearly inappropriate and doing it in a way that is really meant to have an effect on U.S. proceedings, it's not good for trade, it's not good for consumers, it's not good for competition.
"They really need to stop that behavior and face the music as to their business model. And that will, I think, be good for everyone. And I think we need to have open trade, fair trade, fair markets. The kind of behavior that Qualcomm's engaging in, China already found that it was punishable, and imposed, I think, nearly a billion dollar fine in US dollars. So they need to stop acting in anti-competitive ways; that will be good for trade around the world."