Tested: Will the new i7 Mac mini run faster with new thermal paste?
The new Mac mini is a pint-sized powerhouse, but like other computers, its performance potential isn't reached when it runs too hot. AppleInsider examines if it is possible to improve the temperature situation by re-applying different thermal paste compounds between the processor and heat sink.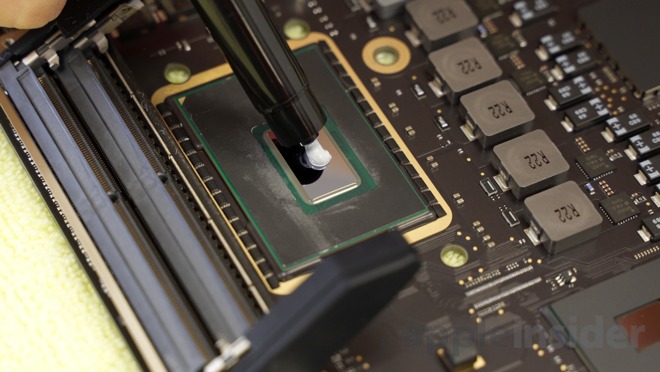 Applying Kryonaut thermal paste to a processor
Apple's
2018 Mac mini
is not like the others. It's packing some serious processing power, in a return to the philosophy of the vaunted 2012 model. Plus, there are options for a 3.2GHz i7 processor, 64 GB of RAM and 2 terabytes of incredibly fast storage.
When we tested multi-core performance in Geekbench 4, the
Mac mini
scored 25,406 points. That's faster than the 6-core i9 in the 2018 MacBook Pro, and not too far behind the the base iMac Pro.
During testing, we noticed that the i7 Mac mini's CPU reached 100 degrees Celsius shortly after starting our Cinebench R15 5-run stress test. This is basically Intel's hard-limit for temperature, forcing the processor to slow down a bit to cool down and avoid damaging itself.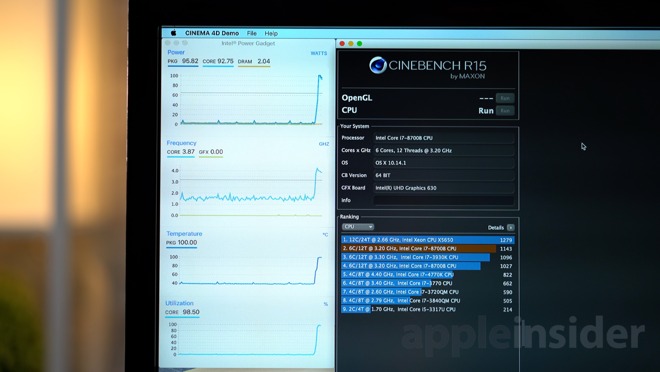 The Mac mini reaches 100 degrees Celsius
When temperatures stabilized, the clock speed stayed between 3.4GHz and 3.5GHz. This isn't bad, but it is lower than we've seen on well-cooled PC systems with the 8th generation 6-core i7 processor.
Based on that observation, it is possible that this processor isn't running at its full potential. Since there's no practical way to replace cooling components like heatsinks with alternatives in the Mac mini, the only real possibility to try is replacing the thermal paste between the processor and the heat sink with a different compound.
Apple with Kryonaut
Warning: This is not a step-by-step guide, and we don't recommend the procedure for most users. Doing so risks damaging the Mac, and will void your warranty.
Before attempting to use a replacement, testing was performed on the default Mac mini setup, giving a base point of comparison. Apple's factory paste scored an average of 1,140 points after five runs of Cinebench R15.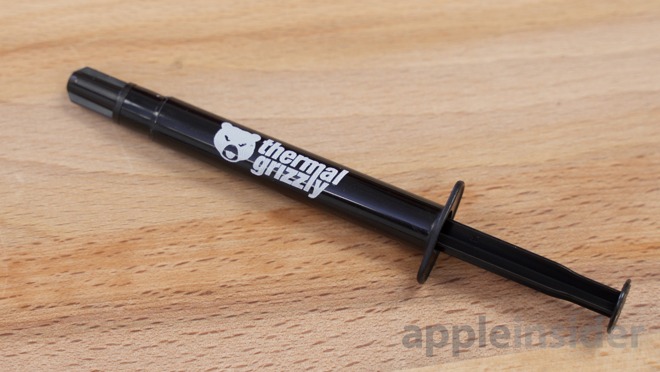 Kryonaut thermal paste from Thermal Grizzly
The first attempt used
Kryonaut
from Thermal Grizzly, a highly-rated non-electrically conductive paste that some of the
AppleInsider
staff has used in PC builds.
Disassembly of the Mini is fairly straightforward but does require specialized tools, in this case items
sourced from iFixit
. Once we removed the mainboard from the chassis, we had to also remove the EMI shield around the RAM, and the RAM itself to be able to remove the cooler.
The thermal paste that Apple uses was chalkier than we would like to see. We used alcohol wipes to remove the factory paste, then we applied Kryonaut before putting everything back together.
After running Cinebench, the scores were lower than the baseline test. The CPU was now dipping down to 3.3GHz instead of running between 3.4GHz and 3.5GHz, and our five-run average resulted in a lower score, 1,108 compared to 1,140.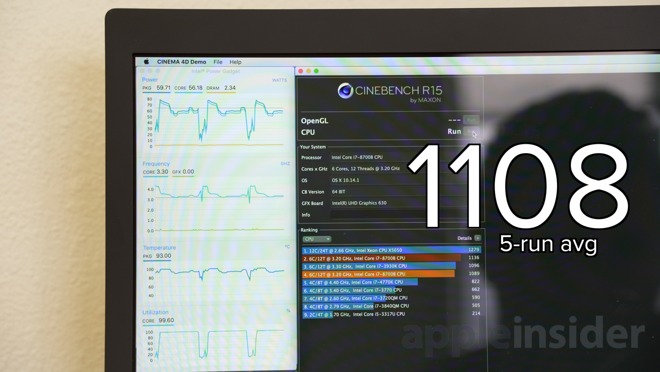 Benchmarking the Kryonaut paste directly after application
That's definitely not what we were expecting.
We then re-opened the Mac Mini and reapplied Kryonaut using a slightly different application method. After another five runs, we saw an average of 1,108, with the CPU again running at 3.3GHz once thermals stabilized.
Eliminating variables from the previous batch of tests, we switched to the 4K display that was originally attached during our first round of testing for the review, versus the 5K Thunderbolt 3 display we were using. On the lower resolution, we saw a slightly higher average of 1,116 points -- but nothing significantly different.
48 Hours Later
Like many thermal pastes, Thermal Grizzly Kryonaut is labeled as not needing any time to cure. But, with scores like these, we decided to let the paste set over the weekend to see if we could get some better performance.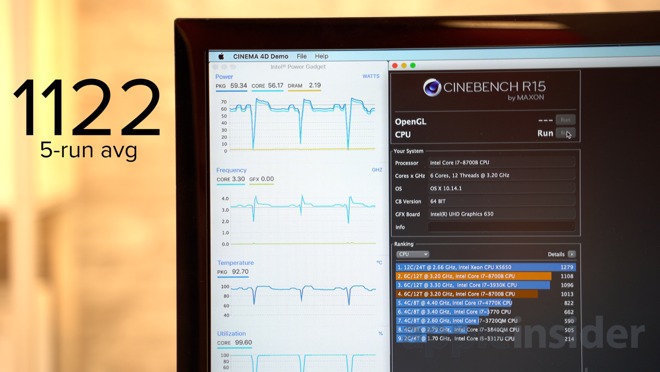 Benchmarking the Kryonaut paste after 48 hours of curing
After running all weekend, the average score went up to 1,122 on Monday, the highest we've seen since we replaced the factory paste -- but still lower than what was originally used by Apple.
We opened up the Mac mini again and replaced the paste one last time with
Arctic Silver MX-4
, another well-rated paste that's half the price of Kryonaut.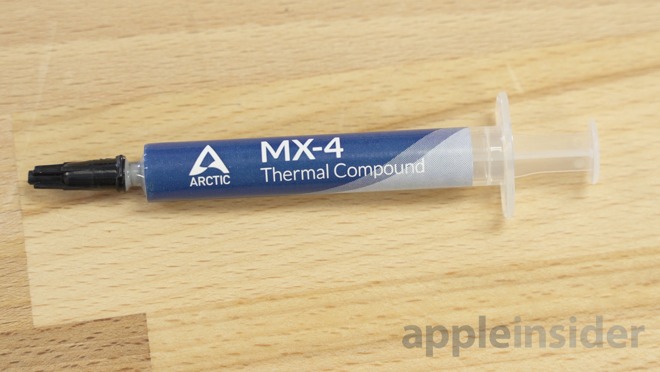 Arctic Silver MX-4 thermal compound
Our first run of Cinebench R15's CPU test scored 1195, the highest we've seen so far.
Once the fans ramped up and temperatures stabilized, the CPU stayed between 3.4GHz and 3.5GHz, and at times reached 3.6GHz. Once our 5 runs were complete, Arctic Silver recorded an average of 1,152, a score higher than the original average of 1,140 -- but again, not a lot higher.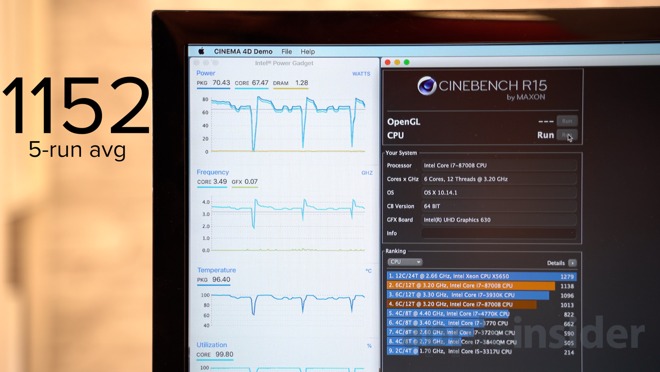 Benchmarking the MX4 paste with no curing time
We then ran Geekbench 4 again, and our multi-core score was 25,600, almost 400 points higher than before.
In Summary
So, all said and done, we do have very slightly better thermal performance using Arctic Silver MX-4 and it could increase a bit once its cured. We'll report back if we see any difference.
We're not sure why the Kryonaut didn't perform well. Most likely, it's possible that it doesn't improve the efficiency of a cooling system in the Mac mini which may already be operating at near maximum capacity.
The paste is designed for a beefier cooling system, and it's possible that the heat dissipation capability that Apple provides doesn't need a higher-end solution and may already be maxed out.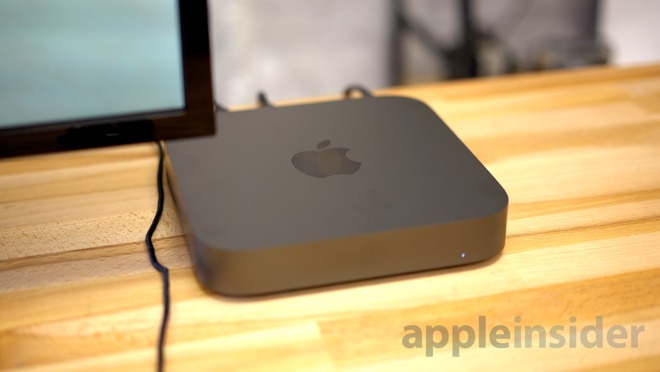 The 2018 Mac mini
In
Snazzy Labs'
testing of the i3 Mac Mini
, he was able to get better results swapping the stock paste to another version of Arctic silver, resulting in his Mac mini reaching a maximum of 91C instead of the previous 100C, and running at a consistent 3.6GHz under full load. There are architectural differences between the i3 and i7 -- the i3 doesn't have a "turbo" speed, and the i7 under load will crank out far more heat, and we think that's what the difference is between the two tests.
At this time, we don't think swapping your i7 Mac Mini's thermal paste is worth the risk. Sure, you may get a very little bit more performance, especially with a
base model
, but at least with the
i7 Mac mini
, it's not as big of an improvement as is possible on the i3 mini.