iPads & iPhone XR lead in Christmas activations, helping XR catch up to XS in market share...
iPad activations surged the most among all phones and tablets during the Christmas holiday, dominating the top four spots -- fifth place being taken by another Apple product, the iPhone XR, according to new analytics data.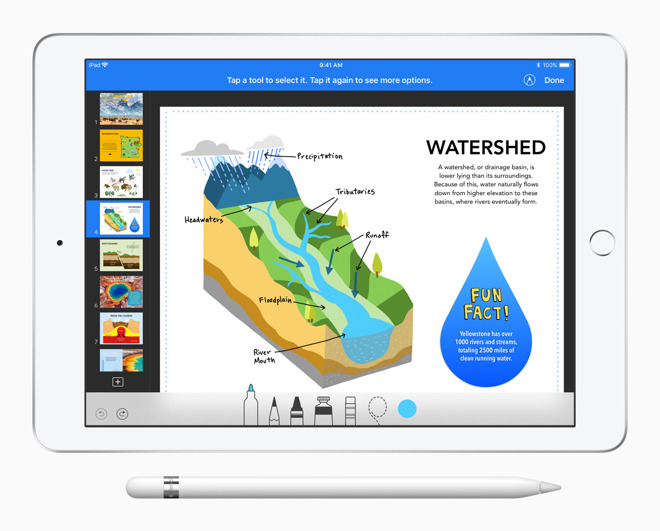 Leading the pack was the 2018 "budget" iPad, which saw activations rise
219 percent
versus the previous three weeks, Localytics said. This was fueled by deals at retailers like Amazon, Target, and Walmart, which took $100 off 32-gigabyte models and $80 off 128-gigabyte configurations. Apple normally charges $329 and $429 respectively.
Some stores also offered cuts for new 11-inch and 12.9-inch iPad Pros, which saw their activations jump 125 and 99 percent.
Those discounts
likely had a mild effect, given that even a 64-gigabyte 11-inch Pro was at least $759, $10 more than an iPhone XR. Pros typically start at $799.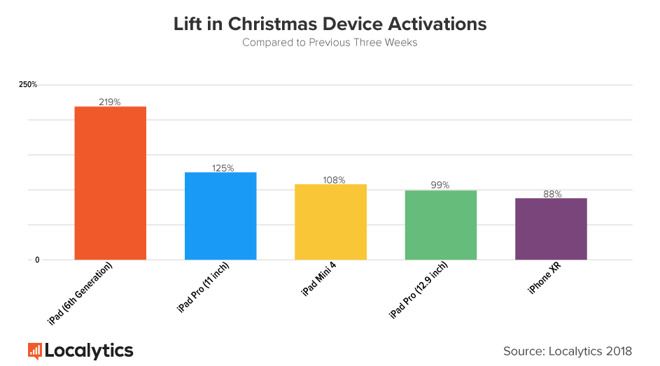 The 12.9-inch Pro was surpassed by the iPad mini 4, despite the latter being over three years old, and at $399 (from Apple) actually more expensive than the entry-level budget iPad. That price does include 128 gigabytes of storage though, and third-party retailers have been selling it for less.
iPhone XR activations increased 88 percent, Apple's greatest surge in Christmas iPhone adoptions during the past three years. Localytics did note that the XR only began shipping October, whereas the XS and XS Max arrived a month earlier.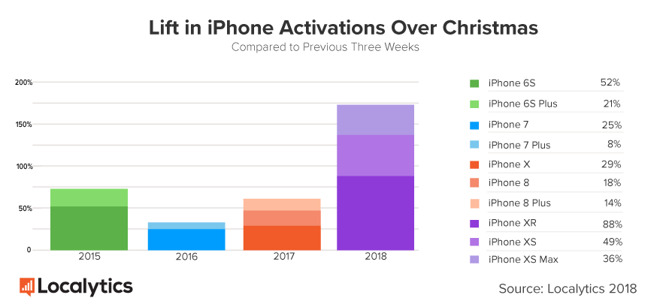 The XR's share of the overall iPhone market grew to 1.83 percent. That's modestly close to the 2.33 percent controlled by the XS, if still distant of the XS Max's 3.15 percent.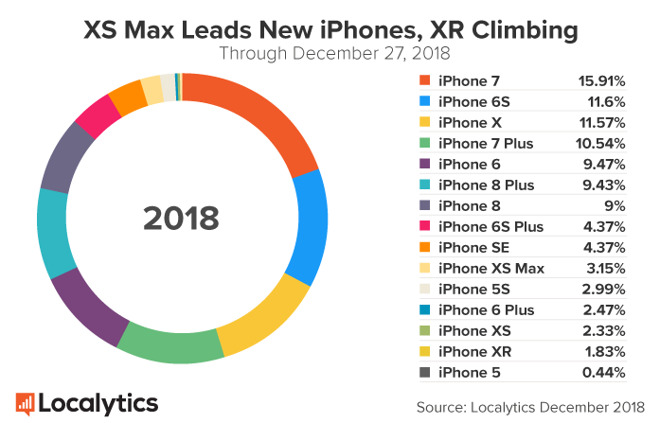 The last time iPads topped Christmas activations was in 2016. 2017 was led by Google's Pixel 2 and Pixel 2 XL, with the iPhone X, 8, and 8 Plus filling out the top five.