iPhone XS and iPhone XR Juice Pack Access battery cases beat Apple to the punch
Posted:
in iPhone
edited January 2020
At the Las Vegas Consumer Electronics Show, long-time accessory maker Mophie has rolled out a new battery case for the iPhone XS family, and the iPhone XR.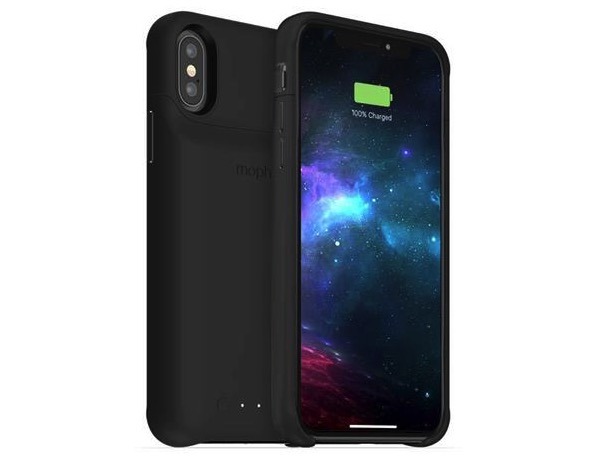 Mophie Juice Pack Access for iPhone XS
The Juice Pack Access provides what the company calls "advanced impact protection" for the Apple iPhone Xs Max, iPhone XS, iPhone X, and iPhone XR. Additionally, it features extra battery, Qi wireless charging compatibility, and full access to the iPhone Lightning port.
Mophie claims that the new case will provide up to 31 hours of total talk time. Additionally, the pack itself can be charged with a USB-C charging port, while the phone itself can be powered up with the Lightning port.
The Mophie Juice Pack Access will be available in the first quarter of 2019 on mophie.com for $119.95. Colors available include black, stone, gold, and dark red for the iPhone XS Max, iPhone XS, and iPhone X, plus black, blue, and red for the iPhone XR.
An icon
found in watchOS 5.1.2
showed off a new Apple-produced
Smart Battery Case
that featured a vertical camera cutout such as that found on the latest iPhones. The updated case has a similar design to the original, but lacks the extended "chin." Rather, the new case extends only minimally from the bottom of the iPhone where it connects to the Lightning port. Apple's case has yet to be announced.
AppleInsider
will be attending the Las Vegas Consumer Electronics Show starting on January 8 through January 11 where we're expecting 5G devices, HomeKit, 8K monitors and more. Keep up with our coverage by downloading the
AppleInsider app
, and
follow us on YouTube
, Twitter
@appleinsider
and
Facebook
for live, late-breaking coverage. You can also check out our official
Instagram
account for exclusive photos throughout the event.