Netgear shows off new mesh networking devices, 5G router, Meural smart art frame
Netgear has used CES to introduce a number of new networking products, including a 5G hotspot, routers with built-in cable modems, and a third-generation model of smart art frame from subsidiary Meural.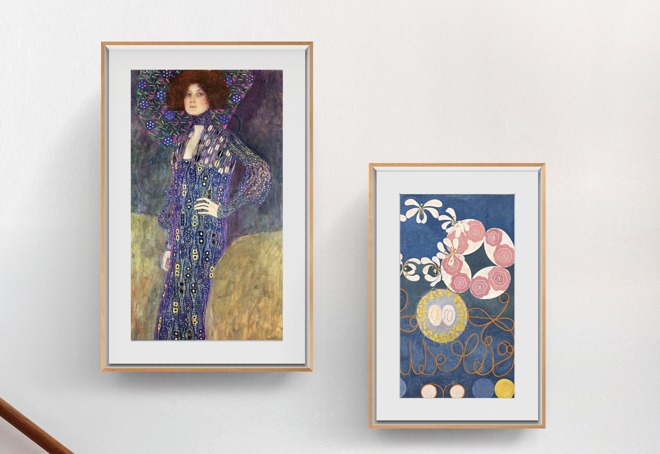 The third-generation of the
Meural Canvas
smart art frame will be the first release produced by Netgear following the company's acquisition in August last year. The Meural Generation 3.0 Canvas will be offered with four different frames and in two different sizes, consisting of 27-inch and a new 21.5-inch version.
The new model is more power efficient compared to previous versions, as well as incorporating a new display panel, a new light sensor location that improves the light detection, more easily accessible USB and SD card ports that can be used without removing the device from the wall, and optimized gesture controls.
While it contains a number of enhancements to the hardware and software, it continues to offer users access to a library of 30,000 curated images from museums, artists, and other content partners. At can be selected through the companion app, which is then displayed on the digital canvas via its Wi-Fi connection.
Pricing for the digital frame has yet to be advised, but it will have a "more accessible price tag."
The
Orbi Whole Home Wi-Fi System
with Built-In Cable Modem (CBK40) is a tri-band router that can be used to set up a mesh Wi-Fi network in a home. What's more, the router includes a 32x8 DOCSIS 3.0 cable modem that is compatible with all major cable Internet providers, and is designed to work out of the box with Xfinity, Spectrum, Cox, and others.
Netgear suggests the router will pay for itself in short order, by eliminating some of a cable subscriber's equipment leasing fees.
Capable of covering up to 4,000 square feet, the system is capable of providing up to 1.4Gbps of transfer rates using channel bonding. For wired connections, the router also includes two Gigabit Ethernet ports.
The accompanying Orbi Satellite has four high-performance antennas with high-powered amplifiers, implicit and explicit beamforming, and is MU-MIMO capable for handling streaming for multiple devices at once.
The Orbi Whole Home Wi-Fi System with Built-In Cable Modem is available now,
priced at $349.99
.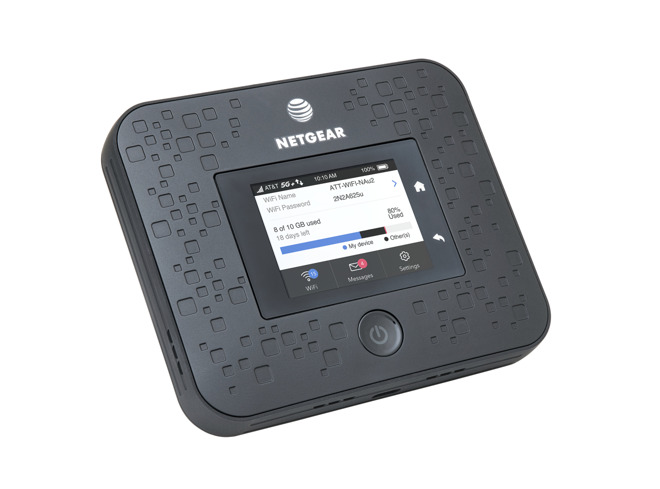 Nighthawk 5G Mobile Hotspot
The Nighthawk 5G Mobile Hotspot, made exclusively for AT&T Mobile's
5G mobile network
, will be the "world's first standards-based millimeter wave mobile 5G device." Powering the hotspot is the Qualcomm Snapdragon X50 5G modem, itself described as the first commercial 5G NR modem featuring millimeter wave.
Netgear's Nighthawk Cable Telephony Modem will be the first-to-market retail DOCSIS 3.1 cable modem with two built-in telephone jacks, allowing landlines to be connected to the cable network. Being made available with support for Xfinity Voice, it will include support for Multi-Gig high-performance Internet plans, both current and in the future.
At present, it isn't clear how useful that the device will be in the short-term. Network availability in the U.S. is profoundly limited, is expensive, and has significant data transfer caps.
Pricing and availability were not disclosed for either Nighthawk device.
AppleInsider
will be attending the Las Vegas Consumer Electronics Show starting on January 8 through January 11 where we're expecting 5G devices, HomeKit, 8K monitors and more. Keep up with our coverage by downloading the
AppleInsider app
, and
follow us on YouTube
, Twitter
@appleinsider
and
Facebook
for live, late-breaking coverage. You can also check out our official
Instagram
account for exclusive photos throughout the event.