Poor customer service is tarnishing Apple's image in India
A report on Tuesday illustrates Apple's struggle to offer high quality after-sales service to customers in India, a product for which the company is known globally but is unable to provide due to strict retail laws in the country.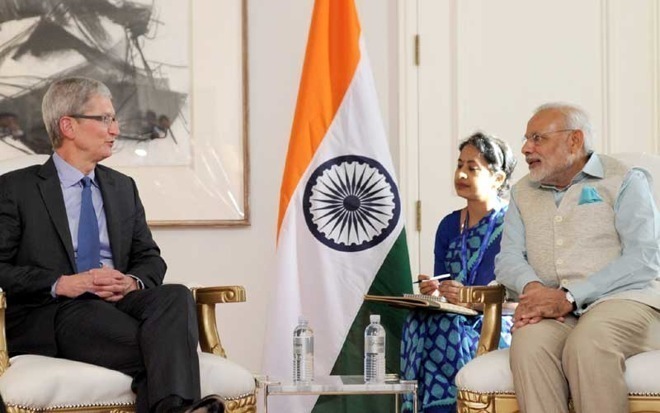 Apple CEO Tim Cook (left) meets with Indian Prime Minister Narendra Modi.
A recent survey conducted by Mumbai-based analysis firm RedQuanta found customers
are less willing
to recommend Apple products and services than smartphone competitors Samsung and Xiaomi, reports
BuzzFeed News
.
After interviewing 550 customers at 80 authorized service centers, RedQuanta assigned Apple an abysmal score of -22, one of the lowest logged by the analyst. Offering perspective on the score, RedQuanta associate vice president of sales strategy Anushree Tapuriah said any rating above zero is considered "good."
Apple received low marks for customer satisfaction, issue resolution and empathy of store staff to customers and their problems, with 60 percent of respondents calling employees of authorized shops "arrogant," the report said.
"The entire process seemed very transactional and non-personal, which isn't expected from a brand like Apple in the rest of the world," said Tapuriah.
Apple does not operate first-party stores in India due to government regulations that require foreign retailers to source at least 30 percent of goods sold from domestic suppliers. This means customers are deprived access to the Genius Bar and first-party service centers, forcing them to rely on third-party providers that are not managed directly by Apple.
Speaking with Apple customers in the region,
BuzzFeed
paints a bleak picture of Apple's support structure in India, one that stands in stark contrast to the typically positive experience enjoyed by users in other countries.
Authorized service providers are supposed to follow Apple's after-sale policies, though some reportedly sidestep warranties and enact their own pricing by erroneously claiming devices are damaged, the report said. Customers sometimes complain of long turnover times for relatively routine repairs like battery replacement, a process that can be completed at an Apple store in under a day. Managers at repair chain iZenica blames the delays on Apple, which requires third-party shops order parts direct.
Owners of out-of-warranty products are perhaps more susceptible to the whims of networked service chains. As they are not bound by Apple's pricing policies, authorized repair shops are free to charge markups on parts or charge diagnostics fees, the report said. Further, certain service providers in India do not guarantee that the repair of an out-of-warranty device will be successful.
The situation is so fraught with uncertainty that customers are at times compelled to reach out to Apple directly. It appears, however, that Apple's hands are tied. In one email correspondence highlighted by
BuzzFeed
, a customer was told to service their outside of India or, alternatively, send it to an acquaintance living in a country where direct Apple servicing is available.
RedQuanta's survey arrives at a pivotal moment for Apple, which is
scrambling to find
a growth strategy to offset slumping iPhone sales in China. India was a potential stand-in, but recent estimates at the end of 2018 placed Apple's share of the Indian smartphone market at a minuscule one percent, down from two percent a year prior. Reports suggest revenues are also far off Apple's expectations, with the company generating $1.8 billion over its fiscal 2018. Executives were shooting for $5 billion in revenue by 2020.
Apple is working to bring its own retail operations, and with it repair outlets, to India, but negotiations have yet to bear fruit. In January 2018, India
loosened its sourcing requirement
for single-brand retailers, potentially paving the way for official Apple stores in the country's most populous cities. Currently, however, India customers are still served by locally owned and operated authorized resellers.
In the near term, Apple is reportedly looking to open so-called "
premium
" franchise stores to better serve its customer base. Still, with comparatively high prices due to import taxes and a less than stellar reputation for after-sales service, Apple faces an uphill battle to make a splash in the world's second-largest smartphone market.