US Army wants Steve Jobs-like iPhone-style design process for next-generation rifles
The U.S. Army has compared the production of future weaponry to Apple's creation of the iPhone as it searches for a contractor to design and produce next-generation rifles, with the hope the next gun created for the military will produce a similar level of revolution to "small arms."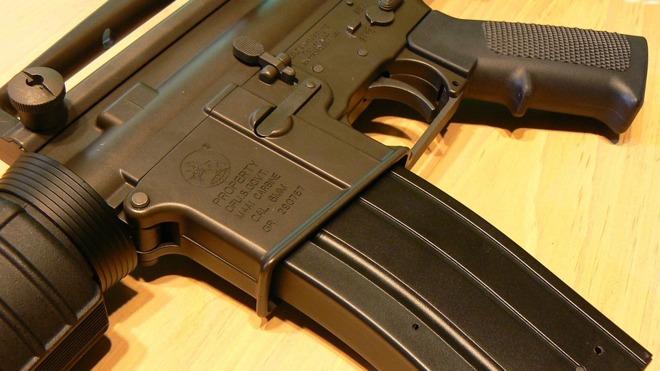 The M41A Carbine, a gun intended to be replaced under the Next Generation Squad Weapons program
A notice was issued at the end of January by the U.S. Army Contracting Command seeking
proposals
for prototypes in its "Next Generation Squad Weapons" (NGSW) project. The government plans to allow up to three contractors to develop two weapon variants under the scheme, intended to replace existing weapons currently in use by active military personnel.
While the proposal doesn't offer much in the way of specific detail for what the U.S. Army particularly wants, officials at the Armament Research, Development, and Engineering Center (ARDEC) have suggested the guns could be produced as a brand-new platform, similar to the iPhone,
reports
The National Interest
.
"Imagine that Steve Jobs and his engineers were trying to convert the iPod Touch to the first 3G iPhone," suggested Army Col. Elliott Caggins, project manager for the new weapons. "There are a thousand technologies they could have put in the first iPhone but they were looking to mature the platform before they could actually go onto the system."
While the statement offers a questionable understanding of events regarding Apple's product releases, the rest of Caggins' commentary is clear in its intent, that the project is meant to create a new platform rather than to simply bolt on additions to an existing and older framework, such as with the M4A1 improvement program.
The call for prototypes reveals there are a few weapons intended to be created under the program. The NGSW-Automatic Rifle is a planned replacement for the M249 Squad Automatic Weapon, in the automatic rifleman role in the Close Combat Force, while the NGSW-Rifle is meant to replace the M4 and M4A1 Carbine.
Successful contractors will need to deliver 53 units of the NGSW-R and 43 of the NGSW-AR, as well as 845,000 rounds of ammunition, spare parts, test barrels, tools, gauges, accessories, engineering support and iterative prototyping efforts.
Among the new capabilities wanted in the weapons is a fire control system produced to boost the probability of hitting the target at extended ranges. On a more high-tech level, an Advanced Small Arms Ballistic System, an onboard processor that shrinks down the positioning and rangefinding system of artillery pieces, is also wanted, along with a sensor suite to help users account for changes in pressure and density, and a multi-laser rangefinder for estimating wind speed that can adjust the rifle's positioning.