Review: Galaxy Buds easily beat Apple's AirPods but are years late to the game
Posted:
in iPhone
edited January 2021
Samsung's Galaxy Buds are very late to the race, but they arrived in style. Boasting a plethora of features AirPods users have been asking for, these truly wireless earbuds don't disappoint for the money.
Galaxy Buds
are specifically made to work with the new line of
Galaxy S10 smartphones
, though you aren't limited to just those. You can use these with any other phone -- iPhone included -- but you lose out on a few of the added features. Because of that, for this review, we tried them out with our Galaxy S10+.
In the box, you will find the Galaxy Buds themselves and a small box of accessories. The accessories include a charging cable as well as a few replacement ear tips and wings to tailor them to your ears.
Ours were charged right out of the box, so we immediately set them up.
A simplified setup process
Compared to other headphones, Samsung has tried its best to simplify the setup process for the Galaxy Buds. There is no holding buttons and jumping into Bluetooth menus. Just open the case near your Galaxy S10-series device, and a simple card will appear asking if you want to connect the earbuds.
Tap connect, and the pairing process kicks off without a hitch. Unfortunately, while it is strong from the get-go, the car quickly goes off the rails.
As soon as we started the setup process, a series of four Android alert boxes appeared asking for various permissions that needed granted. Not for the headphones, but for the additional Samsung Wearables app. Things like location, phone calls, etc must be granted. Then, we were moved over to the Samsung Wearables app where the headphones continued to load for almost a full minute before allowing us to continue.
Then an additional four security boxes appeared for additional permissions such as to music, contacts, etc. The process is muddled and extensive before we even get to configuring the earbuds.
Once we are through the switching apps and permissions, we finally get to customize our Galaxy Buds.
In the center, is a virtual knob that can be used to adjust the equalizer. You can tune the sound profile to your taste, whether boosting the bass or emphasizing the treble. We love this feature and could easily hear the difference between the options, though it wasn't as pronounced as we'd like. At this price point, the earbuds just don't have enough range to really make huge swings in the lows or highs.
Samsung also allows you to customize the long-hold gesture on each earbud. Choose between volume, the summoning the virtual assistant, or toggling ambient sound. Unfortunately, you don't get control over the single, double, or triple taps of which are used to play/pause, next track (or answer a call), or back a track (or decline a call).
You can also control which notifications come through the earbuds, so you only get pestered by the stuff you care about.
In the Samsung Wearables app, you can attempt to locate the earbuds. Find My Earbuds will cause each earbud to emit a soft chirping noise, helping you locate it. Unfortunately, it is very faint and when put the earbuds in a couch cushion, we couldn't hear it at all. It is a nice feature to have, but hard to carry out.
Battery and charging
To power up the Buds, you can use the included USB-C to USB-A cable. We'd prefer a sole USB-C to USB-C cable, but the Galaxy S10 phones ship with a USB-A fast charger so we understand the choice Samsung made to mimic that as now power adapter is bundled with the Buds.
Alternatively, you can use any wireless charger to top them off. This comes in extremely handy -- even more so when used with the Galaxy S10 phones.
The S10 line has a feature called Wireless PowerShare that turns the phone into a wireless charging pad for additional devices. Just swipe down from the top of the phone and toggle this feature on each time you want to use it. Then place the Galaxy Buds right on the back of the phone.
Being able to charge the Buds while you are out -- with no cables necessary -- is amazing. Especially since the battery is so small it won't significantly deplete your phone.
The battery on the Galaxy Buds is rated for about six hours of continuous use. That means inside each Bud is a six-hour battery. The charging case has a battery of its own which is able to supply an additional seven hours of use, for a total of 13 hours total run time.
Overall, the battery life isn't great at only 13 hours. It is impressive how much you can use them without recharging, but total time is low. Luckily, that wireless charging makes up for it. Why worry about the battery life when you can quickly top it off wherever you are and not think about it.
To view the battery life, just open the Galaxy Buds case next to the phone, and a card will slide into view letting you know the status. This card isn't as well integrated as we'd like though. As soon as the battery card comes into view, a second alert appears on the top with the volume, then a third alert appears below with another battery status. It is just too much. The card dismisses itself quickly too, which may leave you opening and closing the case a second time to get the alert to appear once more.
Jamming out
As we relaxed to listen to music through our Galaxy Buds, we were rife with anticipation. Samsung has been promoting the sound as designed by AKG, a well respected audio company that should be able to inject some superior sound into these affordable earbuds.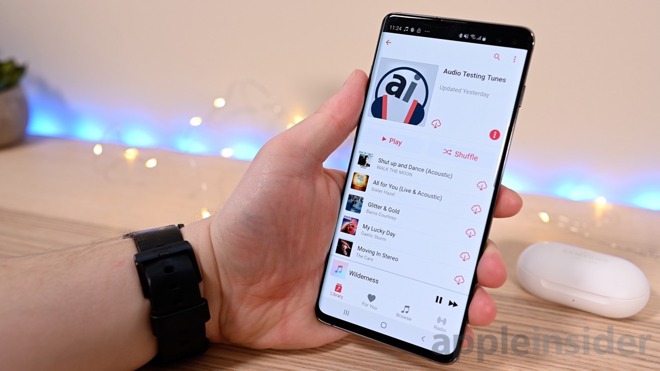 Apple Music testing playlist
AKG, as it turns out, is owned by Samsung. So we couldn't take the company at its word that the sound would blow us away.
After quite a bit of listening to our standard audio testing playlist (add it to your Apple Music profile above) we were ultimately left a bit underwhelmed. That isn't to say the sound is bad by any means, just below our elevated expectations. They sound very good for their price range, but certainly not above it. We are holding off for the full comparison to AirPods below, but as a spoiler -- yes, these do sound better than AirPods.
Bass was punchy on modern music and the mids were well established. The highs weren't as bright as we like though and there is some distortion at higher volumes. As we listening to music, we did have the signal drop on us once or twice as we just happened to rotate around in our chair, but otherwise stayed connected as we walked around the office.
The fit was also excellent and comfortable. We only had minor issues as we ran around the gym. Our issues largely stemmed from the wings of the Buds that were somewhat shorter than we'd prefer. The different sizes didn't help much either but we like those on the MW07, Bose, or other true wireless earbuds better.
Since we are talking of audio quality, we took some phone calls too. Voices were reported to be quite clear and didn't pick up too much ambient noise when walking down the street.
Against AirPods
Comparing these two headphones is tough. AirPods are iconic and wildly popular -- and had a multi-year lead. But each set of headphones has certain features that only work with their respective platforms which doesn't make it exactly a fair fight. We'd like to provide some other guidance that simply "choose the headphone that matches your smartphone."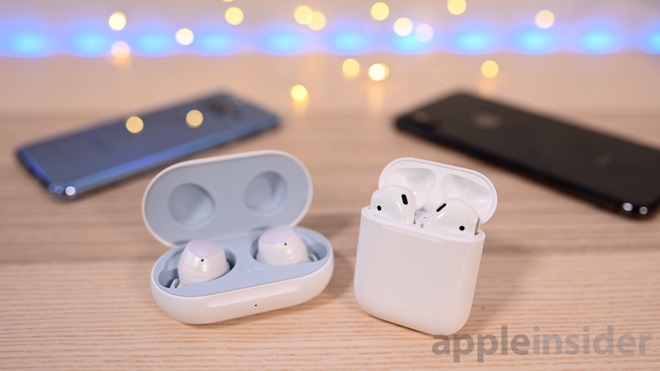 Galaxy Buds and Apple AirPods
When you compare directly feature for feature, AirPods get clobbered in almost every way it counts Audio quality of the Galaxy Buds is better. The latter is also able to charge wirelessly which makes its battery life preferable (even if it is less overall).
As best it could, Samsung attempted to replicate Apple's simple setup process which is a start and can possibly be refined through updates, as could the customization of the taps -- a feature Apple already allows.
We did prefer the actual design and case shape of the AirPods over the Galaxy Buds. Apple chose a glossy finish which is easier to grip. It.s design can also more easily open one-handed. Galaxy Buds have a matte finish which can be slippery to open and is near impossible to do one-handedly. The tradeoff with each is that the matte finish on the buds collects dirt quicker while the AirPods collect many microabrasions that make them look worn.
Looking at direct integration into the OS of choice, Apple wins here as well with the process much simpler and elegant. The alerts don't disappear until you dismiss them or move the AirPods away from the phone. The AirPods settings are also located right within the Settings app and not in an additional AirPods app.
One feature we hope Apple to steal is the ambient audio mode that allows external audio to be passed through to your ears. This is great for talking to people with your earbuds in or walking down the street, still able to hear traffic.
The race is just heating up
As we said, Samsung's Galaxy Buds started the race a bit late -- and that's the rub. We aren't comparing two phones that launched a couple of months apart. We are comparing earbuds that were released
years
apart. It is no surprise that the Galaxy Buds so easily bested the AirPods in so many different ways, even though there were some missteps.
Near everything included in the Galaxy Buds are expected with the
second iteration of Apple's iconic earbuds
. Wireless charging, improved audio, and better sound isolation are all but guaranteed in refreshed AirPods. Even features Samsung didn't include such as additional health features could be in the cards.
Samsung may currently be ahead in this race, but they are about to get lapped.
Rating: 4 out of 5
Where to buy
AirPods are
available now for $159
, but have largely remained out of stock while Apple still tries to keep up with demand two years in.
Samsung's Galaxy Buds are on sale
for $129
, with orders expected to ship by March 29 from Samsung directly, or within two to four weeks
at Amazon
.
Apple's AirPods 2 haven't been formally announced but are rumored to debut sometime in 2019,
likely in Spring
.
Galaxy Buds were just one of the new wearables that
Samsung announced
during its media event. They also showed off the Galaxy Watch Active and the Galaxy Fit.