Samsung Galaxy Fold teardown suggests poor design decisions with 'massive gaps' [u]
Before Samsung chose to hold back launch for a redesign, the Galaxy Fold was inherently vulnerable to debris reaching the display, according to a new teardown.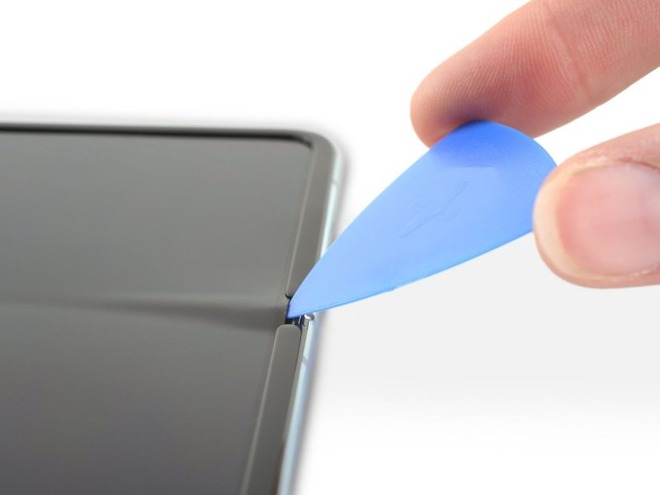 The company was so concerned about making the product foldable that when open, the bezel protecting the screen left a 7-millimeter gap where the two halves met,
said
repair firm iFixit. If debris slipped through the gap, it could've caused damage.
Likewise, when closed the spine was said to be "flanked by massive gaps" that were less likely to cause immediate damage, but still prone to collecting material.
The findings are roughly consistent with
Samsung's own
, which pointed to "an instance where substances found inside the device affected the display performance." The company also admitted that the display could be broken by "impact on the top and bottom exposed areas of the hinge."
The Fold was originally scheduled to ship April 26, but pre-launch reviewers complained that their units were
suffering
corrupt, flickering, or outright missing graphics. Keen to avoid a repeat of the
Note 7 battery fire debacle
, Samsung decided to postpone release indefinitely until it could deliver a reinforced screen. An announcement is expected in the next few weeks.
Some reviewers mistakenly peeled back a protective layer thinking it was screen protector. Even before the launch delay, consumer units were set to have explicit warnings on packaging.
The Galaxy Fold is the first foldable smartphone from a major vendor, priced at $1,980. Apple has
explored the idea
of foldable iPhones in patents, but so far there's been so sign the company will ship anything.
Update:
Samsung on Thursday requested iFixit
remove
its Galaxy Fold teardown.