How to make an Apple News replacement with the new Reeder 4 app
You can't match the specific titles and print magazine selection that Apple News+ has, but you can beat the price and you can have an excellent reading experience. The newly-updated Reeder 4 app gets you a tremendous combination of quick news updates and longer, more entertaining reading for when you just want a good browse.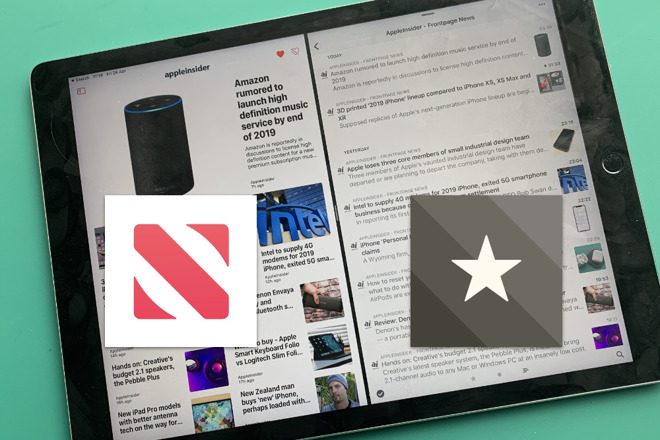 Split Screen with Apple News+ on left, Reeder 4 on right. When Reeder has the full screen, it displays one main article as well as the list
We don't come to bury
Apple News
at all. Some of us are already addicts, some of us may never be, and even fans of Apple News+ do see that there are rough edges. Just as people are coming to the end of their month-long free trial, though, there's been a new update to an old favorite which is giving us pause.
Reeder 4 for iOS
and, separately,
for Mac
, is a newsreader which gives us a lot of what we like most in the Apple News+ service.
If you want to read the latest issue of
Variety
or
Wired
and you want back issues of those, there's no contest here. Apple News+ is the way to go. If you want news that's curated for you by human beings then that or even the regular non-subscription Apple News is easily the better choice.
Only, if want a lot of news, if you want really quick access to headlines, or if you want an absorbing read, Reeder 4 is gold. It's an RSS newsreader, and
there are many of these available
, but Reeder in general has always been robust, quick and appealing. Now with Reeder 4, it also makes your articles look good, it helps you have a simply enjoyable browse around.
Then, too, Reeder 4 is a less demanding app behind the scenes. It routinely takes up less CPU time than Apple News+, so if you do a lot of reading, you'll find your battery power goes much further with Reeder 4.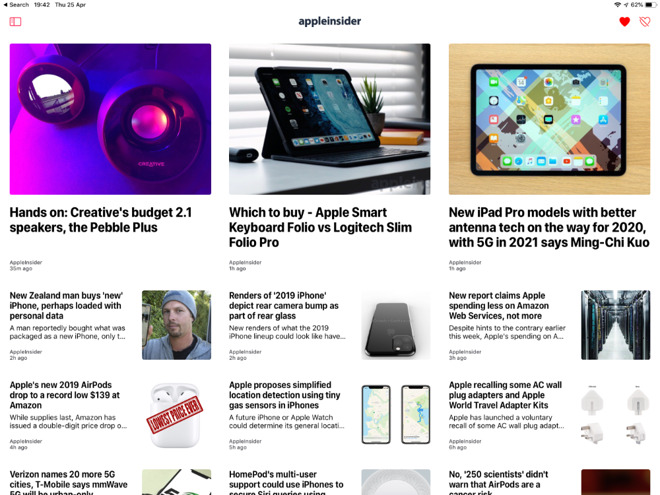 Apple News+ full screen on iPad
Setting up
All RSS newsreaders are trickier to set up than just clicking
Subscribe
on Apple News+, however, because you also need to sign up to a
service such as Feedly
. Reeder is a, well, reader for RSS news services and there are many of those. Feedly has a free option, though, and we've never needed anything more.
Reeder 4 could include more instructions about this, but once it's done, you never think of it again.
Instead, in our regular, daily, even hourly use, we've relied on Reeder chiefly for being able to keep up with the news. Rather than our visiting a couple of hundred websites every day, we have Reeder list the latest headlines from all of them in one spot.
So as you're waiting for the coffee machine, you can see with a glance whether anything is going on.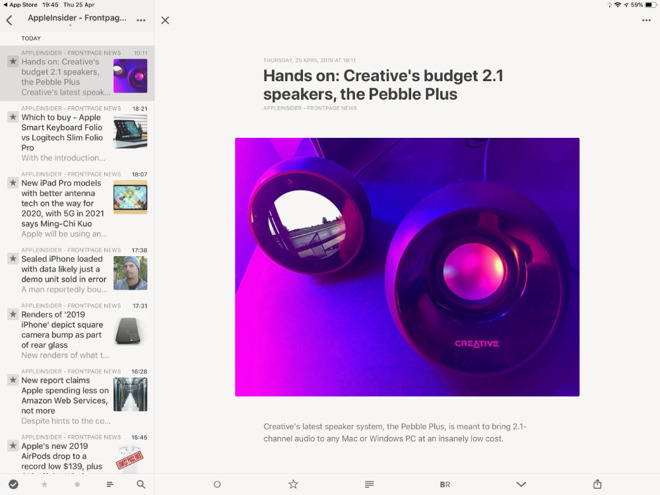 How Reeder 4 looks in full screen on iPad
There's a new feature in Reeder 4 which is specifically meant to help with this speedy catch-up. Whatever article you're reading, you can tap to switch on Bionic Reading. This looks peculiar at first, in that it makes the first few letters of words bold. Yet that does trick your eye into bouncing along the sentences faster and it's claimed that it also helps your retention.
Bionic Reading mode is ugly to look at, though, and if you're a long-time user then the real boon of the new Reeder 4 is that regular articles look even better than they did.
They're not full magazine layout PDFs, but the typography is clear and the spacing of pieces is much more readable. It's more readable on any device, too, whereas with Apple News+ you can struggle reading certain articles and magazines on an iPhone.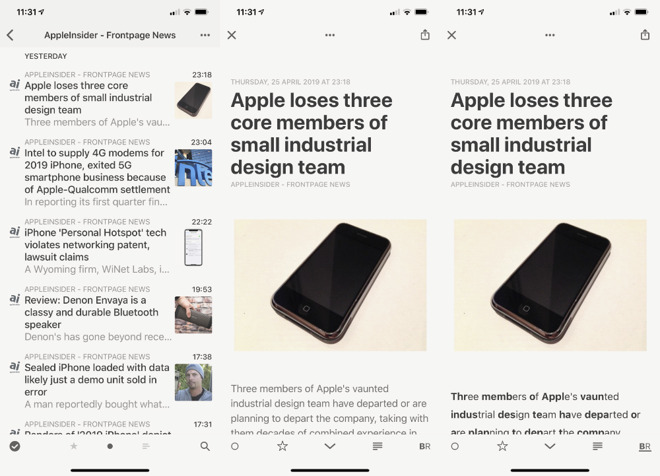 At the bottom of the last panel, you can see Reeder 4's Bionic Reading mode switched on.
You get fewer articles on screen at a time, but this new layout feels more relaxed. Maybe it's that, and maybe it's that during the beta we get into the habit of scrolling through more articles, but Reeder 4 has stepped up its game as something to read for fun.
Rather than just the hurried catch up of latest news, which Reeder 4 is still excellent at, we found that we were now more prone to relaxing with a longer article or two. Or five.
That's always been possible and usually been best when you have time to read a piece right now. With Reeder 4, though, there is now what the developer is calling an in-app Read Later service which syncs between the app on iPhone, iPad and Mac. That's a generous description, though. What really happens is that you can send an article to Instapaper and yet can then also read it later without leaving the Reeder app.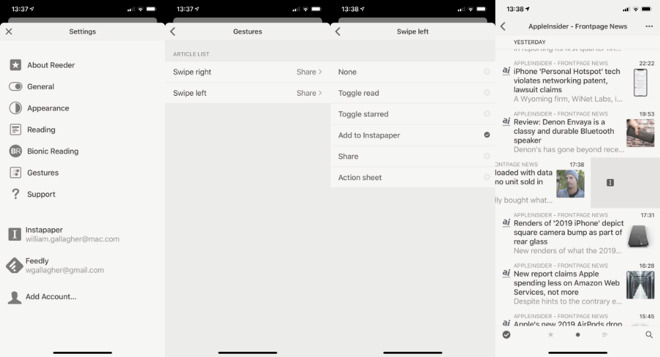 We had to get help to figure this out. Yet once it's set up, you can swipe on an article to save it into a Read Later list
It's a frustrating extra step because unless you happen to know that you must add an Instapaper account, you don't even get the Read Later options in Reeder's settings.
Yet once it is set up, it's a much better system for creating your own magazine of articles to read.
There are other features promised for Reeder 4 which you can't find, but this time because they didn't make it into this initial release. The most signifiant one is to do with how it handles caching images and it will be good to see more of those in article previews but it's not a reason to delay buying.
Apple News+ versus Reeder 4
Apple News+ also feels as if it must have more features coming, but what's most significant is it makes no attempt to have a Read It Later service. The closest it's got is that when you've been reading a magazine and come back to the service later, that title will be listed as a recent read. You can't mark articles to read when you've got time.
So Apple News+ is a browsing kind of experience, it's the thing to read when you just want to read something for pleasure. Reeder 4, even with just its starring articles feature, is a better combination of browsing, enjoyable reading and catching up with the latest news.
No contest
Both services are dependent on publishers. Apple News+ needs deals with them to decide what it can include, but Reeder needs publishers who support RSS on their websites. That used to be every website and it's still the gigantic majority, but it isn't everything.
The Onion
, for instance, dropped its support for RSS. That satirical newspaper isn't available in Apple News+ either, though.
When it comes down to specific news sites or magazines you want to read, each of these has wildly different selections and that may make your choice for you. Then not even Reeder 4's improved article layout can match world-class magazine designers whose work is displayed very well in Apple News+.
However, it remains the case that if you want quick updates on the news and you want to sometimes browse for longer articles, Reeder 4 is very, very good.
We've been using Reeder for about a decade now. And, we've been using Apple News since inception, and now Apple News+ despite its shortcomings and confusing inconsistencies, it brings us tremendous magazines to read.
We'd like more newspapers in Apple News+, but during this first month of using it, we started to see that our use of Reeder 3 had significantly declined. Then we got onto the beta test for Reeder 4 and the two rather evened out.
So while you absolutely can make your own Apple News+ alternative with Reeder 4 and we recommend that you do, we're really saying you should have both.
We have both, we're keeping both, we're deeply enjoying both. It's less clear how we're finding all this time to read, but we're glad that we are.
Apple News+ is a subscription service that costs $9.99 US or $12.99 Canadian.
Reeder 4 for iOS is a one-time purchase of $4.99
and
Reeder 4 for Mac is $9.99
on the Mac App Store. It requires iOS 12, or macOS 10.14 or later.
Keep up with AppleInsider by downloading the AppleInsider app for iOS, and follow us on YouTube, Twitter @appleinsider and Facebook for live, late-breaking coverage. You can also check out our official Instagram account for exclusive photos.