Apple plays consumer safety card in 'Right to Repair' fight
Lobbyists representing Apple recently met with lawmakers over the passage of so-called "right to repair" legislation, warning that consumers could hurt themselves if they attempt to open and fix iPhone.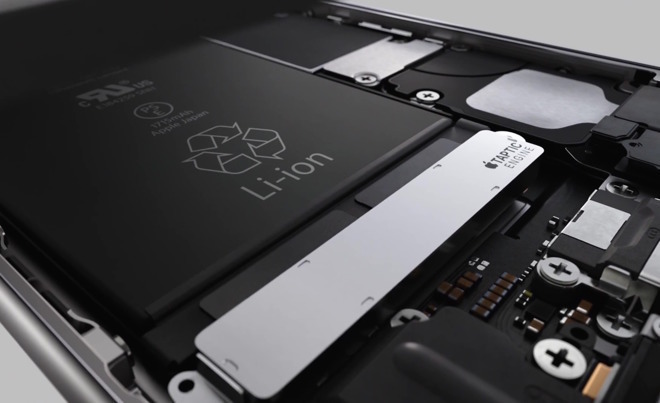 iPhone battery
Over the last few weeks, Apple has sent its own representative along with a CompTIA lobbyist -- an organization with which Apple is affiliated -- to
meet with lawmakers
in an attempt to squash a new California bill that would give consumers the right to repair their own devices, reports
Motherboard
.
The report cites two sources within the California State Assembly who confirm that Apple's lobbyists have been meeting with members of the Privacy and Consumer Protection Committee, campaigning against the repair bill that will go up for discussion this week.
During these closed-door meetings, the Apple representative brought an iPhone to demonstrate to legislators that an inexperienced consumer could easily hurt themselves by accidentally puncturing the lithium-ion battery contained within. That echoes public comments from Apple's vice president of Environment, Policy and Social Initiatives Lisa Jackson,
who said
that the device is "too complex" for untrained consumers to repair themselves.
The California Privacy and Consumer Protection Committee will hold a hearing on the bill Tuesday afternoon.
Apple has continued to campaign against right to repair legislation, previously using its own lobbyists in different states before relying more on CompTIA. CompTIA is a lobbying organization that is funded by Apple, as well as Microsoft, Samsung and other tech firms.
More and more states
have introduced this right to repair legislation, hitting 17 states as of January 2018.
Despite a hard stance against allowing consumers to conduct their own repairs, Apple in recent months has loosened some of the stringent guidelines around authorized fixes. In March,
Apple updated its service policy
to allow repairs on iPhones that contain third-party battery replacements. Previously, if an iPhone battery was replaced by a non-Apple authorized service technician, Apple could refuse to repair it.
Another change occurred when
Apple quietly launched
the new "Apple Genuine Parts Repair" program, which puts Apple service materials in the hands of some companies with fewer restrictions than current service providers may be under. Access to repair materials is a key request of right to repair advocates.