Google reveals Pixel 3a and 3a XL smartphones, Nest Hub Max with added camera
As to be expected, Google used its Google I/O developer conference to announce new hardware, with the additions for 2019 including the Pixel 3a and 3a XL and an updated Google Home Hub under the name Nest Hub Max.
Google's
Pixel 3a and 3a XL
are follow-ups to the
Pixel 3 and Pixel 3 XL
, revealed in October 2018. The new models bear more than a passing resemblance to their predecessors, but with a fair few changes such as the reduction from two front-facing cameras to just one.
Using 5.6-inch and 6-inch OLED screens respectively, albeit at a slightly higher resolution to the previous model at 1080x2220 for the Pixel 3a, the screen is joined at the front by a single 8.1-megapixel camera and earpieces that can provide a stereo sound experience, while the touch-sensitive Active Edge bezels are revived to trigger Google Assistant.
A USB Type-C port is at the base for charging, while at the top is a 3.5mm audio jack.
On the back is the same 12.2-megapixel camera as the Pixel 3 and 3XL, with an f/1.8 aperture, dual-phase detection autofocus, spectral and flicker sensors, and optical image stabilization. Again, computational photography is the main draw for the model, such as Photobooth using machine learning to select the best scene possible as a compilation of multiple shots, Night Sight for improved low-light images, and Top Shot for selecting the best from a burst.
Google Lens, the search company's image-based detection and identification feature is also offered. Video for the camera extends to 1080p at up to 120fps, 4K at 30fps, and 720p at up to 240fps.
Inside the models are a Qualcomm Snapdragon 670 SoC using two 2GHz cores paired with six low energy 1.7GHz cores, and an Adreno 616 GPU, with 4GB of RAM and 64GB of storage. Using Qualcomm's X12 LTE modem, it can connect at up to 600Mbps downstream and 150Mbps upstream.
The 3,000mAh and 3,700mAh batteries are marginally higher than the Pixel 3 and Pixel 3 XL respectively, with Qi wireless charging supported, and fast charging offering up to 7 hours of usage from a 15-minute charge.
Going on sale in the US and 12 other markets this week, the Pixel 3a and 3a XL will start
from $399
and
$479
respectively, and will be offered in Clearly White, Purple-ish, and Just Black color options.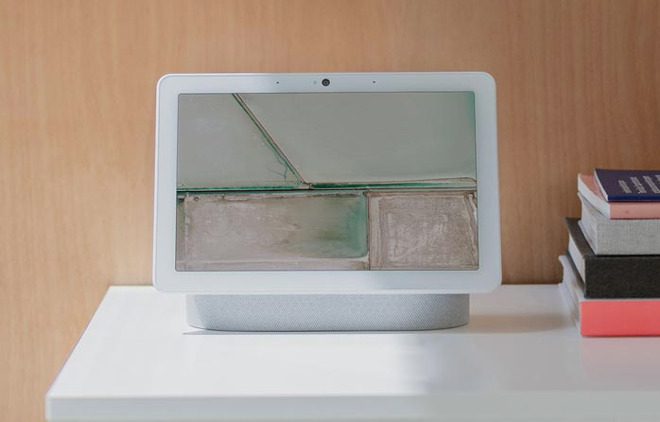 Google Nest Home Max
Google is repositioning its Home hardware offerings under the Nest brand, with the first new device announced at Google I/O being the Nest Hub Max. A reimagining of the
Google Home Hub
, the Nest Hub Max has a bigger 10-inch display, giving users a larger area to see photographs stored on Google Photos, as well as the home view dashboard.
New to the device line is a camera mounted at the top with a wide-angle lens, which can be used with Google Duo, with the speaker automatically centered in the frame, and to leave video messages for other members of the household. The camera's Face Match recognition feature performs processing locally, rather than relying on cloud servers, and can provide a personalized home page for each user on the display.
It also works like the security-focused Nest Cam, giving a way to add surveillance to a room. Users can see an event history of what the camera observes, and to receive notifications if motion detection or person recognition systems spot something.
To help with privacy, the camera will always show a green light when turned on, and has a physical switch on the back to disconnect the camera and microphone if required.
Shipping later this summer, the
Nest Hub Max will cost $229
.